Category:Architecture
From Culture.si
Subcategories
This category has the following 21 subcategories, out of 21 total.
In our Events Archive you can search for Architecture from Slovenia Worldwide
The Trimo Urban Crash is an international biennial competition, that awards the most innovative and creative ideas from students of architecture since 2007. The main idea of the competition is to offer students a possibility to work in close cooperation in realising a project, observing how it lives and how it is actually accepted in reality. The winning proposal for energising the urban environment is therefore placed at different spots in Ljubljana.
The installation of Rok Grdiša, who won the second prize at the Trimo Urban Crash competition in 2007, is located today in front of the sport hall Hala Tivoli as an info–point pavilion. The 2009 winning solution of a sculptural stage was originally coloured white, yet today – covered with graffiti – it integrates into the surroundings of Metelkova even better. The winning proposal for the Life Stand of the two Polish students of architecture and design was set up in Nove Fužine in Ljubljana in June 2011.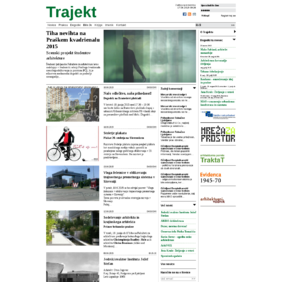 Since it was launched in 2003 Trajekt.org has become the most popular and most up-to-date source of information about architecture, spatial planning, and urban affairs in Slovenia. The website developed by TrajekT, Institute for Spatial Culture aims to encourage a sound and argued democratic discourse about different projects in Slovenian cities and rural areas.
Trajekt online is open to anybody interested in publishing news, articles and photos related to spatial culture, life in built environments, architecture, landscape architecture, town planning, design, and related matters. Comments on the national and municipal policies regarding architecture and planning, critics of the projects, and news about architectural events are published on the Internet and sent to subscribers every 2nd week.
The portal contains an online archive of interesting contributions and projects like Architectural Guide, as well as databases of architecture studios, magazines, and organizations.
all events
Architecture web resources
Latest Entries
Pages in category "Architecture"
The following 80 pages are in this category, out of 80 total.
A

B

C

D

E

F

F cont.

G

H

I

J

K

L

M

O

P

P cont.

R

S

T

U

Z
Media in category "Architecture"
The following 184 files are in this category, out of 184 total.