Category:Architecture
From Culture.si
Subcategories
This category has the following 21 subcategories, out of 21 total.
In our Events Archive you can search for Architecture from Slovenia Worldwide
The KUD C3 Society for Culture and Arts, established in 2000, is a platform for the research of urban public spaces. The main focuses of KUD C3 are the communities in urban environments and the relationship that inhabitants have to the space they live in. In their projects, KUD C3 chooses key places in urban environments and tries to involve the local community in transforming the socially-conditioned habitat. The projects take into account the architectural, economical, cultural, or gender-based characteristics of a certain urban settlement. The research of trends in urban studies focuses on interventions in public spaces in Slovenia (Ljubljana, Koper) and abroad (Central European cities, Mexico City). Members of KUD C3 include architects, media artists, photographers, theorists, writers, and more.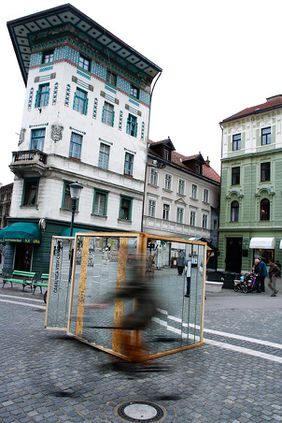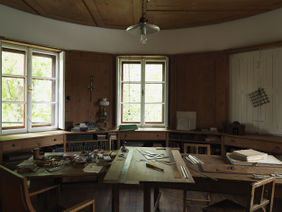 From 1972 until 2010 the Plečnik Collection represented an important department of the Museum of Architecture and Design. Now managed by the Museum and Galleries of Ljubljana), the collection is located at a separate location in the Plečnik House in Trnovo, where Jože Plečnik lived from 1921 until his death in 1957.
The collection consists of Plečnik's original work and furniture, his library, his drawing tools, and his personal belongings. The original artefacts of Jože Plečnik encompass a large archive of sketches, plans, photographs, and models made of wood, clay, and plaster, as well as Plečnik's correspondence and his student work. The main part of the collection is on display in the cylindrical annex of the house, constructed between 1923 and 1925 by the architect himself. In 2015 the exhibition premises were extended. Today the collection is housed in a complex of two houses at Karunova ulica 4 and 6, with an adjacent garden with a lapidarium.
The renovations of the Plečnik House and its surroundings took two years to complete, the Plečnik Collection together with a permanent exhibition and a study centre has been on view since September 2015.
Architecture web resources
Latest Entries
Pages in category "Architecture"
The following 80 pages are in this category, out of 80 total.
A

B

C

D

E

F

F cont.

G

H

I

J

K

L

M

O

P

P cont.

R

S

T

U

Z
Media in category "Architecture"
The following 183 files are in this category, out of 183 total.