Category:Architecture
From Culture.si
In our Events Archive you can search for Architecture from Slovenia Worldwide
Never shy of making bold architectural statements, SADAR + VUGA is among the most visible architecture bureaus in Slovenia. Founded in 1996 by Boštjan Vuga and Jurij Sadar, their office has made a significant mark not only in the landscape of the Slovene capital Ljubljana but also in the public discourse surrounding architecture. They've earned themselves substantial international limelight and their projects are standing (or getting there) in several states across Europe.
The bureau is usually simultaneously preoccupied by large scale projects – such as the renovation of the main city boulevard in Ljubljana and the Sports Park Stožice – as well with interior design and various smaller housing endeavors. Either way, there is always a sense of complexity in their charismatic visual language.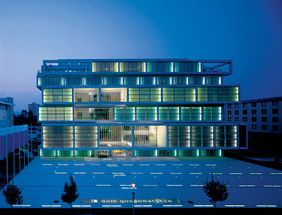 Initially founded by Igor Kebel and Mika Cimolini in 2001, Elastik is an award winning, internationally active architectural studio that operates between Amsterdam and Ljubljana. It is led by Igor Kebel, Mika Cimolini and Freek Dech. The company taps from extensive pool of specialists, that shrinks and expands depending on the task at hand, hence, the name Elastik. Elastik's expertise combines architecture, urbanism and media within a firm framework of economic considerations.
New spatial concepts are developed through a network of virtual studios in which different specialists and users exchange their views, independent of various geographic and political borders. This attitude enables Elastik to team-up with other design firms, but also with development experts, engineering specialists, interface designers, visual gurus, and material advisors, who all join the production process at the earliest possible stage.
Architecture web resources
Latest Entries
Subcategories
This category has the following 21 subcategories, out of 21 total.
Pages in category "Architecture"
The following 80 pages are in this category, out of 80 total.
A

B

C

D

E

F

G

H

I

J

K

L

M

O

P

P cont.

R

S

T

U

Z
Media in category "Architecture"
The following 197 files are in this category, out of 197 total.