Category:Architecture
From Culture.si
Subcategories
This category has the following 21 subcategories, out of 21 total.
In our Events Archive you can search for Architecture from Slovenia Worldwide
Architecture web resources
Latest Entries
Initially founded by Igor Kebel and Mika Cimolini in 2001, Elastik is an award winning, internationally active architectural studio that operates between Amsterdam and Ljubljana. It is led by Igor Kebel, Mika Cimolini and Freek Dech. The company taps from extensive pool of specialists, that shrinks and expands depending on the task at hand, hence, the name Elastik. Elastik's expertise combines architecture, urbanism and media within a firm framework of economic considerations.
New spatial concepts are developed through a network of virtual studios in which different specialists and users exchange their views, independent of various geographic and political borders. This attitude enables Elastik to team-up with other design firms, but also with development experts, engineering specialists, interface designers, visual gurus, and material advisors, who all join the production process at the earliest possible stage.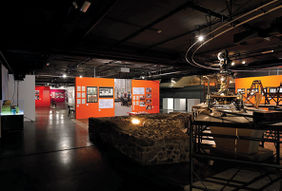 Established in 1988, the Jakopič Gallery is situated in the "look-out" basement floor of Slovenska cesta 9 in the centre of Ljubljana. The contemporary exhibiting space of more than 900 square metres is part of an architectural complex designed by Edvard Ravnikar on the location of the Roman Forum in Emona, and includes in situ ruins of ancient government buildings. The Jakopič Gallery was at first managed by the Museum of Modern Art, and later taken over by the former Architecture Museum of Ljubljana, which presented contemporary architectural and design exhibitions there until 2004. In 2007 the Municipality of Ljubljana renovated and re-opened the exhibition space, which has been managed by the Museum and Galleries of Ljubljana since 2008.
The eclectic programme presents interesting chapters of modern art. It has often served as one of the venues for larger exhibition projects such as May Salon, Biennial of Graphic Arts, the Month of Design or Photonic Moments.
Pages in category "Architecture"
The following 77 pages are in this category, out of 77 total.
A

B

C

D

E

F

F cont.

G

H

I

J

K

L

M

O

P

P cont.

R

S

T

U

Z
Media in category "Architecture"
The following 150 files are in this category, out of 150 total.