Category:Architecture
From Culture.si
Subcategories
This category has the following 19 subcategories, out of 19 total.
In our Events Archive you can search for Architecture from Slovenia Worldwide

nothing found
Architecture web resources
Latest Entries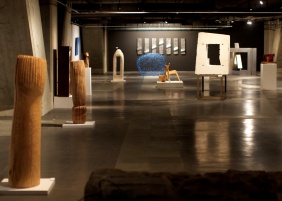 Established in 1988, the Jakopič Gallery is situated in the "look-out" basement floor of Slovenska cesta 9 in the centre of Ljubljana. The contemporary exhibiting space of more than 900 square metres is part of an architectural complex designed by Edvard Ravnikar on the location of the Roman Forum in Emona, and includes in situ ruins of ancient government buildings. The Jakopič Gallery was at first managed by the Museum of Modern Art, and later taken over by the former Architecture Museum of Ljubljana, which presented contemporary architectural and design exhibitions there until 2004. In 2007 the Municipality of Ljubljana renovated and re-opened the exhibition space, which has been managed by the Museum and Galleries of Ljubljana since 2008.
The eclectic programme presents interesting chapters of modern art. It has often served as one of the venues for larger exhibition projects such as May Salon, Biennial of Graphic Arts, the Month of Design or Photonic Moments.
Managed by the Center for Knowledge Transfer in Information Technologies at the Jožef Stefan Institute, the VideoLectures.Net international web portal (online since 2002) promotes science, exchanges ideas, and fosters knowledge sharing. It is the world's largest collection of free educational online videos providing high quality didactic contents not only to the scientific community but also to the general public. In April 2010 the Ethics for the New Millennium lecture by His Holiness the Dalai Lama was published as the 10.000th video on the portal. In 2013 United nations and UNESCO declared Videolectures.net as the best educational project of the decade in the "e-Science & Technology" category.
VideoLectures.Net mainly includes the lectures from information and communication technologies in particular fields of artificial intelligence, machine learning, semantic web and data and text mining but is expanding towards visual arts, humanities, social studies and law as well.
Pages in category "Architecture"
The following 76 pages are in this category, out of 76 total.
A

B

C

D

E

F

F cont.

G

H

I

J

K

L

M

O

P

P cont.

R

S

T

U

V

Z
Media in category "Architecture"
The following 122 files are in this category, out of 122 total.