Category:Architecture
From Culture.si
In our Events Archive you can search for Architecture from Slovenia Worldwide
The KUD C3 Society for Culture and Arts, established in 2000, is a platform for the research of urban public spaces. The main focuses of KUD C3 are the communities in urban environments and the relationship that inhabitants have to the space they live in. In their projects, KUD C3 chooses key places in urban environments and tries to involve the local community in transforming the socially-conditioned habitat. The projects take into account the architectural, economical, cultural, or gender-based characteristics of a certain urban settlement. The research of trends in urban studies focuses on interventions in public spaces in Slovenia (Ljubljana, Koper) and abroad (Central European cities, Mexico City). Members of KUD C3 include architects, media artists, photographers, theorists, writers, and more.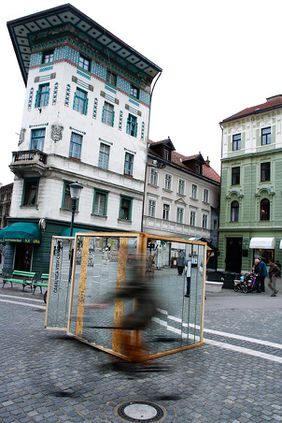 Initially founded by Igor Kebel and Mika Cimolini in 2001, Elastik is an award winning, internationally active architectural studio that operates between Amsterdam and Ljubljana. It is led by Igor Kebel, Mika Cimolini and Freek Dech. The company taps from extensive pool of specialists, that shrinks and expands depending on the task at hand, hence, the name Elastik. Elastik's expertise combines architecture, urbanism and media within a firm framework of economic considerations.
New spatial concepts are developed through a network of virtual studios in which different specialists and users exchange their views, independent of various geographic and political borders. This attitude enables Elastik to team-up with other design firms, but also with development experts, engineering specialists, interface designers, visual gurus, and material advisors, who all join the production process at the earliest possible stage.
Architecture web resources
Latest Entries
Subcategories
This category has the following 21 subcategories, out of 21 total.
Pages in category "Architecture"
The following 81 pages are in this category, out of 81 total.
A

B

C

D

E

F

F cont.

G

H

I

J

K

L

M

O

P

P cont.

R

S

T

U

Z
Media in category "Architecture"
The following 190 files are in this category, out of 190 total.