Cultural Centre of European Space Technologies (KSEVT)
From Culture.si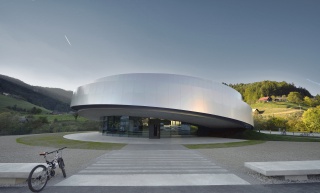 The Cultural Centre of European Space Technologies (KSEVT) opened in Vitanje in September 2012 to complement the Herman Potočnik Noordung Memorial Centre. The building design is the work of four architectural bureaus which established the Architectural Union for Vitanje (AZZV): Bevk Perović Arhitekti, Dekleva Gregorič Arhitekti, Ofis Arhitekti, and SADAR + VUGA Architects. KSEVT's programme is based on the concept of the culturisation of outer space, introduced by Dragan Živadinov, Dunja Zupančič, and Miha Turšič within the Delak Institute.
Described as "a living room of Vitanje inhabitants and a space for the synthesis of art and science focused on the post-gravity art" by its inceptors, KSEVT promises an interaction between the local, the regional, and the planetary. In 2014 the KSEVT team will represent Slovenia at the Architecture Biennale in Venice with The Problem of Space Travel - Supre:architecture project.
Building
The Integrated Revitalisation of the Vitanje House of Culture into KSEVT project received funds in 2009 through the Development Investing in Public Cultural Infrastructure programme, run by the Ministry of Culture. The fascinating building of 2500 m² replaced the old cultural centre and is inspired by Herman Potočnik's plan for the first geostationary space station from 1928. It is situated in the hilly landscape between the neoclassicist Church of the Mother of God, the Gothic Church of St Peter, and the former Bishop's Mansion.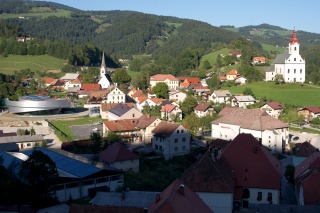 The ground level includes the Vitanje Library and a multi-purpose circular hall with 300 seats. The first floor with research facilities is dedicated to the KSEVT programme.
Programme
The permanent exhibition Herman Potočnik Noordung: 100 Monumental Influences is based on 100 of Herman Potočnik Noordung's drawings, used in his book The Problem of Space Travel - The Rocket Motor. The display covers Potočnik's life and time, the early rocket technologies, space architecture, usage of the Earth orbits, space wear, the Treasures of Modernity collection, and, last but not least – Slovenia in space.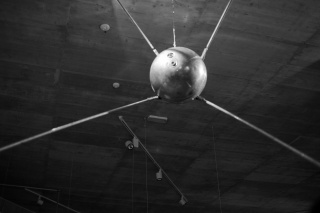 The international residency programme will focus on the interdisciplinary research of the cultural context of the human interaction with space and will host artists, scientists, and philosophers.
International cooperation
On a regional level KSEVT generates connections between Trieste, Italy (liaising it with the Trieste Constructivist Ambient from 1927); Pula, Croatia (Potočnik's birth town); and Graz, Austria. KSEVT already cooperates with the Russian State Museum in St Petersburg and the National Air and Space Museum in Washington D.C..
In 2011 the Centre prepared the Memorandum on the Culturalisation of Outer Space that the Slovene President Danilo Türk presented to the Russian President Dmitry Medvedev as a new dimension of cooperation between Slovenia and Russia. The document foresees the first (professional) artist spaceflight, presumably in the person of the Slovene primaballerina Mateja Rebolj who has also collaborated with Dragan Živadinov in the Noordung Cosmokinetic Cabinet.
See also
External links
References
Gallery