The new Culture.si flyers are out! Designed by Atelje.Balant, who has provided also the portal's layout, they are available for distribution. Please, let us know if you'd like some!
Can you recognise the images behind each CULTURE.SI letter? All nine of them were taken from our free images collection: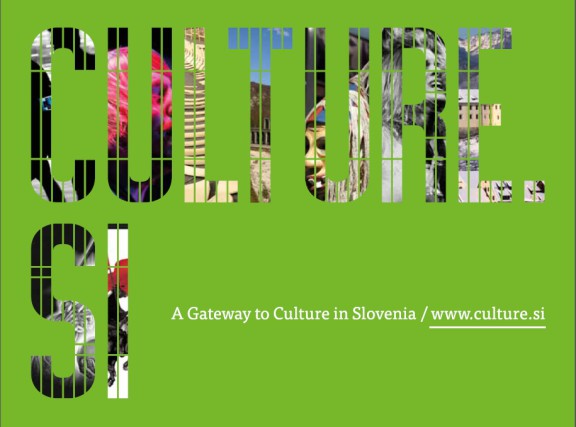 C = Laibach, documentation from shopping mall performance action Einkauf, 2003 (Photo by Bolha)
U = Dandelion Children at the FV Music Festival, 2011 (Photo by Janez Gerčar)
L = A skeleton of young Fin Whale found in Piran Bay in 2003, the largest exhibit in the Slovenian Museum of Natural History (Photo by Ciril Mlinar)
T = The Italian ossuary near Kobarid with the mortal remains of 7014 Italian soldiers who fell on the WWI Soča Front (Photo by Kobarid Museum)
U = 'Ta terjast', a Cerkno carnival figure from the Cerkno Museum (Photo by Tomaž Lauko)
R = Lea Menard in Uncle Vanya and the 12 Bouquets directed by Barbara Novakovič Kolenc and produced by Muzeum Institute, 2008 (Photo by Matic Sonnenwald)
E = Loka Castle on the hills above Škofja Loka (Photo by Culture.si)
S = Illustration for Mišo Alkalaj's article about the Big-Bang theory by Dušan Kastelic, Bugbrain Studio
I = Cover of the Tribuna Magazine, 2010 (Designed by Aljaž Vindiš)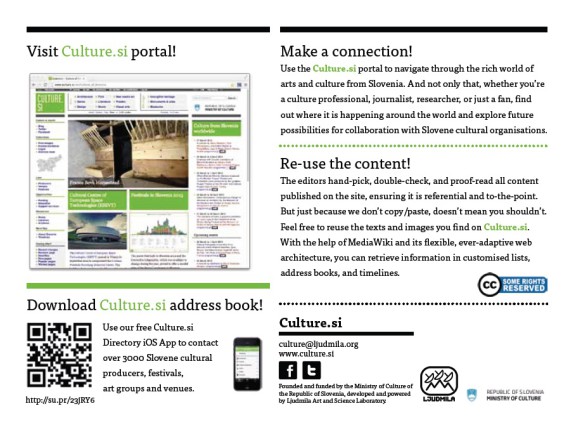 You are kindly invited to visit the portal, re-use its content or download the Culture.si address book (for iOS). Make a connection!
Culture.si Team