Improved images section
by Ziga on Oct 6, 2010
Working on Issues...
image galleries improved, now showing latest on top, labels are also better
Details, details...
by Ziga on Feb 22, 2010
More work done. More attention to details...
design updates and bugfixes, mostly in Culture.css
new layout for contacts in regions. See here.
new Address book
Two column layout of portal main features
Related web resources in portal balast. they could use short descriptions.
map updates; now it goes into infobox. see example here
lots of new photos uploaded. galleries added to some articles.
small map in the Sidebar is back!!!
Good morning!
by Ziga on Jan 28, 2010
We did a lot of work on the site:
New Culture MediaWiki skin, first version
New page for storing cool ideas
more...
Extraction complete
by Ziga on Nov 18, 2009
Imported artifact content into new site. People can start editing now.
Robots!
by Ziga on Nov 7, 2009
discussions about design
mapping of old to new categories
enabled api.php
first version of KBot, a friendly editing droid. It runs perl functions on pages and optionally saves the result back to mediawiki
used kbot to lowercase infobox attribute names. Town seems to be broken...
some articles were not imported - primer: Bled Municipality, pod See also: Economic and Social Activities Department - pri vsaki občini je ta pod-oddelek kot posebno geslo, ki pa se ni preneslo ... saj ni potrebno (združila jih bom z občinskim geslov - primer Ajdovščina - in jih kar kopiram iz Cultural Profile, a vseeno preveri, zakaj ni bilo preslikave, in če morda še kakšni primeri takole
Extensions from SVN
by Ziga on Oct 22, 2009
linked some extensions to their respectiove SVN versions
vector is now default skin. CSS is in Vector.css
new SVG graphics embedding feature in Common.js
trying out UsabilityEnhancement extension testing
New MediaWiki installed
by Ziga on Oct 19, 2009
Fixed command bin/publish to properly upload linked (with bin/mwtool) MediaWiki to the production server. Rsync option --copy-links seems to do just the right thing. It installs a copy of currently linked MW, so everything is conveniently in one nice place on the production server. This supposedly means that one can take the contents of the wiki directory + database and have it work right.
Production server seems to work a bit better now. Still on the lookout for problems, so report if you find any.
MW extensions that are used will need to be linked to their SVN versions, too...
Separating MediaWiki from our customized stuff
by Ziga on Oct 15, 2009
We are still in the process of spearating MediaWiki code from the stuff we added and customized.
new command bin/mwtool which attaches user's installation to a (possibly system wide) MediaWiki installation.
This allows us to update MediaWiki directly from SVN. Seems to work on dev server.
Needs more work (bin/publish).
Production MW is currently a bit broken, because DB was updated, but software not yet. Needs more work and testing.
New development server
by Ziga on Oct 14, 2009
Plugin development will go on here so that editorial work on main site can proceed...
Succesful demo
by Ziga on Oct 11, 2009
lots of updates...
favorable demonstration
More stuff on portals
by Ziga on Sep 25, 2009
fixed few sizes, so the video doesn't wrap. great!!! this required patching barindamaged videoflash extension a bit.
More stuff
by Ziga on Sep 23, 2009
Meeting day
by Ziga on Sep 17, 2009
Par idej:
prvi korak do "elektronskih razpisov"; dovolj je, da prijavitlji na razpis izjavijo, da so podatki na wikiju tocni.
planirani koledar dogodkov za boljse planiranje dogodkov
To-Do list & Site news together now
More good stuff...
by Ziga on Sep 16, 2009
Portals!!!
by Ziga on Sep 15, 2009
Many new experiments with new Main Page, making it much more portal-like.
New features:
top menu; portals for individual topics are not there yet
infoboxes improved
category cloud
search and replace. Use with care!
better subcategory listings
moved many metapages to Site: namespace
added jQuery 1.3.2 javascript for scripts
added simple SVG sidebar map (doesn't work yet)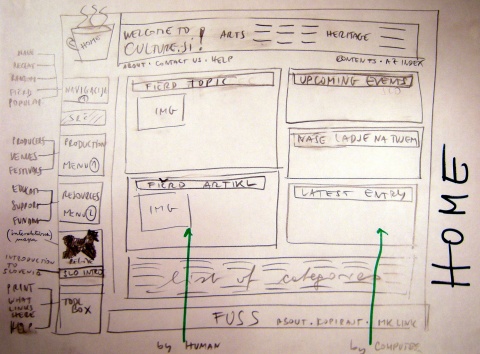 .