Festivali v Sloveniji
From Culture.si
Vsi festivali

Interaktivna infografika prikazuje časovno razporeditev festivalov v Sloveniji skozi celo leto. Podatke črpamo iz informativnih člankov o festivalih, ki so zbrani v podatkovni zbirki Culture.si, teh je okrog 200, cf. Festivals.

Organizatorje festivalov vabimo, da pošljejo spremenjene oz manjkajoče festivalske datume za letošnje leto, pa tudi datume prihodnjih festivalskih edicij, v 2021 ali 2022. (culture@ljudmila.org).
Interaktivno
Infografika prikazuje trajanje posameznih festivalov po tednih in področjih (barvna skala).

S klikom na kvadratek se izpišejo osnovni podatki o izbranem festivalu. S klikom na naziv festivala je možen skok v informativni članek o dotičnem festivalu s kontakti.

S klikom na področje umetnosti v meniju pod infografiko lahko generirate prikaze za posamezna področja, e.g. plesni festivali, filmski festivali, literarni festivali, etc.

S klikom na letnico si lahko ogledate silhuete množice festivalov v posameznih letih, od leta 2012 naprej.
Koncept in razvoj
Prvotno infografiko Festivals in Slovenia je na osnovi ideje naše jezikovne urednice Jane Wilcoxen leta 2011 razvil Jure Čuhalev, skupaj z ekipo Culture.si na Ljudmili, laboratoriju za znanost in umetnost.
Časovnica festivalov od leta 1946
Lahko si ogledate tudi časovnico nastanka festivalov, ki razkriva dinamiko festivalov v Sloveniji vse od leta 1946.
Plakat
Plakat "Festivals in Slovenia 2012" je oblikoval Atelje.Balant.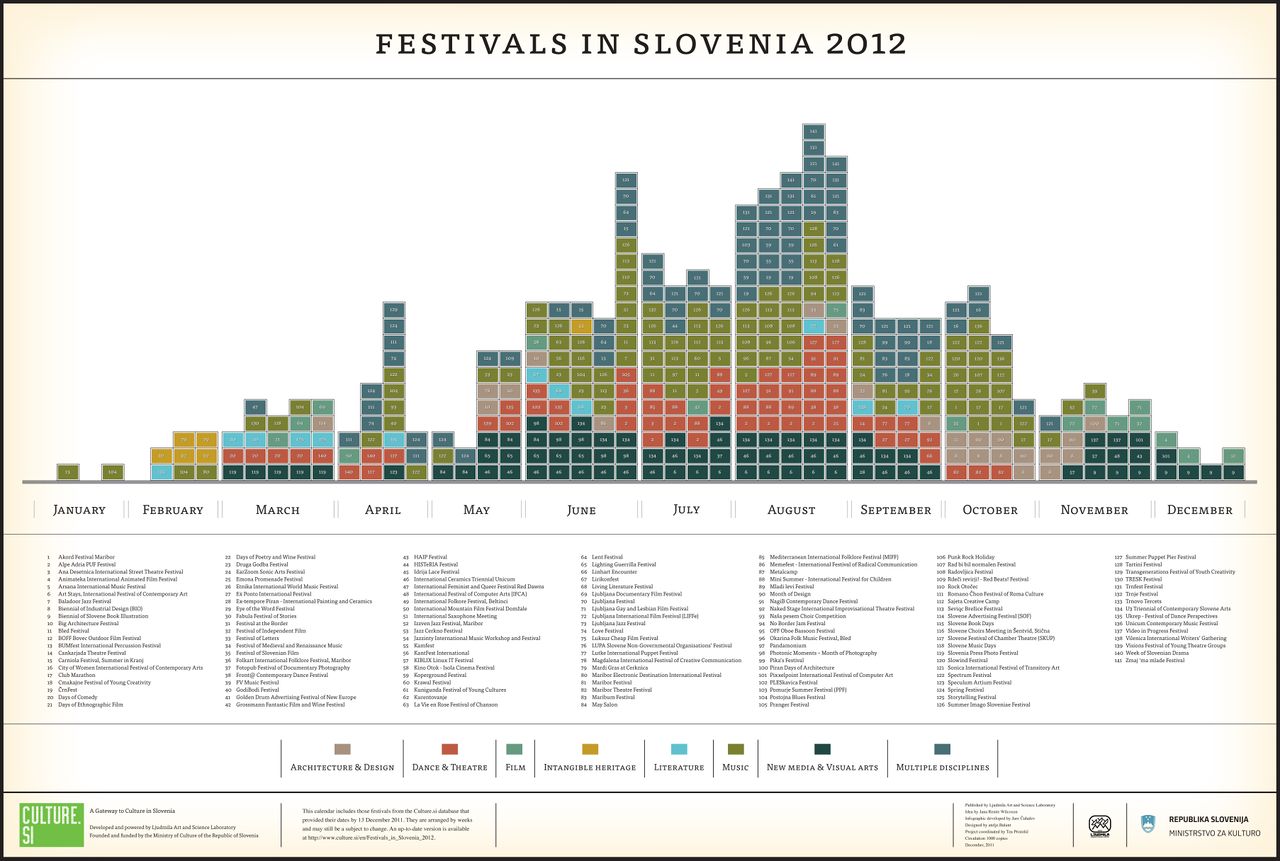 The printed version of the calendar of Festivals in Slovenia in 2012 contains 141 festivals. Later on, in 2019, the festival number rose to 199. Check out the current annual festivalscape!
Press clipping
Na Mladih levih prevprašali potenciale festivalov v kulturnem turizmu, STA, 24. 8. 2017
Valentina Plahuta Simčič: Festivalski val, Delo, 11. 8. 2017, s. 1
Valentina Plahuta Simčič: Imamo toliko festivalov, kot jih lahko preživi, Delo, 11. 8. 2017, s. 4
Andrej Pervanje, Brigita Gračner,Jernej Butara, Matic Urbanc: 100 festivalnih decibelov, Radio Študent, 27. 6. 2017
Eva Panjan: Slovenija, dežela festivalov, Dnevnik, 6. 8. 2015
Festivalsko poletje vabi, Celjski mladinski center, 15. 7. 2015
Aleksander Čobec: Družbeno – turistični vidik poletnih festivalov, Studio ob 17h, Radio Slovenija, 9. 7. 2015
Festivalsko poletje vabi, CED novice, 3. 7. 2015
Borka: Summer Festivals, Mladina, 14. 6. 2013
Anže Zorman: Music Festivals At Our Treshhold, with A.Pirman, Culture.si editor Radio Študent (RŠ), 29. 5. 2013
Valentina Plahuta Simčič: Več muzike za manj denarja, Delo, 24. 1. 2012
Valentina Plahuta Simčič: Festivalizacija Slovenije, Delo, 20. 1. 2012
Valentina Plahuta Simčič: Festivalomanija na grafu, Delo, 28. 12. 2011
Glej tudi
Zaradi razglasitve epidemije tudi v Sloveniji v obdobju 12.3. +