Category:Literature
From Culture.si
In our Events Archive you can search for Literature from Slovenia Worldwide
The Slovenian Book Agency is a public agency that was established in 2008 to engage the area of literature in a coordinated and uniform way. Its primary concerns are to facilitate better availability of books, to promote Slovene authors internationally, to financially support literary events, projects concerned with reading culture, publications of quality books and translations, and to regulate the process from the production to publication to distribution of literature.
JAK (Slovenian abbreviation for Slovenian Book Agency) is located in the house called Vratarnica (Gatekeeper's house) in the Metelkova Quarter of Ljubljana, in the vicinity of the Ministry of Culture.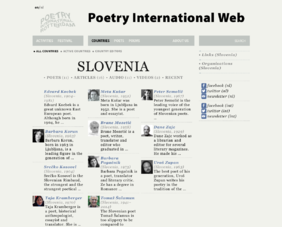 The Rotterdam-based Poetry International Foundation Web is a worldwide forum for poetry with news, essays, interviews, discussion, and hundreds of poems by acclaimed modern poets from all around the world, both in their original language and in English translation.
The pages on Slovene poetry feature around 16 articles in English on Slovene poetry and individual poets plus works by Srečko Kosovel (1904–1926), Edvard Kocbek (1904–1981), Dane Zajc (1929–2005), Tomaž Šalamun (1941–2014), Brane Mozetič (b. 1958), Meta Kušar (b. 1952), Barbara Korun (b. 1963), Uroš Zupan (b. 1963), Peter Semolič (b. 1967), Taja Kramberger (b. 1970) and Barbara Pogačnik (b. 1973).
Literature web resources
Latest Entries
Subcategories
This category has the following 25 subcategories, out of 25 total.
Pages in category "Literature"
The following 163 pages are in this category, out of 163 total.
2

A

B

C

D

E

F

G

H

I

I cont.

J

K

L

M

N

O

P

P cont.

R

S

Š

T

U

V

W

Y

Z
Media in category "Literature"
The following 97 files are in this category, out of 97 total.