Category:Literature
From Culture.si
In our Events Archive you can search for Literature from Slovenia Worldwide
The Slovenian Book Agency is a public agency that was established in 2008 to engage the area of literature in a coordinated and uniform way. Its primary concerns are to facilitate better availability of books, to promote Slovene authors internationally, to financially support literary events, projects concerned with reading culture, publications of quality books and translations, and to regulate the process from the production to publication to distribution of literature.
JAK (Slovenian abbreviation for Slovenian Book Agency) is located in the house called Vratarnica (Gatekeeper's house) in the Metelkova Quarter of Ljubljana, in the vicinity of the Ministry of Culture.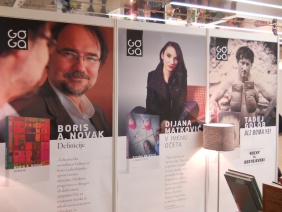 Established in 1998 by the Students' Society of Novo Mesto (DNŠ), the Goga Publishing House is involved in a wide spectrum of activities, from publishing Slovene and foreign literary works, music CDs, and journals (Rast) to organising different cultural events, literary workshops, and residency programmes.
As of 2000 Goga also runs the Goga Bookshop, a popular venue for literary, musical, and other cultural events in Novo mesto.
Literature web resources
Latest Entries
Subcategories
This category has the following 25 subcategories, out of 25 total.
Pages in category "Literature"
The following 161 pages are in this category, out of 161 total.
2

A

B

C

D

E

F

G

H

I

J

K

L

M

N

O

P

P cont.

R

S

Š

T

U

V

W

Y

Z
Media in category "Literature"
The following 97 files are in this category, out of 97 total.