Category:Literature
From Culture.si
In our Events Archive you can search for Literature from Slovenia Worldwide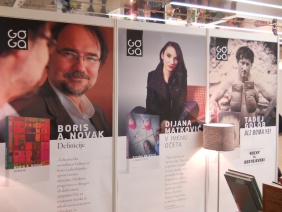 Established in 1998 by the Students' Society of Novo Mesto (DNŠ), the Goga Publishing House is involved in a wide spectrum of activities, from publishing Slovene and foreign literary works, music CDs, and journals (Rast) to organising different cultural events, literary workshops, and residency programmes.
As of 2000 Goga also runs the Goga Bookshop, a popular venue for literary, musical, and other cultural events in Novo mesto.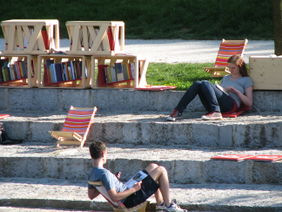 Since 2001 UNESCO has been nominating cities to be the annual World Book Capital City and the city of Ljubljana was already the tenth. World Book Capital Ljubljana 2010 was launched on 23 April 2010 with a spectacle (an encounter of science, art and philosophy through the book) at Križanke, directed by Matjaž Berger. Throughout the year, 500 events transformed the Slovene capital into a lively and cosmopolitan city.
As one of the biggest events the Fabula 2010 – Literatures of the World Festival Festival offered nearly a month of cultural and literary events in May 2010 including a reading from Nobel Prize laureate Herta Müller. "The World Book Summit", organised by the Chamber of Publishing, Bookselling, Graphic Industry, Radio and TV Media (GZS-ZKGM), concluded Ljubljana's prestigious year-long title. Weekly events - readings as well as music events or discussions on current topics - took place at a new venue, Trubar Literature House in the city centre.
Literature web resources
Latest Entries
Subcategories
This category has the following 25 subcategories, out of 25 total.
Pages in category "Literature"
The following 163 pages are in this category, out of 163 total.
2

A

B

C

D

E

F

G

H

I

I cont.

J

K

L

M

N

O

P

P cont.

R

S

Š

T

U

V

W

Y

Z
Media in category "Literature"
The following 105 files are in this category, out of 105 total.