Category:Literature
From Culture.si
In our Events Archive you can search for Literature from Slovenia Worldwide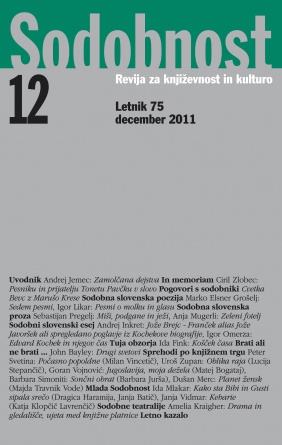 Sodobnost was founded in 1933, following the collapse of an earlier magazine, Ljubljanski zvon, and is the oldest Slovene magazine dedicated to literature and culture. It has since been published regularly, though during World War II it was off the shelves for 3 years. Since 2004 it has been published by the Sodobnost International Cultural Society. Sodobnost also confers the Best Short Story Award jointly with the Slovene Writers' Association and the Best Slovene Essay Award.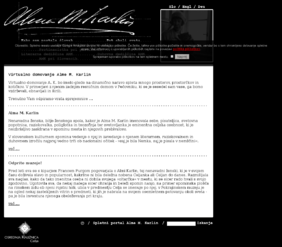 This virtual residence is dedicated to Alma Karlin (1889–1950), an extraordinary traveller, polyglot, theosophist, and writer from Celje. From 1919 to 1927 she travelled to South and North America, the Pacific Islands, Australia, and various Asian countries and supported herself with odd jobs and writing. Her travel and fiction novels (written in German) became very popular in the 1930s (The Odyssey of a Lonely Woman and The Spell of the South Sea, a novel in two volumes was reprinted several times in the edition of over 100,000 copies). During the war her work was banned and in 1944 she joined the Partisans. After the war she lived in a small house in Pečovnik above Celje in straitened circumstances together with her companion Thea Schreiber Gamelin.
Alma's work had been forgotten till the 1960s when ethnologists began to study her collections. Nowadays Alma Karlin inspires artists, feminists, historians as well as the inhabitants of Celje and the general public. The Virtual Home website was conceived in 2008 by the Celje Central Library and offers basic information on her life, travels, and bibliography.
Upcoming events abroad
23 May 2019


"Save the date", Slovenian and German-speaking publishers' afternoon organised by the Slovenian Book Agency at

Literaturhaus München

in

Munich

,

Germany


programme
all upcoming events
Literature web resources
Latest Entries
Subcategories
This category has the following 26 subcategories, out of 26 total.
Pages in category "Literature"
The following 171 pages are in this category, out of 171 total.
2

A

B

C

D

E

F

G

H

I

J

K

L

M

N

O

P

P cont.

R

S

Š

T

U

V

W

Y

Z
Media in category "Literature"
The following 95 files are in this category, out of 95 total.