Category:Literature
From Culture.si
In our Events Archive you can search for Literature from Slovenia Worldwide
The Levstik Award, named after author Fran Levstik (1831–1887), has been bestowed by Mladinska knjiga Publishing House since 1949 for best literary works, non-fiction and illustrations of children's and youg adult literature, and, since 1999, for lifetime achievement in writing and illustration of children's literature.
It was the first literary award established by a Slovene publishing house after World War II and has contributed significantly to the recognition of quality children's and young adult literature. Only books published by Mladinska knjiga Publishing House are eligible for the award, although the award committee is composed of outside members.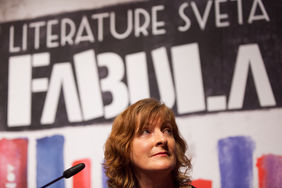 The underlying concept of the World Literatures - Fabula Festival has been to promote readership and the culture of reading in Slovenia. The main focus of the festival is no longer on short stories but on storytelling in general; in addition to book presentations and evening readings, the festival features screenings of films based on the works by Fabula festival guests. Besides renowned European story writers, numerous Slovene authors are featured in the festival. The event "World Literatures – Fabula 2010" opened the World Book Capital Ljubljana 2010 (WBC), while the 2011 edition wrapped up the WBC events in April.
In 2016 edition of the Fabula hosts Matthias Göritz, Cees Nooteboom, Juan Gabriel Vásquez and Sjón, while Slovenian guest is illustrator and artist Samira Kentrić presenting her new graphic novel. The festival's topic is Newcomers, a pressing issues being a subject of discussions with Igor Štiks, Peter Vermeersch, Jean-Claude Milner, Alenka Zupančič, Srečko Horvat, Teofil Pančić, Ervin Hladnik Milharčič and Anica Mikuš Kos.
Upcoming events abroad
9 November to 11 November 2018




Anže Miš

(Miš Publishing House) presentation at the China Shanghai International Children's Book Fair (CCBF) in

Shanghai

,

China


programme
all upcoming events
Literature web resources
Latest Entries
Subcategories
This category has the following 26 subcategories, out of 26 total.
Pages in category "Literature"
The following 173 pages are in this category, out of 173 total.
2

A

B

C

D

E

F

G

H

I

J

K

L

M

N

O

P

P cont.

R

S

Š

T

U

V

W

Y

Z
Media in category "Literature"
The following 95 files are in this category, out of 95 total.