Category:New media art
From Culture.si
On the portal Culture.si we have been using new media art as terminus technicus. The terminology is explained in the Introduction to New Media Art in Slovenia article.
In our Events Archive you can search for New media art from Slovenia Worldwide
The Cultural Centre of European Space Technologies (KSEVT) engages in the research and development of the Slovenian Cultural Space programme.
For the first 5 years, the centre ran its programmes in the newly-constructed building in Vitanje. The KSEVT's programme was based on the concept of the culturisation of outer space, introduced by Dragan Živadinov, Dunja Zupančič and Miha Turšič within the Delak Institute. In 2014, the KSEVT team represented Slovenia at the Architecture Biennale in Venice with the project The Problem of Space Travel – Supre:architecture.
Since 2017, the KSEVT programme continues at other locations in Slovenia and Europe.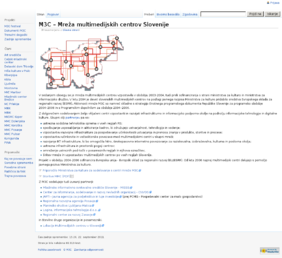 The M3C Multimedia Centres Network of Slovenia gathers existing and emerging multimedia initiatives in all Slovene regions and encourages international cooperation. Its members enable free access to and encourage creative use of new technology. They function as venues, events, and workshop (co)producers, and information points.
The M3C Network was established in 2004 when 9 Slovene multimedia centres obtained a 3-year funding contract from the European Regional Development Fund (ERDF) by applying through the Ministry of Culture to develop an infrastructural environment in relation to information technology and digital culture. Currently there are 20 regional members in the network.
New media art web resources
Latest Entries
Subcategories
This category has the following 22 subcategories, out of 22 total.
Pages in category "New media art"
The following 89 pages are in this category, out of 89 total.
A

B

C

D

E

F

G

H

I

I cont.

K

L

M

N

O

P

R

S

T

U

V

W

Z
Media in category "New media art"
The following 137 files are in this category, out of 137 total.