Category:New media art
From Culture.si
On the portal Culture.si we have been using new media art as terminus technicus. The terminology is explained in the Introduction to New Media Art in Slovenia article.
In our Events Archive you can search for New media art from Slovenia Worldwide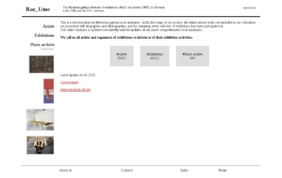 The Modern Art Archive, Museum of Modern Art department collects printed matter and press clippings related to exhibitions of Slovene artists (digitised with the special Razstava ("Exhibition") software programme). It has also built an archive and press clipping service of articles containing biographical and bibliographical and also other data on Slovene 20th- and 21st-century artists (digitised with the Umetnik ("Artist") computer programme).
A selection of the two databases is available online through the Raz_Ume Database. It currently contains over 13,500 artists, more than 8,300 exhibitions and 170 photographs. (Interestingly, Raz_Ume is a play on words using Raz from Razstava, "exhibition" and Ume from Umetnik, "artist" to create the Slovenian expression "He/She understands".)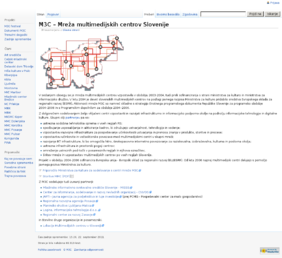 The M3C Multimedia Centres Network of Slovenia gathers existing and emerging multimedia initiatives in all Slovene regions and encourages international cooperation. Its members enable free access to and encourage creative use of new technology. They function as venues, events, and workshop (co)producers, and information points.
The M3C Network was established in 2004 when 9 Slovene multimedia centres obtained a 3-year funding contract from the European Regional Development Fund (ERDF) by applying through the Ministry of Culture to develop an infrastructural environment in relation to information technology and digital culture. Currently there are 20 regional members in the network.
Current events abroad
15 June to 30 June 2019


Installation by

Valerie Wolf Gang

within the exhibition Across Space and Time / FLUID at

Basement Gallery

in

Vienna

,

Austria


programme
all events
New media art web resources
Latest Entries
Subcategories
This category has the following 22 subcategories, out of 22 total.
Pages in category "New media art"
The following 91 pages are in this category, out of 91 total.
A

B

C

D

E

F

G

H

I

I cont.

K

L

M

N

O

P

R

S

T

U

V

W

Z
Media in category "New media art"
The following 137 files are in this category, out of 137 total.