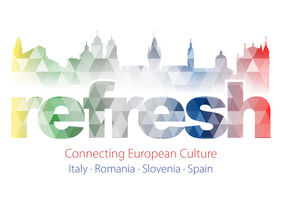 The REFRESH cooperation project led by Slovene Association of Historic Towns got the Creative Europe support related to the European Year of Cultural Heritage 2018.
Since 1997 hundreds of cultural organisations from across Europe join in for a very special set of administrative and discursive protocols. New projects are painstakingly compiled and proposed each year as artists and producers aim for co-funding from one of the European Union's programm's for the cultural and creative sectors. Today these programmes are united under the name Creative Europe.
Slovene cultural producers have been consistently successful in these programmes. In fact, through an impressive performance of their application-genius, in 2018 the 5 project leaders have managed to claim no less than 2.8 million euros, while 17 Slovene producers are engaged as partners in granted Cooperation Projects of the Culture sub-programme.