Category:Monuments and sites
From Culture.si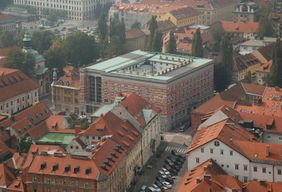 The National and University Library (NUK) serves as the national library of Slovenia, the main library of the University of Ljubljana for humanities and social sciences, the Slovenian legal deposit library and the trusted digital repository for Slovenian cultural and scientific heritage. NUK is the headquarters of the Slovene bibliographical service, and the national aggregator of e-contents from the field of culture to Europeana.
With roots in the 18th century, the institution was housed in the exquisite cultural monument conceived by Slovene architect Jože Plečnik and built 1938–1940. A four-storey, four-winged building in the shape of an irregular rectangle, with two small inner yards can boast with an interior with a number of excellent architectural details, made of marble, bronze, or wood.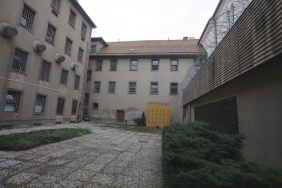 Stari pisker ("Old Pot") is a memorial site to victims of Nazi violence. The site is administered as a dislocated permanent exhibition of the Celje Museum of Recent History, which holds torture and questioning devices and collection of moving farewell letters written by war prisoners held in the Stari pisker who had learnt they would soon be executed.
Monuments and sites web resources
Latest Entries
Subcategories
This category has the following 11 subcategories, out of 11 total.
Pages in category "Monuments and sites"
The following 142 pages are in this category, out of 142 total.
A

B

Č

C

D

F

G

H

I

J

K

K cont.

L

M

N

O

P

P cont.

R

Š

S

T

U

V

W

Z

Ž
Media in category "Monuments and sites"
The following 178 files are in this category, out of 178 total.