Category:Monuments and sites
From Culture.si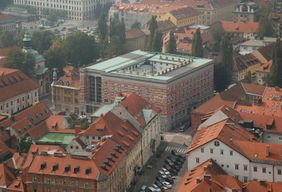 The National and University Library (NUK) serves as the national library of Slovenia, the main library of the University of Ljubljana for humanities and social sciences, the Slovenian legal deposit library and the trusted digital repository for Slovenian cultural and scientific heritage. NUK is the headquarters of the Slovene bibliographical service, and the national aggregator of e-contents from the field of culture to Europeana.
With roots in the 18th century, the institution was housed in the exquisite cultural monument conceived by Slovene architect Jože Plečnik and built 1938–1940. A four-storey, four-winged building in the shape of an irregular rectangle, with two small inner yards can boast with an interior with a number of excellent architectural details, made of marble, bronze, or wood.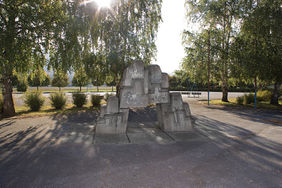 Forma Viva Open Air Sculpture Collection, Maribor is one of several in Slovenia which arose under the auspices of the International Symposia of Sculptors called Forma Viva, an innovative project conceptualised as a regular gathering of artists from all over the world. They were invited to create various, often monumental sculptures according to their particular vision and style. These works are then incorporated into publicly accessible collections that bear the name of Forma Viva as well.
Each of the venues of the Symposia chose a site-specific policy for the materials used. Maribor's Forma Viva was conceptualised as a distinctively urban project that was supposed to reflect the expanding urban fabric of Maribor. Correspondingly the works, dispersed throughout the city, are made of reinforced concrete.
Monuments and sites web resources
Latest Entries
Subcategories
This category has the following 11 subcategories, out of 11 total.
Pages in category "Monuments and sites"
The following 142 pages are in this category, out of 142 total.
A

B

Č

C

D

F

G

H

I

J

K

K cont.

L

M

N

O

P

P cont.

R

Š

S

T

U

V

W

Z

Ž
Media in category "Monuments and sites"
The following 178 files are in this category, out of 178 total.