Category:Monuments and sites
From Culture.si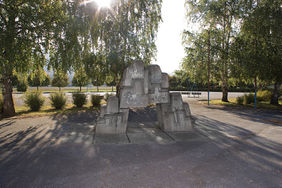 Forma Viva Open Air Sculpture Collection, Maribor is one of several in Slovenia which arose under the auspices of the International Symposia of Sculptors called Forma Viva, an innovative project conceptualised as a regular gathering of artists from all over the world. They were invited to create various, often monumental sculptures according to their particular vision and style. These works are then incorporated into publicly accessible collections that bear the name of Forma Viva as well.
Each of the venues of the Symposia chose a site-specific policy for the materials used. Maribor's Forma Viva was conceptualised as a distinctively urban project that was supposed to reflect the expanding urban fabric of Maribor. Correspondingly the works, dispersed throughout the city, are made of reinforced concrete.
Baza 20 was one of the numerous camps in the woods of Kočevski Rog which were once the commanding structures of the National Liberation Movement of Slovenia in the Second World War. Numerous secretively built partisan structures and settlements scattered in the Kočevski Rog forest had the code name Baza plus number: 15, 15a, 21, 80, etc. Only Baza 20 and the field hospitals Jelendol and Zgornji Hrastnik have been preserved as monuments of national and cultural heritage and have also undergone extensive restoration work.
This former base camp (baza), which was granted the status of a cultural and historical monument of national importance in 1952, has been managed by the Dolenjska Museum in Novo mesto since 1994.
Monuments and sites web resources
Latest Entries
Subcategories
This category has the following 11 subcategories, out of 11 total.
Pages in category "Monuments and sites"
The following 142 pages are in this category, out of 142 total.
A

B

Č

C

D

F

G

H

I

J

K

K cont.

L

M

N

O

P

P cont.

R

Š

S

T

U

V

W

Z

Ž
Media in category "Monuments and sites"
The following 178 files are in this category, out of 178 total.