Category:Monuments and sites
From Culture.si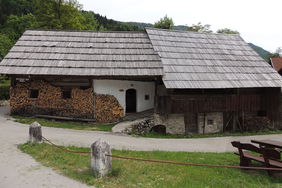 Oplen House is a traditional early 20th-century Bohinj farmhouse made of wood and stone, renovated in period style with authentic furnishings to serve as a museum of domestic culture of the people living in the valleys around Bohinj Lake. The house was renovated by donations from locals, the Institute for the Protection of Cultural Heritage of Slovenia and furnished in collaboration with the Gorenjska Museum, which also contributed some of the exhibits. The museum opened to the public in 1991, and has been managed since 1997 by the Gorenjska Museum.
Velenje Castle was a strategically important fortress first mentioned in 1270 from which, together with the neighbouring castles of Šalek and Ekenštajn, various owners in the middle ages controlled the routes from the Celjska kotlina basin to Carinthia.
Today the castle houses the Velenje Museum, established in 1957 as the Museum of Slovene Coalmines. The Velenje Museum gives the castle its full functionality filling the premises with numerous exhibitions. The castle is also a popular venue for various cultural and music events organised by the Velenje Library.
Monuments and sites web resources
Latest Entries
Subcategories
This category has the following 11 subcategories, out of 11 total.
Pages in category "Monuments and sites"
The following 143 pages are in this category, out of 143 total.
A

B

Č

C

D

F

G

H

I

J

K

K cont.

L

M

N

O

P

P cont.

R

Š

S

T

U

V

W

Z

Ž
Media in category "Monuments and sites"
The following 181 files are in this category, out of 181 total.