Category:Monuments and sites
From Culture.si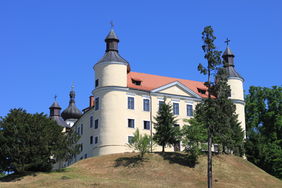 According to legend, the town and castle of Velika Nedelja ("Easter Sunday") were named after an important battle on Easter Day in 1199 when Friderik of Ptuj supposedly snatched the still-unpopulated land in this area from the Hungarians. He later granted it to the Teutonic Order of Knights, who built the first castle. Much of the present Velika Nedelja Castle dates from a 16th-century reconstruction and today it houses the Velika Nedelja Unit of the Ptuj – Ormož Regional Museum, established in the 1980s. An ethnological collection of the Ormož region is on display.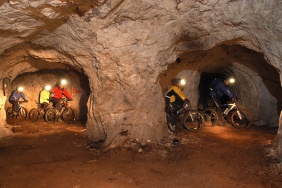 After its closure in 2004, the Mežica lead and zinc mine was turned into Podzemlje Pece, Tourist Mine and Museum which was nominated for the European Museum of the Year Award 2007. First notes about lead ore in this area are from 1424 and the first written sources about mining under the Mount Peca are from 1665. The old mine administration building of 1927, located in front of the mine entrance, has been converted into a museum with a number of collections (a mining exhibition and the collection of Maks Kunc, miner and photographer).
Monuments and sites web resources
Latest Entries
Subcategories
This category has the following 11 subcategories, out of 11 total.
Pages in category "Monuments and sites"
The following 143 pages are in this category, out of 143 total.
A

B

Č

C

D

F

G

H

I

J

K

K cont.

L

M

N

O

P

P cont.

R

Š

S

T

U

V

W

Z

Ž
Media in category "Monuments and sites"
The following 181 files are in this category, out of 181 total.