Category:Monuments and sites
From Culture.si
The Museum of Hostages in Begunje na Gorenjskem was founded by the Municipality of Radovljica in 1961 and incorporated into the Radovljica Municipality Museums in 1963. It is housed in the northwest wing of the Katzenstein mansion, where the cells of those condemned to death were located during the Second World War. The mansion, with its interesting history from the 14th century onwards, is now a psychiatric hospital. The museum is declared a cultural monument of national importance together with the Katzenstein mansion, the memorial park in Draga Valley, the avenue lined with chestnut trees, and the pavilions Jožamurka and Brezjanka designed by Slovenian architect Jože Plečnik.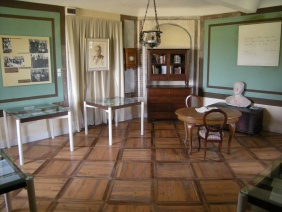 The Louis Adamič Memorial Room is housed in Praproče, the birthplace of Louis Adamič (1898–1951), a Slovene writer who spent most of his life in the USA after emigrating there in 1913 at the age of 14. Known in the United States as Adamic (a-dam'ik), his literature dealt with the social and political issues of both countries (for example, Dynamite, The Native's Return, The Eagle and the Roots).
The collections of Adamič's legacy are dispersed throughout various archives in Slovenia and the USA. The most important is the one at Princeton University (books from his own library, manuscripts and correspondence, clippings). In Slovenia, the memorial room is placed in the tower of the country mansion in Praproče, where Adamič spent his childhood.
all events
Monuments and sites web resources
Latest Entries
Subcategories
This category has the following 11 subcategories, out of 11 total.
Pages in category "Monuments and sites"
The following 142 pages are in this category, out of 142 total.
A

B

Č

C

D

F

G

H

I

J

K

K cont.

L

M

N

O

P

P cont.

R

Š

S

T

U

V

W

Z

Ž
Media in category "Monuments and sites"
The following 178 files are in this category, out of 178 total.