Category:Monuments and sites
From Culture.si
Pleterje Charterhouse Monastery is the only still-inhabited Carthusian monastery in Slovenia. Known officially in Latin as Thronus Sanctissimae Trinitatis a community of white monks of the strictest contemplative order in the Roman Catholic church are living secluded, behind walls in silence, work and prayer. The monastery has two parts, a Clausura where only monks, apprentices and lay monastery help are allowed, and a public part with the Gothic church of St. Trinity, built in 1407 in simple style, but with a so called "long choir", big Gothic windows, a fish bladder, and quatrefoil ornament and Parlerian elements in the interior as console masks and flower keystones. In the middle of the nave stands a Rood screen that used to divide lay monks from choir monks and in the walls clay vessels have been built to give the space a special resonance for choirs. From the Gothic-style buildings only the church, part of the cloister and sacristy have remained, the monastery's other buildings were erected in the beginning of the 20th century.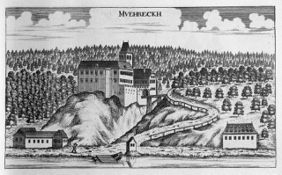 First mentioned in 1148, the Cmurek Castle stands in Trate, on a cliff above the Mura River on the border with Austria. Its name, in fact, derives from the Austrian town of Cmurek (Mureck). From 1956 till 2004, it housed the Institution for the Mentally Disabled Hrastovec–Trate.
Nine years after its abandonment, the castle became the nexus for a local initiative focused on the Museum of Madness. The cross-border innovative project strives to reactualise, de-tabooise and revitalise the castle. With a substantial amount of voluntary work and the support from both neighbouring municipalities (Šentilj from the Slovenian and Mureck from the Austrian side) and some institutional support, it has turned into a unique cultural and community venue.
Monuments and sites web resources
Latest Entries
Subcategories
This category has the following 11 subcategories, out of 11 total.
Pages in category "Monuments and sites"
The following 138 pages are in this category, out of 138 total.
A

B

Č

C

D

F

G

H

I

J

K

K cont.

L

M

N

O

P

P cont.

R

Š

S

T

U

V

W

Z

Ž
Media in category "Monuments and sites"
The following 178 files are in this category, out of 178 total.