Category:Monuments and sites
From Culture.si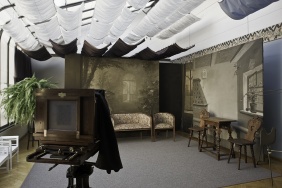 Josip Pelikan Photographic Studio, a branch of the Celje Museum of Recent History, was established as a museum exhibition in 1989. The studio is without a doubt one of the best preserved luxurious glass photographic ateliers in Europe with original equipment used by the famous Slovene photographer Josip Pelikan (1885–1977). The 19th-century glass photographic studio on the second floor makes daylight photography possible even today.
The museum display presents a special collection containing historic photographic equipment, including travel cameras, mobile study cameras, studio lenses and backgrounds. Original photography of various formats, negatives and glass photographic plates show mainly portrait, studio, industry and mountain motives. There are around 50,000 photographs and 10,000 negatives in the collection and Celje Museum of Recent History opened an exhibition of selected material in December 2009.
Once a month the studio has been revived by Borut Peterlin, a professional photographer and an enthusiastic researcher of old photographic techniques.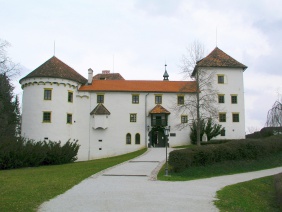 In 1511 the Lords of Wagen began building Bogenšperk Castle as a replacement for their fortress at nearby Lichtenberg, which had become uninhabitable following an earthquake. The new castle was a Renaissance building with typical round towers. The castle reached its golden age at the end of the 17th century when Janez Vajkard (Johann Weichard) Valvasor (1641–1693) lived and worked there. After 1970 a systematic renovation of the castle began and today, thanks to Valvasor's heritage, it is one of the most important cultural monuments in Slovenia. Since 1998 the Bogenšperk Public Institute has managed the building.
Monuments and sites web resources
Latest Entries
Subcategories
This category has the following 11 subcategories, out of 11 total.
Pages in category "Monuments and sites"
The following 142 pages are in this category, out of 142 total.
A

B

Č

C

D

F

G

H

I

J

K

K cont.

L

M

N

O

P

P cont.

R

Š

S

T

U

V

W

Z

Ž
Media in category "Monuments and sites"
The following 178 files are in this category, out of 178 total.