Category:Monuments and sites
From Culture.si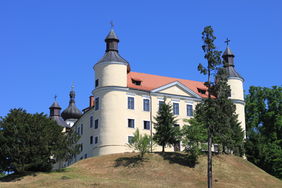 According to legend, the town and castle of Velika Nedelja ("Easter Sunday") were named after an important battle on Easter Day in 1199 when Friderik of Ptuj supposedly snatched the still-unpopulated land in this area from the Hungarians. He later granted it to the Teutonic Order of Knights, who built the first castle. Much of the present Velika Nedelja Castle dates from a 16th-century reconstruction and today it houses the Velika Nedelja Unit of the Ptuj – Ormož Regional Museum, established in the 1980s. An ethnological collection of the Ormož region is on display.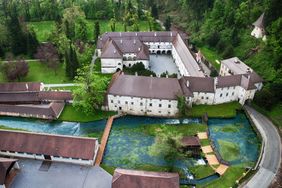 The Bistra Carthusian Monastery was founded around 1220 by Carinthian duke Bernard Spanheim and completed by his son Ulrik in 1260. In 1951 it was taken over by the Technical Museum of Slovenia. In 1999 the monastery and its surroundings were declared a cultural monument of national importance.
Monuments and sites web resources
Latest Entries
Subcategories
This category has the following 11 subcategories, out of 11 total.
Pages in category "Monuments and sites"
The following 150 pages are in this category, out of 150 total.
A

B

Č

C

D

F

G

H

I

J

K

K cont.

L

M

N

O

P

P cont.

R

Š

S

T

U

V

W

Z

Ž
Media in category "Monuments and sites"
The following 180 files are in this category, out of 180 total.