Category:Festivals
From Culture.si
Visit the Festivals in Slovenia infographics page or consult the Timeline of Slovene festivals (since 1909).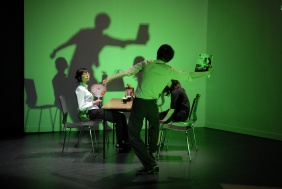 The Mladi levi Festival (in English: Young Lions Festival) is an annual international festival of contemporary theatre and dance. Organised by the Bunker Institute, it presents original approaches to theatre and dance, focusing on talented and emerging stage performers, along with presenting already established progressive authors. It takes place every end of the summer and was initiated in 1998 under the auspices of the international network Junge Hunde.
The festival has a distinctive atmosphere, marked with creativity and vibrant spirit, and social nature. It is an interdisciplinary place of exchange and co-operations, extending beyond the habitual local or international concepts.
Luksuz Cheap Film Festival was established in 2003 by Luksuz Production, the video production arm of the Society of Allies for Soft Landing, Krško (DZMP), motivated by the advent of cheap film production in recent years and the consequent democratisation of media. The festival features some 30 short and low-budget film productions by both domestic and foreign experimental and alternative directors and activists, created in a non-commercial or non-institutional context and offering an alternative to mainstream "Hollywood" and national film productions. Luksuz Festival welcomes films that tackle the subject of society and culture, social critique, cultural diversity and youth culture.
Year of establishment
Latest Entries
Subcategories
This category has the following 12 subcategories, out of 12 total.
Pages in category "Festivals"
The following 284 pages are in this category, out of 284 total.
2

A

B

C

Č

(

D

E

F

G

G cont.

H

I

J

K

L

M

N

N cont.

O

P

R

S

Š

T

U

V

W

Y

Z
Media in category "Festivals"
The following 271 files are in this category, out of 271 total.