Category:Festivals
From Culture.si
Visit the Festivals in Slovenia infographics page or consult the Timeline of Slovene festivals (since 1909).
See also
Since 2000 the Jazzinty International Music Workshop and Festival has been taking place every August at the LokalPatriot club in Novo mesto.
Foreign jazz musicians and pedagogues are invited every year to run the workshops and to play at the festival. These jazz events have become one of the main international musical events in the region of Dolenjska. In spite of rather conventional musical programming there's also a space for more progressive performers, teachers, and concerts. The Jazzon Award is bestowed every year.
The Jazzon Alpe-Adria competition is open for the composers from Slovenia, Austria and Croatia.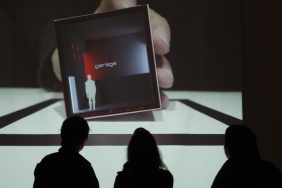 Launched in 2002 by KIBLA Multimedia Centre in collaboration with the Linux Users Group of Slovenia Association (LUGOS, established in 1997), the international open code KIBLIX Linux IT Festival was developed out of the so-called Linux Install Fest (LIFe), established in 1999. Since its inception the festival, named simply as KIBLIX since 2008, has gradually developed in the contemporary art and education-related festival tackling the issues of information technology, open code and open society.
In the 2010 edition KIBLA Multimedia Centre joined forces with another two Slovene festivals dedicated to art and technology – the HAIP Festival and the International Festival of Computer Arts (IFCA). The 9th edition of the KIBLIX Festival, conceived by Miha Horvat, was dedicated to low technology, ecology, open code and waste, called the Waste – Technology Minus.
The KIBLIX 2014 Parallels festival took place at KIBLA Portal venue in October 2014. In October 2015 the MRFR-Kiblix Festival took place, like in 2013 again as a joint venture with the International Festival of Computer Arts (IFCA).
Year of establishment
Latest Entries
Subcategories
This category has the following 12 subcategories, out of 12 total.
Pages in category "Festivals"
The following 213 pages are in this category, out of 213 total.
A

B

C

Č

D

E

F

G

H

I

J

K

L

M

N

O

P

R

S

Š

T

U

V

W

Y

Z
Media in category "Festivals"
The following 297 files are in this category, out of 297 total.