Category:Festivals
From Culture.si
Visit the Festivals in Slovenia infographics page or consult the Timeline of Slovene festivals (since 1909).
See also
The first Brumen Biennial of Slovenian Design was organised by the Brumen Foundation in November 2003 at the National Gallery of Slovenia in Ljubljana.
Since then the biennial has become a notable and respected event to evaluate and award Slovenian design in about seven categories. The biennial has come to provide a specialised and expert-based overview of the field of visual communication for Slovenian designers and design firms.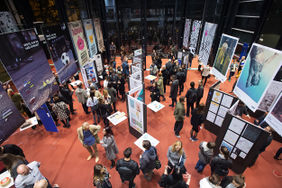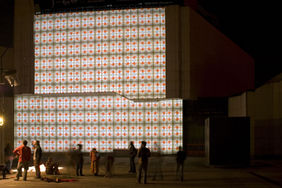 First held in 2008, the Lighting Guerrilla is a quite special festival that explores, elaborates and sheds light on the myriad relations between light, the public space and the 'confines' of the gallery walls. Initiated a year earlier as a workshop at the festival "Lighting Detectives" (Detektivi svetlobe), it is founded and run by Strip Core, otherwise predominately active as the comic art section of Forum Ljubljana.
The festival is well known for its luminous, site-specific 'exhibition objects' presented at several public locations, mainly in Ljubljana; its streets and gardens, the Ljubljanica bridges and quays, the French Revolution Square, the Tivoli Park, etc. By way of exhibitions, installations, workshops and performances, each year's programme is dedicated to a certain topic – among them the concept of shimmering, the functioning of darkness, and the role of light in shaping the urban experience.
Year of establishment
Latest Entries
Subcategories
This category has the following 12 subcategories, out of 12 total.
Pages in category "Festivals"
The following 216 pages are in this category, out of 216 total.
A

B

C

Č

D

E

F

G

G cont.

H

I

J

K

L

M

N

O

P

R

S

Š

T

U

V

W

Y

Z
Media in category "Festivals"
The following 402 files are in this category, out of 402 total.