Category:Museums
From Culture.si
Baza 20 was one of the numerous camps in the woods of Kočevski Rog which were once the commanding structures of the National Liberation Movement of Slovenia in the Second World War. Numerous secretively built partisan structures and settlements scattered in the Kočevski Rog forest had the code name Baza plus number: 15, 15a, 21, 80, etc. Only Baza 20 and the field hospitals Jelendol and Zgornji Hrastnik have been preserved as monuments of national and cultural heritage and have also undergone extensive restoration work.
This former base camp (baza), which was granted the status of a cultural and historical monument of national importance in 1952, has been managed by the Dolenjska Museum in Novo mesto since 1994.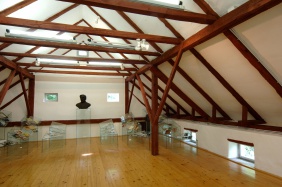 Famous Slovene writer, publicist, political and cultural worker France Bevk (1890–1970) was born at the Volar homestead in the village of Zakojca. He spent his childhood and early youth living on a slope of the Kojca mountain, above the Baška Valley.
The France Bevk homestead was opened to visitors in 1990 on the 100th anniversary of the writer's birth. It was established by the Idrija Municipal Museum which also houses France Bevk's Memorial Room, donated by his wife and transferred from Ljubljana to Idrija in 1971. His homestead in Zakojca is nevertheless managed by the Cerkno Museum.
Museums web resources
Latest Entries
Subcategories
This category has the following 28 subcategories, out of 28 total.
A

D

E

I

L

M

M cont.

M cont.

N

P

R

S

T

V
Pages in category "Museums"
The following 289 pages are in this category, out of 289 total.
A

B

C

Č

D

E

F

G

H

I

J

J cont.

K

L

M

N

O

P

P cont.

R

S

Š

T

U

V

W

Z

Ž
Media in category "Museums"
The following 444 files are in this category, out of 444 total.