Category:Museums
From Culture.si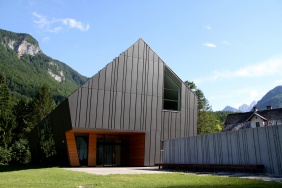 The Slovenian Alpine Museum dedicated to mountaineering in Slovenia opened in August 2010 at the entrance to the Vrata Valley in the Triglav National Park. The new multifunctional edifice by the architects Boris Leskovec, Alja Vehovec, and Rok Kajtna hosts a permanent collection (previously displayed as a part of the Triglav Museum Collection), a specialised library, a historic mountain bivouac (transformed into a so-called escape room), temporary exhibitions, lectures, screenings, and presentations of Slovene and international mountaineering achievements. The Slovenian Alpine Museum also serves as an information point where visitors to the museum can book guided mountaineering trips in the wider Alpine area.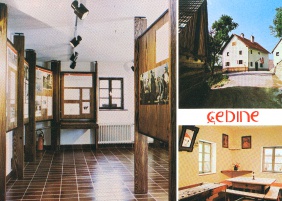 Located in a substantially altered old Barlič homestead, this memorial room commemorates the Founding Congress of the Communist Party of Slovenia, which was held here in 1937. The room was set up in 1985 and contains original period furniture, and two panels illustrate the events which occurred here.
Museums web resources
Latest Entries
Subcategories
This category has the following 27 subcategories, out of 27 total.
A

D

I

L

M

M cont.

M cont.

N

P

R

S

T

V
Pages in category "Museums"
The following 285 pages are in this category, out of 285 total.
A

B

C

Č

D

E

F

G

H

I

J

J cont.

K

L

M

N

O

P

P cont.

R

S

Š

T

U

V

W

Z

Ž
Media in category "Museums"
The following 416 files are in this category, out of 416 total.