Category:Museums
From Culture.si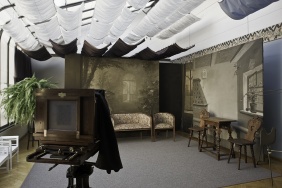 Josip Pelikan Photographic Studio, a branch of the Celje Museum of Recent History, was established as a museum exhibition in 1989. The studio is without a doubt one of the best preserved luxurious glass photographic ateliers in Europe with original equipment used by the famous Slovene photographer Josip Pelikan (1885–1977). The 19th-century glass photographic studio on the second floor makes daylight photography possible even today.
The museum display presents a special collection containing historic photographic equipment, including travel cameras, mobile study cameras, studio lenses and backgrounds. Original photography of various formats, negatives and glass photographic plates show mainly portrait, studio, industry and mountain motives. There are around 50,000 photographs and 10,000 negatives in the collection and Celje Museum of Recent History opened an exhibition of selected material in December 2009.
Once a month the studio has been revived by Borut Peterlin, a professional photographer and an enthusiastic researcher of old photographic techniques.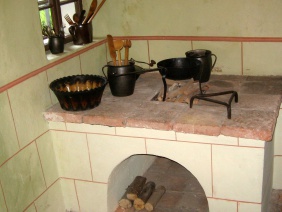 The Miner's House and its ethnological collection in Idrija shows the household and living conditions of miners and their families in the past. Men in Idrija worked almost exclusively as miners in the Idrija Mercury Mine; women were housewives, taking care of the children and trying to earn additional money with various domestic jobs, typically from knitting and making Idrija bobbin-lace.
The Miner's House was built at the end of the 18th century and has preserved the main features of typical Idrija architecture. After undergoing extensive renovation in the 1990s, the house is today protected as a cultural monument and administered by the Idrija Municipal Museum. The furniture and tools of the household date back to the first half of the 20th century.
Museums web resources
Latest Entries
Subcategories
This category has the following 27 subcategories, out of 27 total.
A

D

I

L

M

M cont.

M cont.

N

P

R

S

T

V
Pages in category "Museums"
The following 283 pages are in this category, out of 283 total.
A

B

C

Č

D

E

F

G

H

I

J

J cont.

K

L

M

N

O

P

P cont.

R

S

Š

T

U

V

W

Z

Ž
Media in category "Museums"
The following 406 files are in this category, out of 406 total.