Category:Museums
From Culture.si
The history of the Museum of Slovene Police dates back to the year 1920. In 1971 its first professional curator, art historian Biserka Debeljak developed an intriguing display based on the methodologies of dealing with different aspects of crime in the society. Thus the museum is often considered as the Museum of Criminalistics. The Museum of Slovene Police is a member of the Association of Slovene Museums.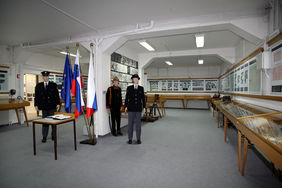 Lipica Stud Farm is home to one of the world's most famous breed of horses, the Lippizaner. Founded by Archduke Charles of Austria in 1580, the farm has continuously bred the sturdy white horses for over four centuries and some of the best of these perform at the Spanish Riding School in Vienna.
The farm, extending over 311 hectares in the Karst countryside, was proclaimed a place of special cultural heritage in 1996, and has since that time been state-owned and managed by the Republic of Slovenia. At present the farm is home to around 350 white horses. The traditional Lipica Days are organised at the end of September. Museum Lipikum, the Lipizzaner Museum opened in Lipica in 2011.
Museums web resources
Latest Entries
Subcategories
This category has the following 27 subcategories, out of 27 total.
A

D

I

L

M

M cont.

M cont.

N

P

R

S

T

V
Pages in category "Museums"
The following 287 pages are in this category, out of 287 total.
A

B

C

Č

D

E

F

G

H

I

J

J cont.

K

L

M

N

O

P

P cont.

R

S

Š

T

U

V

W

Z

Ž
Media in category "Museums"
The following 430 files are in this category, out of 430 total.