Category:Museums
From Culture.si
Newly opened in May 2015, the Museum of Puppetry is a joint project of the Ljubljana Puppet Theatre and the Ljubljanski grad Public Institute, supported by the Municipality of Ljubljana. A permanent exhibition entitled Images of Slovenian Puppetry Art, 1910-1990 displays the numerous forms, contexts, and techniques of puppet shows, featuring both children's plays as well as experimental theatre performances.
The museum houses a vast collection of material artefacts such as artistic and technical designs for puppet shows, puppets, scenic elements, stages and written documents. In addition, the museum also screens television puppet shows, runs workshops, presents interactive puppet stages, and actively engages in developing the field of puppetry conservation and restoration know-how.
The establishment of the museum presents a pioneering work for Slovene puppet arts, as the material history of Slovene puppetry has never before been systematically researched, not to mention restored and exhibited. With this in mind, one of the primary objectives of the museum is to create the conditions for the proper care and long-term preservation of Slovene puppetry culture heritage.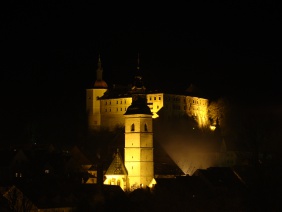 In the 12th century on the hills above Škofja Loka stood three fortifications: the Upper Tower on Krancelj; the Lower Fort (nider vest); and the Loka Castle, a residence of Freising Bishops, built at the brink of a natural terrace. The castle is first mentioned in 1202 as castrum firmissimum, although today's building dates from the 16th century. The castle was rebuilt in 1691 after an earthquake and in 1716.
The castle was administered by Loka chiefs, among them Lambergs, Thurms, and Rasps. Since 1890 the castle has been managed by the Ursulines, who pulled down the Romanesque yard tower and transformed it into a school. Since 1959 it has hosted the Loka Museum.
The circular castle dominates above Škofja Loka town and presents the conclusion of the town walls. It can be dated after the earthquake in 1511, although some parts are older, which was confirmed during the renovation works in 2006–2008. The north-eastern tower, the oldest in the structure, is built on an older predecessor from the 10th century. Together with the renovation work the reconstruction of the primary entrance with a wooden drawbridge was also carried out.
Museums web resources
Latest Entries
Subcategories
This category has the following 27 subcategories, out of 27 total.
A

D

I

L

M

M cont.

M cont.

N

P

R

S

T

V
Pages in category "Museums"
The following 283 pages are in this category, out of 283 total.
A

B

C

Č

D

E

F

G

H

I

J

J cont.

K

L

M

N

O

P

P cont.

R

S

Š

T

U

V

W

Z

Ž
Media in category "Museums"
The following 406 files are in this category, out of 406 total.