Category:Museums
From Culture.si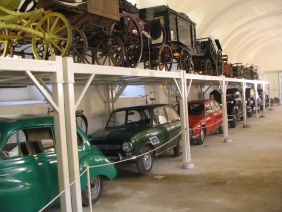 With the exception of the wagon and carriage collection, the Soteska open-storage depot encompasses a collection of vehicles that as a whole do not qualify as a museum collection. The vehicle collection is constantly complemented and rotated. When the project for a museum exhibition addressing the whole history of road transport in Slovenia can finally be realised, the most distinguished examples of wagons and carriages will be moved to Bistra, making way for some other vehicles from the Bistra Museum or Borovnica Open Storage Depot. In the future a more detailed presentation of the wagons and carriages collection together with their historical development is planned.
The Museum of Hostages in Begunje na Gorenjskem was founded by the Municipality of Radovljica in 1961 and incorporated into the Radovljica Municipality Museums in 1963. It is housed in the northwest wing of the Katzenstein mansion, where the cells of those condemned to death were located during the Second World War. The mansion, with its interesting history from the 14th century onwards, is now a psychiatric hospital. The museum is declared a cultural monument of national importance together with the Katzenstein mansion, the memorial park in Draga Valley, the avenue lined with chestnut trees, and the pavilions Jožamurka and Brezjanka designed by Slovenian architect Jože Plečnik.
Current events abroad
17 January to 9 March 2018


An exhibition about the Javorca Memorial Church of the Holy Spirit curated by

Damjana Fortunat Černilogar

(Tolmin Museum), at

Rathaus Villach

in

Villach/Beljak

,

Austria


programme
all events
Museums web resources
Latest Entries
Subcategories
This category has the following 28 subcategories, out of 28 total.
A

D

H

I

L

M

M cont.

M cont.

N

P

R

S

T

V
Pages in category "Museums"
The following 279 pages are in this category, out of 279 total.
A

B

C

Č

D

E

F

G

H

I

J

J cont.

K

L

M

N

O

P

R

S

Š

T

U

V

W

Z

Ž
Media in category "Museums"
The following 424 files are in this category, out of 424 total.