Category:Museums
From Culture.si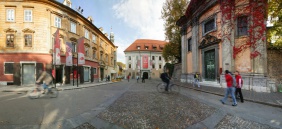 In 2009 the City Museum of Ljubljana and the City Art Gallery Ljubljana merged into a new public institute called the Museum and Galleries of Ljubljana (MGML). The merger was part of the Municipality of Ljubljana's cultural development plans for 2008–2011, endorsed in June 2008.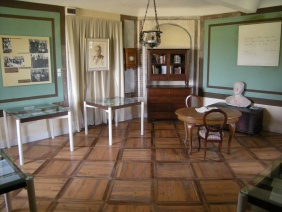 The Louis Adamič Memorial Room is housed in Praproče, the birthplace of Louis Adamič (1898–1951), a Slovene writer who spent most of his life in the USA after emigrating there in 1913 at the age of 14. Known in the United States as Adamic (a-dam'ik), his literature dealt with the social and political issues of both countries (for example, Dynamite, The Native's Return, The Eagle and the Roots).
The collections of Adamič's legacy are dispersed throughout various archives in Slovenia and the USA. The most important is the one at Princeton University (books from his own library, manuscripts and correspondence, clippings). In Slovenia, the memorial room is placed in the tower of the country mansion in Praproče, where Adamič spent his childhood.
Current events abroad
24 September to 30 November 2019


The exhibition Beehive Panels: Images of the Sacred and the Secular, prepared by the Slovene Ethnographic Museum and curated by

Bojana Rogelj Škafar

, at

Russian Museum of Ethnography

in

Saint Petersburg

,

Russia


programme organiser
all events
Museums web resources
Latest Entries
Subcategories
This category has the following 27 subcategories, out of 27 total.
A

D

I

L

M

M cont.

M cont.

N

P

R

S

T

V
Pages in category "Museums"
The following 284 pages are in this category, out of 284 total.
A

B

C

Č

D

E

F

G

H

I

J

J cont.

K

L

M

N

O

P

P cont.

R

S

Š

T

U

V

W

Z

Ž
Media in category "Museums"
The following 416 files are in this category, out of 416 total.