Category:Museums
From Culture.si
Located in the narrow valley beneath the Jelovica plateau, the town of Kropa has preserved the appearance of an old iron-making settlement and since 1953 has been protected as important state cultural monument. The Kropa Iron Forging Museum was established in 1952 as the first technical museum in situ. It was founded on the endeavours of locals and experts, especially Franjo Baš who was at that time director of the Technical Museum of Slovenia.
The Iron Forging Museum is located in the old 18th-century forging house known as Klinar House (a very well preserved mansion by a forge owner) and is nowadays administered by Radovljica Municipality Museums. It covers the technical and historical development of iron-working from iron ore to nail.
The history of the Museum of Slovene Police dates back to the year 1920. In 1971 its first professional curator, art historian Biserka Debeljak developed an intriguing display based on the methodologies of dealing with different aspects of crime in the society. Thus the museum is often considered as the Museum of Criminalistics. The Museum of Slovene Police is a member of the Association of Slovene Museums.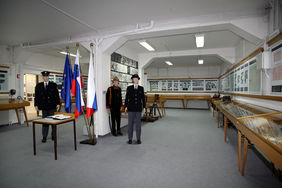 Museums web resources
Latest Entries
Subcategories
This category has the following 27 subcategories, out of 27 total.
A

D

I

L

M

M cont.

M cont.

N

P

R

S

T

V
Pages in category "Museums"
The following 287 pages are in this category, out of 287 total.
A

B

C

Č

D

E

F

G

H

I

J

J cont.

K

L

M

N

O

P

P cont.

R

S

Š

T

U

V

W

Z

Ž
Media in category "Museums"
The following 447 files are in this category, out of 447 total.