Category:Museums
From Culture.si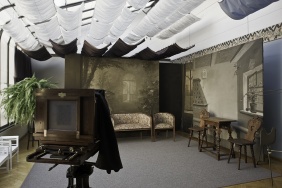 Josip Pelikan Photographic Studio, a branch of the Celje Museum of Recent History, was established as a museum exhibition in 1989. The studio is without a doubt one of the best preserved luxurious glass photographic ateliers in Europe with original equipment used by the famous Slovene photographer Josip Pelikan (1885–1977). The 19th-century glass photographic studio on the second floor makes daylight photography possible even today.
One of the most picturesque castles in Slovenia, Predjama Castle is built into an overhanging rock in front of a karst cave hall that is connected with a cave system underneath the castle. It is situated just a a few kilometres from the entrance to the Postojna Cave. The castle is now a museum on five floors that shows the life in the 16th century, with an armoury, dungeon, halls, living quarters and other castle facilities. Interesting is the dialogue between man-made architecture and natural structures that combine into the castle's fortification system.
Museums web resources
Latest Entries
Subcategories
This category has the following 28 subcategories, out of 28 total.
A

D

E

I

L

M

M cont.

M cont.

N

P

R

S

T

V
Pages in category "Museums"
The following 286 pages are in this category, out of 286 total.
A

B

C

Č

D

E

F

G

H

I

J

J cont.

K

L

M

N

O

P

R

S

Š

T

U

V

W

Z

Ž
Media in category "Museums"
The following 458 files are in this category, out of 458 total.