Category:Film
From Culture.si
Film from Slovenia Worldwide: in our Events Archive you can follow Slovenian film authors presented worldwide
Dedicated to exploring and presenting various facets of mountain culture, the Mountain Film Festival got established in 2007. Since than it has been running a strong international programme that encompasses various films about mountain sports (mountaineering, mountain running, B.A.S.E jumping, etc), different types of climbing (from bouldering to ice climbing), mountain wildlife, the life of indigenous mountain dwellers, and so on. Since the beginning the festival has been led by its founder, the legendary mountaineer Silvo Karo.
With years the festival has grown to the point where it's now comparable to the biggest and most important mountain film festivals worldwide. In 2010 the International Festival of Mountain Film became a member of the International Alliance for Mountain Film.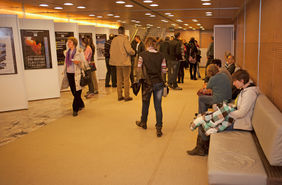 Film web resources
Latest Entries
Subcategories
This category has the following 29 subcategories, out of 29 total.
Pages in category "Film"
The following 162 pages are in this category, out of 162 total.
2

6

A

B

C

D

E

F

F cont.

G

H

I

K

L

M

M cont.

N

O

P

R

S

T

V

Z
Media in category "Film"
The following 151 files are in this category, out of 151 total.