Category:Film
From Culture.si
In our Events Archive you can search for Film from Slovenia Worldwide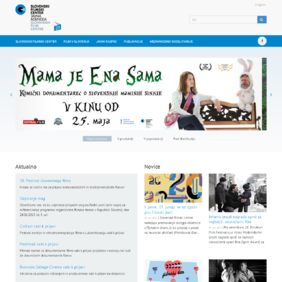 Film-center.si is the website of the former Slovenian Film Fund, which in January 2011 was transformed into the Slovenian Film Centre. The website was formerly known as Film-sklad.si.
Being not just the principal public film funder involved in all major Slovene film productions, but also the public institution that takes care of the promotion of Slovene cinema at home and abroad, the Slovenian Film Centre runs a website which offers all sorts of information regarding Slovene cinema and is regularly updated with news about films in pre-production, production or post-production, public tenders, retrospectives, screenings at film festivals and awards won by Slovene film makers. The website also provides the lists of all Slovene production and distribution companies, institutions working in the field of cinema, film festivals, magazines, TV stations and cinema halls. A fully searchable database of Slovene cinema is included in the website. All information is available in Slovenian and English languages.
Established in 1996 the Slovenian Cinematheque is one of the youngest public institutions of national importance in the field of culture. Its main tasks are to form, maintain, and present its collection of world film; to prepare regular programming and retrospectives in its hall; to exhibit artefacts which are important for the history of film and cinema; and to carry out research and publishing activity in the history of cinema. The Slovenian Cinematheque has its hall on Miklošičeva 28 and it publishes the monthly bulletin Kinotečnik.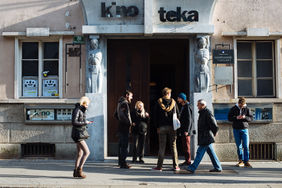 Upcoming events abroad
14 May to 25 May 2019


Paricipation of Slovenian film (to be announced), and presentation by the Slovenian Film Centre at the Cannes International Film Festival at

Palais

in

Cannes

,

France


programme

28 June to 6 July 2019


Participation of Slovenian film (to be announced), supported by the Slovenian Film Centre, at the Karlovy Vary International Film Festival in

Karlovy Vary

,

Czech Republic


programme organiser
all upcoming events
Current events abroad
25 April to 27 April 2019


Screenings of Ivan, directed by

Janez Burger

(Staragara), The Miner, directed by

Hanna A. W. Slak

(

Nukleus Film

), Playing Men, , directed by

Matjaž Ivanišin

(Nosorogi and Restart), and a short film Fountain, directed by

Goran Vojnović

, supported by the Slovenian Film Centre and the Consulate General of the Republic of Slovenia Szentgotthárd, at the Slovenian Film Days in Sobotel at

Agora Savaria Cinema

in

Szombathely

,

Hungary


programme organiser
all events
Film web resources
Latest Entries
Subcategories
This category has the following 29 subcategories, out of 29 total.
Pages in category "Film"
The following 163 pages are in this category, out of 163 total.
2

A

B

C

D

E

F

F cont.

G

H

I

K

L

M

N

O

P

R

S

T

V

Z
Media in category "Film"
The following 125 files are in this category, out of 125 total.