Category:Film
From Culture.si
In our Events Archive you can search for Film from Slovenia Worldwide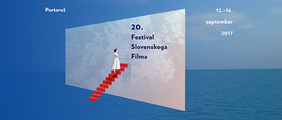 The Festival of Slovenian Film (Festival slovenskega filma or FSF) is classified as a national film festival as it offers an annual review of domestic film and television production. It is organised by the Slovenian Film Centre and it is staged annually in September or October, the length varies according to annual film production (usually for 2 to 4 days), at the Portorož Auditorium in the seaside resort of Portorož. It was established in 1991 as the Slovene Film Marathon but its roots go back to 1973 when the Slovene Film Week was organised for the first time in Celje. The main festival award is the Vesna Award.
Grossmann Fantastic Film and Wine Festival is a specialised competitive festival which focuses on contemporary genre film production, mostly on the genres of horror and fantasy films. It was launched in 2005 on the 100th anniversary of Slovene cinema and is dedicated to Dr. Karol Grossmann (1864–1929), the pioneer of Slovene cinema as he made the first film shots in 1905.
The Grossmann Festival takes place in different locations in the city of Ljutomer, usually in the last week of July, and it is without question the most unconventional Slovene film festival. Lately its film programme was hosted post festum also in Zagreb, Belgrade, Lyon and Cannes. Upon the invitation by the Slovenian Film Centre the Grossmann Festival frequently presents their activities at the Marché du Film in Cannes.
Subcategories
This category has the following 29 subcategories, out of 29 total.
Pages in category "Film"
The following 163 pages are in this category, out of 163 total.
2

A

B

C

D

E

F

F cont.

G

H

I

K

L

M

M cont.

N

O

P

R

S

T

V

Z
Media in category "Film"
The following 125 files are in this category, out of 125 total.