Category:Film
From Culture.si
In our Events Archive you can search for Film from Slovenia Worldwide
Dedicated to exploring and presenting various facets of mountain culture, the Mountain Film Festival got established in 2007. Since than it has been running a strong international programme that encompasses various films about mountain sports (mountaineering, mountain running, B.A.S.E jumping, etc), different types of climbing (from bouldering to ice climbing), mountain wildlife, the life of indigenous mountain dwellers, and so on.
The festival does not limit itself to films only, but also hosts lectures (featuring prominent guests from the international climbing community like Dean Potter, Adam Ondra, Lynn Hill, Chris Bonington, Kurt Diemberger and many others), exhibitions, round tables, book presentations and a children's programme. As such it is striving to enrich the way mountaineering culture is perceived and represented. With years the festival has grown to the point where it's now comparable to the biggest and most important mountain film festivals worldwide.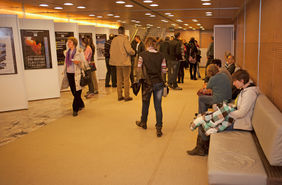 Following the success of theirs debut features Idle Running (V leru, 1999) and Bread and Milk (Kruh in mleko, 2001) Staragara was established as an independent non-profit cultural organisation in 2003 by filmmakers Janez Burger and Jan Cvitkovič. Although it is primarly focused on film production (its unorthodox films have won numerous international awards), Staragara also produces commercial spots, contemporary dance performances by the choreographer Magdalena Reiter and occasionally organises special dance events and programmes.
In 2016 Staragara co-produced Morten Traavik's Liberation Day (2016), a much lauded documentary about the Slovene rock band Laibach performing in North Korea.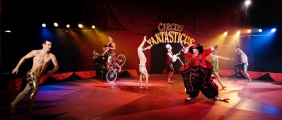 Upcoming events abroad
24 August 2019


The audiovisual project From Blacksmith to Miner, based on selected scenes from EnKnapGroup (EKG) dance films featuring live concert by

Bratko Bibič

,

Vid Drašler

, and

Eduardo Raon

, produced by En-Knap Productions and

Alcedo Institute

, at the Filmestival Neue Heimatfilm at

Salzhof

in

Freistadt

,

Austria


programme organiser

5 September to 15 September 2019


The world premiere of Stories from the Chestnut Woods, directed by

Gregor Božič

and produced by Nosorogi and co-produced by Radio-Television Slovenia (RTV Slovenia) (with director and producer

Marina Gumzi

attending), in the Discovery section; and Slovenian Film Centre at the festival's Industry Conference, at the Toronto International Film Festival at

Glenn Gould Studio

in

Toronto

,

Canada


programme organiser more
all upcoming events
Current events abroad
16 August to 23 August 2019


The screenings of Half-Sister, directed by

Damjan Kozole

(attending) and produced by Vertigo; God Exists, Her Name Is Petrunya, co-produced by Vertigo, I Act, I Am, directed by

Miroslav Mandić

and produced by

Filmostovje

; Stitches, co-produced by Nora Production Group; My Grandpa Is an Alien, co-produced by Senca Studio and Art Rebel 9; the premiere of the documentary The Daughter of Camorra, directed by

Siniša Gačić

(attending) and produced by Studio Maj, in the Official Competition; and episodes of the drama series The Lake, based on the book by

Tadej Golob

, directed by

Matevž Luzar

and produced by Radio-Television Slovenia (RTV Slovenia) in the Avant Premiere Gala section, supported by the Slovenian Film Centre, at the Sarajevo Film Festival in

Sarajevo

,

Bosna and Herzegovina

organiser
all events
Film web resources
Latest Entries
Subcategories
This category has the following 29 subcategories, out of 29 total.
Pages in category "Film"
The following 163 pages are in this category, out of 163 total.
2

A

B

C

D

E

F

F cont.

G

H

I

K

L

M

N

O

P

R

S

T

V

Z
Media in category "Film"
The following 125 files are in this category, out of 125 total.