Category:Support services
From Culture.si
Support services web resources
Latest Entries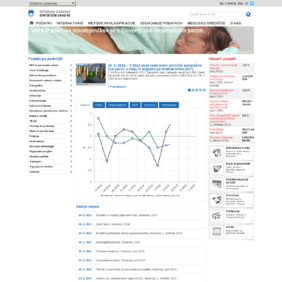 The online Statistics about Slovenia lists national statistics under the headings Demographic and Social Statistics (data on population, its level of living, social security and health care, activity and lifestyle), Economic Statistics (data on production and service activities), Environment and Natural Resources Statistics (data on agriculture and fishing, forestry and hunting, territory and climate, with environment and energy indicators) and General Statistics (geographic and administrative territorial breakdown of Slovenia, election statistics).
All information and online publications (Stat'o'books - annual statistical overviews, Monthly Statistical Reviews, Rapid Reports, etc.) are free of charge and also available in English.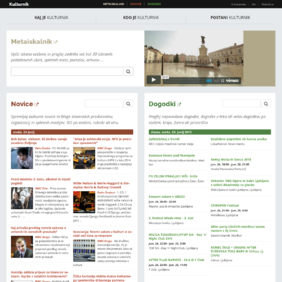 The website Kulturnik.si was launched in December 2013. Developed by the Ljudmila Art and Science Laboratory, the portal consists of a metasearch engine and features cultural news and events aggregated from various Slovene digital sources and collections related to arts and culture. Financially supported by the Ministry of Culture, the project complements the eContents initiative (Digital Agenda for Europe) that supports interoperability and the re-use of public data in cultural sectors. Cultural producers and other media sources are invited to contact Ljudmila to get included as data resources.
Subcategories
This category has the following 26 subcategories, out of 26 total.
A

C

D

E

F

I

L

M

N

P

R

S

T

V

W
Pages in category "Support services"
The following 246 pages are in this category, out of 246 total.
Media in category "Support services"
The following 2 files are in this category, out of 2 total.