MENT Ljubljana
From Culture.si
Contact
MENT Ljubljana
Matjaž Manček, Project manager
Festival dates
29.03.2023 - 31.03.2023
Mission and strategy
MENT was set up foremost to be a platform for improving the ways in which the Slovene music scene relates with the international music business circuit. As such, it works to equip those active in this field in Slovenia with the necessary understanding and skills for optimally crafting their careers as well as offers various networking opportunities. This mission is served not only through the festival, but through activities year-round. For example, a workshop series co-organised with SIGIC, which has featured foreign mentors like Sanjin Đukić (Los Angeles Agency, HR), Login Kočiški (Password Agency, MK), and Hannes Tschürtz (INK Music, AT). Last but not least, MENT acquaints the Slovene audiences with exceptional, if slightly less recognised, musicians from around Europe as well as from the USA.
MENT Ljubljana is produced by Kino Šiška Centre for Urban Culture and co-produced by SIGIC, Slovene Music Information Centre. In 2017 it won the prestigious European Festival Award in two categories: The Best Indoor Festival and The Best Small Festival. MENT Ljubljana is a member of the Innovation Network of European Showcases (INES), a platform led by GET a GIG GmbH (DE).
Venues
Festival happenings take place at the Kino Šiška Centre for Urban Culture and the adjacent M Hotel, the clubs in Metelkova mesto Autonomous Cultural Zone (Klub Menza pri koritu, Klub Channel Zero, Gala Hala, Klub Gromka), the Stara Elektrarna - Old Power Station, Klub K4, Pritličje, the DobraVaga gallery, the cafeteria of the Slovene Ethnographic Museum, and also Kinodvor Cinema for film screenings.
Music programme
The showcase usually presents about 50 musicians and bands invited from all over Europe, with a somewhat special bias toward the Balkans and the Baltic and some additional guests coming from the USA.
A significant portion of the acts are local artists of varied musical persuasions, from big bands and rock acts to techno producers. Some of them are Jardier, Your Gay Thoughts, Werefox, The Canyon Observer, Koala Voice, Nina Bulatovix, It's Everyone Else, Moveknowledgement, ŠKM Banda, and Ludovik Material.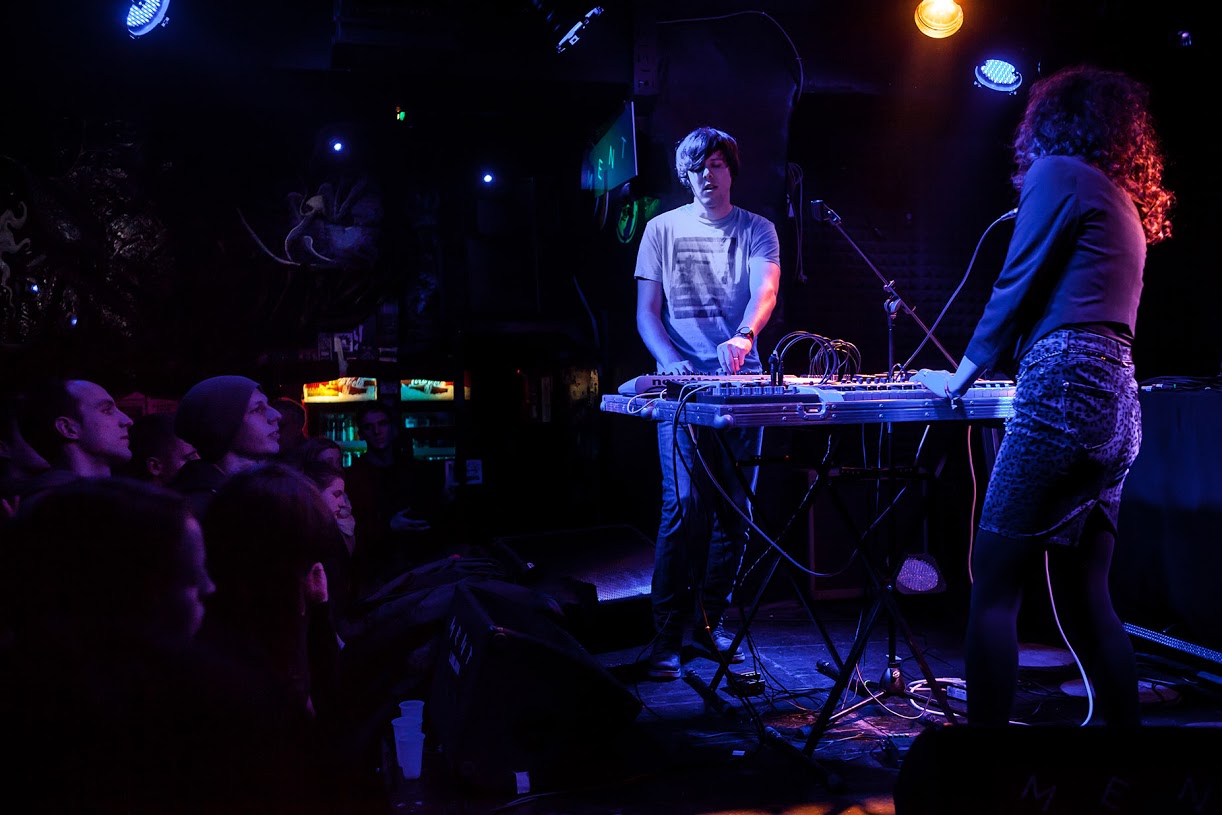 New Wave Syria performing in Klub Channel Zero at MENT Ljubljana, 2015
Conference programme
The conference events mostly take the form of either lectures or speaker panels, with the topics varying from discussing festival strategies, analysing business models and explaining digital marketing, to introducing lesser known music scenes (such as the Belarus one) and organising listening sessions where an elected cast comments on anonymous tracks. The 2016 edition has a special focus on the Balkans region and among other things features a networking session with that specific market in mind.
Some of the keynote speakers and guests whom MENT has invited include Scott Cohen (The Orchard, UK), Chris Eckman (GlitterBeat Records, SI/US), Helen Sildna (Tallinn Music Week, EE), Ruud Berends (Eurosonic Noorderslag, NL), John Robb (LouderThanWar, UK), Michal Kaščák (Pohoda, SK), Ivan Novak (Laibach, SI), Andrej Sevšek (Punk Rock Holiday, SI), Dan Panaitescu (Sziget, HU), Martin Elbourne (Glastonbury Festival, UK), Jeff Owens (Ghostly International, US), Sasho Yerchenko (tlas Weekend Festival) and Dartsya Tarkovska (Soundbuzz Records)(UA).
International activities
In a way acting as a Slovene music export agency, MENT has been crucial in enlisting Slovene performers to international festivals and showcase events such as Tallinn Music Week, INmusic Festival, Reeperbahn Festival, Eurosonic Noorderslag, Waves Vienna & Bratislava (in collaboration with the Slovenian Culture and Information Centre, Vienna (SKICA)), Liverpool Sound City, and Taksirat Festival. In 2015, 12 acts carried out 31 performances at these events via MENT, which also sent its own delegations.
MENT participates in the European Talent Exchange Programme (ETEP), a network of 90 European festivals that encourages the flow of new talent among European festivals.

MENT is a member of the Innovation Network of European Showcases (INES), next to 7 showcase festivals: Budapest Showcase Hub (HU), Enea Spring Break (PO), Linecheck (IT), Live at Heart (SE), Liverpool Sound City (UK), Monkey Week (ES), Nouvelle Prague (CZ), Sonic Visions (LX), Waves, Vienna (AT), Westway LAB (PT). One of its subprogrammes is the INES#talent program, in 2018 among the selected 104 new #talents are 10 bands from Slovenia: Blaž, Čunfa, Leni Kravac, Lynch, MRFY, Natriletno kolobarjenje s praho, NOAIR, Werefox, Zala Kralj & Gašper Šantl and КУКЛА.
See also
External links
Gallery