Koala Voice
From Culture.si
Contact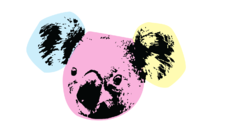 Koala Voice
Maša Pavoković, Manager
Members
The members of Koala Voice are Manca Trampuš (lead vocals and rhythm guitar), Domen Don Holc (lead/solo guitar), Miha Prašnikar (back vocals and drums; he used to be a member of We Can't Sleep at Night), and Tilen Prašnikar (bass guitar), all originating from Kisovec, a settlement in the coal mine area of Zasavje.
Gigs
Koala Voice has played quite a lot at Kino Šiška Centre for Urban Culture, starting with their participation in the "Špil liga" competition. This was followed by their concert during MENT Ljubljana, the aforementioned theatre performance (which also took place at Stara Elektrarna - Old Power Station) and some other shows. During the Club Marathon, they played at about a dozen Slovenian clubs, which were soon supplemented by a number of other venues and festival gigs at Rad bi bil normalen Festival, In Memoriam Prof. Peter Hafner Festival, Kamfest, etc.
Abroad, the band has played at Wild Mint festival in Russia (where they also had a gig at Ziferblat in Moscow), Exit Festival (RS), Reeperbahn Festival (DE), Waves Vienna (AT), Waves Bratislava (SK), Eurosonic Noorderslag (NL), the Klubovna club in Prague (CZ), etc.
See also
External links
Gallery