Category:Venues
From Culture.si
The Cistercian Monastery Kostanjevica na Krki was built on a marshy plain near the Krka River in 1234. The Spring of St Mary Monastery (Fons sanctae Mariae), whose parish was in Carinthian Vetrinje, was grounded by Carinthian Duke Bernard Spanheim and his wife Juta and should not be mistaken for the Franciscan monastery Kostanjevica in Nova Gorica. It is known for having the most extensive arcades in Slovenia.
It houses the Božidar Jakac Art Museum and the Forma Viva Open Air Wood Sculpture Collection in a adjacent park. The monastery Gothic church is considered to be one of the top ranking exhibition venues in Slovenia in terms of the intriguing task – to conceive a site-specific project of contemporary, traditional and pre-historic art. The whole complex (monastery, Palaeolithic archaeological site, park with Forma Viva) is declared a cultural monument of state importance.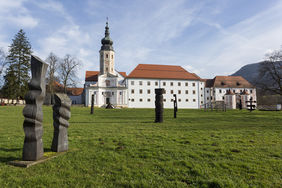 Viba Film Studio as we know it today was established in 1994 by the Government of the Republic of Slovenia as a state institution which operates as the national technical film foundation. One could say that its history is longer (at least from 1956 when the production company Viba Film was established), as it existed already before but under (more or less) different names and under different organisational structures. Today, Viba Film Studio is involved in the production and/or post-production of the majority of Slovenian films included in the National Film Programme (co-funded by the Slovenian Film Centre), but it also operates on a strictly commercial basis (international co-productions, commercials, etc.). Viba also cooperates in student productions of the Academy of Theatre, Radio, Film and Television (AGRFT), both during the shooting of films and the post-production.
Year of establishment
Latest Entries
Subcategories
This category has the following 23 subcategories, out of 23 total.
Pages in category "Venues"
The following 376 pages are in this category, out of 376 total.
A

B

C

Č

D

E

F

G

H

I

J

K

K cont.

L

M

N

N cont.

O

P

R

S

Š

T

U

V

W

Y

Z

Ž
Media in category "Venues"
The following 271 files are in this category, out of 271 total.