Category:Venues
From Culture.si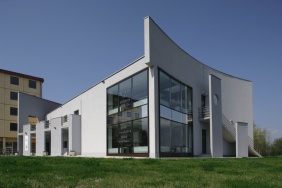 Established in 1946 Brežice Library is a public library that engages in educational, entertainment, cultural and information activities for people in the Municipality of Brežice. In 1980 it moved to its present location, which was later expanded and modernised in the period 2002–2006. In addition to its central space, the Brežice Library has two movable book collections – at Pišece and at the military barracks in Cerklje ob Krki.
The Brežice Library has been selected by the organisation NAPLE (National Authorities on Public Libraries in Europe) for presentation in the Library Buildings database which features cutting-edge contemporary library buildings in Europe.
The Nova Gorica Arts Centre (Kulturni dom Nova Gorica) was opened as a regional cultural and community centre back in 1980. Besides being a prominent concert and film theatre venue, it is nowadays also the most important concert producer for classical and early music in Western Slovenia. Besides using its own two event halls, the Arts Centre often sets up concerts at other venues, most regularly at the Kromberk Castle and the Franciscan Monastery at Kostanjevica, a hill just above Nova Gorica.
Its visual arts branch, the Nova Gorica City Gallery, is located within the Nova Gorica theatre building complex. The Arts Centre organises a range of other programmes, including the Pixxelpoint International Festival of Computer Art, the October Jazz festival, the International Saxophone Meeting and the Flores Musicae Festival of mediaeval and renaissance music. All in all, the Nova Gorica Arts Centre organises more than 500 events with almost 65,000 visitors per year.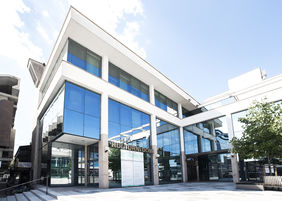 Year of establishment
Latest Entries
Subcategories
This category has the following 22 subcategories, out of 22 total.
Pages in category "Venues"
The following 357 pages are in this category, out of 357 total.
A

B

C

Č

D

E

F

G

H

I

J

J cont.

K

L

M

N

N cont.

O

P

R

S

Š

T

U

V

W

Y

Z

Ž
Media in category "Venues"
The following 223 files are in this category, out of 223 total.