Category:Venues
From Culture.si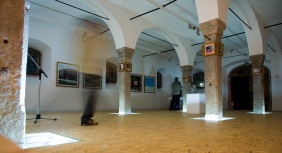 Established in 2006 as a non-profit space, the Simulaker Gallery has grown into the most important space for presentations of contemporary art practices in the southeast region of Slovenia. Located in the old town centre of Novo mesto in a 160-square-metre renovated stable for horses, the programme was initially run by curator Iztok Hotko. In spring 2009 the gallery initiated an annual project entitled The First Chance, presenting artworks of art students from art departments round Slovenia or internationally.
The gallery collaborates also with the local branch of the Union of Slovene Fine Arts Associations and Fotopub Festival of Documentary Photography.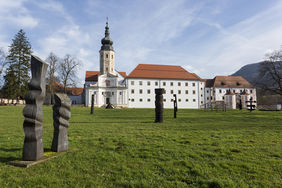 Founded in 1974, the Božidar Jakac Art Museum is located in the building of the former Kostanjevica Monastery, one of Slovenia's finest medieval monuments, which is situated in the picturesque landscape of south-eastern Slovenia. Initially the gallery focused on presenting the artistic legacy of the Bela Krajina, Dolenjska and Posavje regions. Today it also presents contemporary artistic production on the regional, national and international levels.
Božidar Jakac Art Museum manages the Forma Viva Open Air Wood Sculpture Collection (set in the surrounding area and in part also in the town Kostanjevica na Krki) and prepares the programme for its two dislocated gallery spaces: Gorjup Gallery and Lamut's Art Salon in the town of Kostanjevica na Krki.
Year of establishment
Latest Entries
Subcategories
This category has the following 22 subcategories, out of 22 total.
Pages in category "Venues"
The following 354 pages are in this category, out of 354 total.
A

B

C

Č

D

E

F

G

H

I

J

J cont.

K

L

M

N

N cont.

O

P

R

S

Š

T

U

V

W

Y

Z

Ž
Media in category "Venues"
The following 222 files are in this category, out of 222 total.