Category:Venues
From Culture.si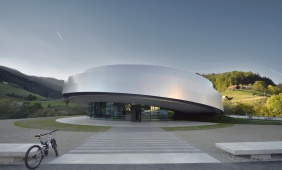 The Cultural Centre of European Space Technologies (KSEVT) opened in Vitanje in September 2012. The building design is the work of four architectural bureaus which established the Architectural Union for Vitanje (AZZV): Bevk Perović Arhitekti, Dekleva Gregorič Arhitekti, Ofis Arhitekti, and SADAR + VUGA Architects.
Described as "a living room" of Vitanje inhabitants and a space for the synthesis of art and science focused on the culturalisation of space and "post-gravity art" by its inceptors, KSEVT promises an interaction between the local, the regional, and the planetary.
In September 2015 the international symposium Out of the Cradle '15 / Habiton in Vitanje encompassed presentations of the first art satellite in orbit. Matters of Gravity, an exhibition of a Mexican group of 9 artists and 1 scientist, is on view until 3 January 2016. Recently, a short-term exhibition entitled The Slovenian Space Academy presented the collaborative projects between Slovene organisations and The European Space Agency (ESA).
Viba Film Studio as we know it today was established in 1994 by the Government of the Republic of Slovenia as a state institution which operates as the national technical film foundation. In a way one could say that its history is longer (at least from 1956 when the production company Viba Film was established) as it existed already before but under (more or less) different names and under different organisational structures. Today Viba Film Studio is involved in the production and/or post-production of the majority of Slovene films included in the National Film Programme (co-funded by the Slovenian Film Centre), but it also operates on a strictly commercial basis (international co-productions, commercials, etc.). Viba also cooperates in student productions at the Academy of Theatre, Radio, Film and Television (AGRFT), both during the shooting of films and the post-production.
Year of establishment
Latest Entries
Subcategories
This category has the following 23 subcategories, out of 23 total.
Pages in category "Venues"
The following 357 pages are in this category, out of 357 total.
A

B

C

Č

D

E

F

G

H

I

J

K

L

M

N

N cont.

O

P

R

S

Š

T

U

V

W

Y

Z

Ž
Media in category "Venues"
The following 206 files are in this category, out of 206 total.