Rajhenburg Castle
From Culture.si
History
The original structure of the Rajhenburg Castle from the 9th century was demolished at the beginning of the 10th century, but Bishop Konrad of Salzburg had it renovated between 1131 and 1147. The most prominent owners of the castle were the Rajhenburgs, the noble Moscons, the Knights Gradeneck, the Barons Gall Galenstein and the Counts Attems.
After 1884 Trappist monks moved into the castle, where they produced chocolate and liqueur. Then in April 1941 the Germans transformed the castle into the central camp for deporting Slovenes; during the course of World War II around 45,000 Slovenes were sent into exile from here. After World War II the castle continued to function as a women's prison.
In 1968 Rajhenburg Castle became the home of the Museum of Political Prisoners, Internees and Deportees, a branch of the National Museum of Contemporary History. This permanent exhibition closed down in 2011 and a new exhibition on the Trappist order opened in a completely renovated castle in 2013.
Architecture and interior decoration
The Romanesque perimeter, built in the 12th century, is noteworthy for the structure and construction of the walls. The castle chapel retains its original Romanesque portal, although the two-storey building itself was sturdily reconstructed in the 16th century.
Within the castle are several profiled timber work ceilings and terraced walls. A unique feature is the architectural decoration of the inner façades. On the first floor is an almost hidden secular Renaissance fresco by the Master from Marija Gradec (1530).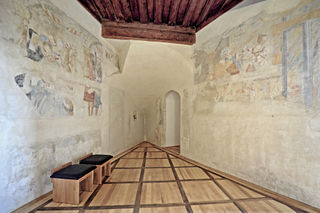 See also
External links
Gallery