Category:Theatre & Dance
From Culture.si
In our Events Archive you can search for Theatre & Dance from Slovenia Worldwide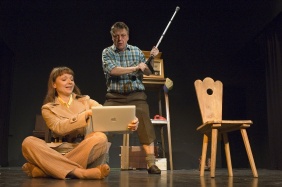 Established in 2003, Rozinteater is a vehicle for the talents of the well-known poet, dramatist, actor, and translator Andrej Rozman Roza. Rozman prepares his own productions, ranging from simple street performances and children's shows to politically engaged satirical performances for adults. Rozinteater's performances often tackle issues connected with Slovene national identity and re-examine its mythologies.
In 2009, Roza initiated a project with which he calls attention to extremely high taxes on books in Slovenia. For this purpose, he is inviting anyone who believes in the possibility of bringing this tax to zero to join the "community of believers", whom he dubs "the zeroers".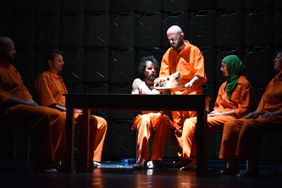 Mladinsko Theatre (Slovensko mladinsko gledališče) is one of two municipal theatres in Ljubljana and is considered to be a laboratory for actors and directors, choreographers and musicians to research and develop, risk and create. Throughout its history, Mladinsko has collaborated with the reformers of the Slovene theatre of the second half of the 20th century. The theatre regularly tours worldwide and was awarded the title European Ambassador of Culture by European Commission in 2008.
Through its current projects the theatre is dealing with the 'symptomisation' of the society, showing the detected symptoms via appropriate performative procedures. For this reason, public space becomes a performance space as well.
Theatre & Dance web resources
Latest Entries
Subcategories
This category has the following 46 subcategories, out of 46 total.
B

C

D

D cont.

F

O

P

S

T

T cont.
Pages in category "Theatre & Dance"
The following 176 pages are in this category, out of 176 total.
0

A

B

C

D

E

F

G

G cont.

H

I

J

K

L

M

N

O

P

P cont.

Q

R

S

Š

T

U

V

W

Z
Media in category "Theatre & Dance"
The following 429 files are in this category, out of 429 total.