Category:Music
From Culture.si
In our Events Archive you can search for Music from Slovenia Worldwide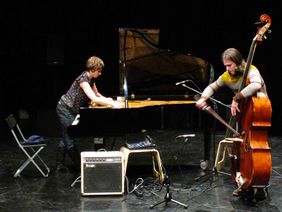 Launched in 2012, the music series Sound Disobedience (in Slovenian, Neposlušno) describes its creed as an aim to facilitate conditions for music risk-taking and improvisation. Founded by Sploh Institute, which has been working on improvised music and theatre performing arts production since 1999, the series follows on the heels of the institute's other successful projects of recent years, the Con-Fine Aperto concert series and the regular workshop called Search and Reflect (in Slovenian: RR–Raziskava, refleksija). The festival is an extension of both of these projects, presenting the two in a somewhat condensed form.
By way of concerts, workshops, lectures, and other forms of communicating musical ideas and ideas about music, Sound Disobedience annually creates an international programme, which is co-produced by the Španski borci Culture Centre.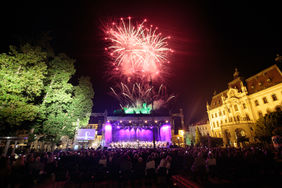 The Ljubljana Festival is a renowned and highly ambitious international festival which offers a variety of music, theatre and dance performances by leading international as well as domestic artists. Between 70 and 80 events range from concerts of classical, ethno, rock and jazz music, to performances of opera, theatre and ballet. It enriches the capital city with concerts of star soloists, acclaimed ensembles, chamber and philharmonic orchestras and performances by prima ballerinas, opera divas, and seasoned thespians.
Taking place from the end of June to the end of September, it is the main summer festival in Ljubljana and certainly amongst the bigger ones in the wider region. As of recent years, the festival also has a small 'winter edition' in February.
Upcoming events abroad
28 January 2019


A celebration of the Slovenian Culture Day including a literary-music evening with the actor

Aleš Valič

and pianist

Jaka Pucihar

, supported by the Consulate General of the Republic of Slovenia Munich, at

Ludwig Maximilian University

in

Munich

,

Germany

9 February 2019


Singer

Gregor Volk

and tuba player

Goran Krmač

perform at the Prešeren Evening, organised by the British-Slovene Society and supported by the Embassy of the Republic of Slovenia London, at

Ambassadors Bloomsbury Hotel

in London,

United Kingdom
all upcoming events
Music web resources
Latest Entries
Subcategories
This category has the following 28 subcategories, out of 28 total.
Pages in category "Music"
The following 479 pages are in this category, out of 479 total.
1

A

B

C

Č

D

E

F

G

H

I

I cont.

J

K

L

M

N

O

P

P cont.

R

S

Š

T

U

V

W

Y

Z

Ž
Media in category "Music"
The following 404 files are in this category, out of 404 total.