Category:Music
From Culture.si
In our Events Archive you can search for Music from Slovenia Worldwide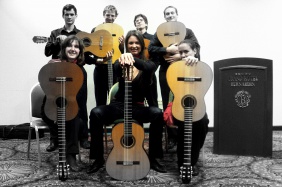 The Ljudmil Rus Guitar Orchestra was established in 1963 under the leadership of guitarist and composer Ljudmil Rus (b. 1933). It is one of the oldest guitar orchestras in the world. Since then more then 100 guitarists (mostly students from the Academy of Music and other faculties of the University of Ljubljana) have played in the orchestra. Some of them are renown musicians such as Tomaž Rajterič, Gregor Avsenik, Mladen Bucić, Katja Porovne Silić, Uroš Usenik, etc. The orchestra, consisting of 11 guitar players, has a broad repertoire which ranges from Baroque to contemporary symphonic music, opera, oratorio and cantata, theatre and film music, by Slovene and foreign composers. Its performances have been broadcast on Televizija Slovenija and Radio Slovenia programmes.
FV Music is Slovenia's oldest independent label and promoter of alternative music. It was established in 1985 by musicians from the group Borghesia and a circle of music fans and activists that had previously run Disco FV, the first punk-alternative club in Ljubljana. For several years the only Yugoslav independent label, FV was born out of necessity to satisfy the creative impulses of its founding members.
Today it is the agency for promoting and booking alternative and garage rock'n'roll bands run by Monika Skaberne, a member of the original FV group. It has a strong network of relationships with clubs and local promoters in Slovenia and other ex-Yugoslavian countries, a number of long-standing contacts with European and American agencies, and a roster of some of the most exciting and popular R'n'R bands in Slovenia and Croatia – including KUD Idijoti, Thunderbabies, and Bambi Molesters.
Music web resources
Latest Entries
Subcategories
This category has the following 28 subcategories, out of 28 total.
Pages in category "Music"
The following 452 pages are in this category, out of 452 total.
1

A

B

C

Č

D

E

F

G

H

I

I cont.

J

K

L

M

N

O

P

P cont.

R

S

Š

T

U

V

W

Y

Z

Ž
Media in category "Music"
The following 406 files are in this category, out of 406 total.