Category:Music
From Culture.si
In our Events Archive you can search for Music from Slovenia Worldwide
New Wave Syria was launched in 2007 as a side project by Urša Golob and Rok Pezdirc. Their music is best described by instruments they use: analogue synthesizers, D-I-Y gadgets and a drum machine. Their quirky electronic dance beats with distinguished dramatic vocals soon became popular in club venues across the country.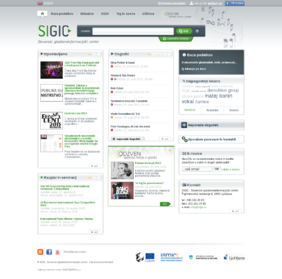 The SIGIC databases of the SIGIC, Slovene Music Information Centre have been online since 2005. In 2010 the website was upgraded, and since 2011 also features an online magazine Odzven.si. The website features news, a database of musicians and music groups of various musical genres, music institutions and musical works, useful addresses and links, calls, competitions and announcements, and a calendar of events.
The purpose of the information centre is to create a database of music of all genres, time periods, musicians, musical institutions and non-profit musical organisations, to promote Slovene music and musicians, to organise professional consultations, meetings and symposia and to engage in business cooperation with all creators of Slovene musical life.
all events
Music web resources
Latest Entries
Subcategories
This category has the following 28 subcategories, out of 28 total.
Pages in category "Music"
The following 480 pages are in this category, out of 480 total.
1

A

B

C

Č

D

E

F

G

H

I

I cont.

J

K

L

M

N

O

P

P cont.

R

S

Š

T

U

V

W

Y

Z

Ž
Media in category "Music"
The following 404 files are in this category, out of 404 total.