Category:Music
From Culture.si
In our Events Archive you can search for Music from Slovenia Worldwide
TRESK Festival is an annual two-day music event co-organised by Radio Študent (RŠ) and Kino Šiška Centre for Urban Culture. The first edition of the TRESK Festival happened in 2009 in Kino Šiška, which is the main festival venue. Its primal goal is to represent Slovene music publishing, Slovene music labels, underground local bands and the situation on Slovene music scene in general, which is problematised through various debates and discussions. During the festival there is also a marketplace for domestic record label merchandise and a flea market with old music records.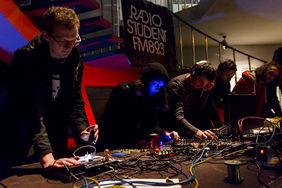 Druga godba Festival is nowadays a major Slovene international world music festival. It was established in 1984 as an alternative and supplement to other music festivals in Ljubljana of that time which did not present the more radical and "different" music practices. Since its inception Druga godba Festival has developed into one of the most significant European festivals of its type, establishing collaborations with many other important festivals and becoming a member of the international European Forum of Worldwide Music Festivals (EFWMF).
Since 2013, Druga godba Institute has expanded the festival programme throughout the whole year with the concert cycle Sogodbe. This cycle, which takes place at various locations, continues the broad scope of the main festival and is bridled by neither genre nor continent. Besides staging concerts, Sogodbe also feature workshops, discussions and exhibitions.
Music web resources
Latest Entries
Subcategories
This category has the following 28 subcategories, out of 28 total.
Pages in category "Music"
The following 450 pages are in this category, out of 450 total.
1

A

B

C

Č

D

E

F

G

H

I

I cont.

J

K

L

M

N

O

P

P cont.

R

S

Š

T

U

V

W

Y

Z

Ž
Media in category "Music"
The following 404 files are in this category, out of 404 total.