Category:Music
From Culture.si
In our Events Archive you can search for Music from Slovenia Worldwide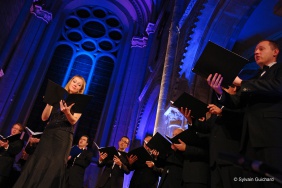 The Vokalna akademija Ljubljana – VAL – is a male vocal ensemble established in September 2008, made up of 16–20 singers. Since the beginning, the conductor of ensemble and artistic director has been Stojan Kuret with whom VAL quickly gained recognition in the world of Slovene and European vocal music. The choir received the European Grand Prix for Choral Singing in Varna in 2010, as the first male choir ever to compete in the final of this competition. Along with other highest prizes, it was also awarded the most prestigious Guidoneum Award 2011 for the artistic achievements and the contribution to the world of choral music at the oldest choral competition in Europe.
They have been invited, as one of five World-Class Choirs, to perform at the World Choral Summit 2012 in Beijing as the European representative.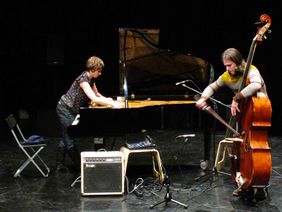 Launched in 2012, the music series Sound Disobedience (in Slovenian, Neposlušno) describes its creed as an aim to facilitate conditions for music risk-taking and improvisation. Founded by Sploh Institute, which has been working on improvised music and theatre performing arts production since 1999, the series follows on the heels of the institute's other successful projects of recent years, the Con-Fine Aperto concert series and the regular workshop called Search and Reflect (in Slovenian: RR–Raziskava, refleksija). The festival is an extension of both of these projects, presenting the two in a somewhat condensed form.
By way of concerts, workshops, lectures, and other forms of communicating musical ideas and ideas about music, Sound Disobedience annually creates an international programme, which is co-produced by the Španski borci Culture Centre.
Music web resources
Latest Entries
Subcategories
This category has the following 28 subcategories, out of 28 total.
Pages in category "Music"
The following 453 pages are in this category, out of 453 total.
1

A

B

C

Č

D

E

F

G

H

I

I cont.

J

K

L

M

N

O

P

P cont.

R

S

Š

T

U

V

W

Y

Z

Ž
Media in category "Music"
The following 420 files are in this category, out of 420 total.