House of Culture Celje
From Culture.si
Contact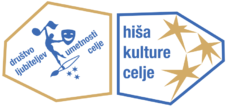 Hiša kulture Celje
Savinjsko nabrežje 3, SI-3000 Celje
Hugo Bosio, Managing Director
Production and post-production
The Art Society of Celje is a voluntary organisation, established in 2002, which combines art lovers and professional members. Before the House of Culture Celje was established, which is still strongly connected to the Art Society of Celje, the biggest achievements of the group were productions such as the musical Beauty and the Beast (2006/07) and the opera The Noblemen of Teharje [Teharski plemiči], written by Benjamin Ipavec. The latter was awarded the bronze Coat–of-Arms of Celje.
Many productions promote youth creativity. In the creative and pedagogical sense, the society prepares annual singing master classes under the famous Croatian soprano Vlatka Oršanić. The school of musicals with Slovene baritone Boštjan Korošec also takes place every year.
In autumn 2007 the society prepared its most important international collaboration with the London Royal College of Art. Postgraduate students and professors of the college prepared the successful project called Cultured Vandals.
Music programme
As soon as 2009 the House of Culture Celje launched the Džjezz Festival in order to broaden the scope of musical concerts in Celje and to facilitate further creative developments in the region. Until now, the festival has been presented throughout the city and hosted by a number of different venues.
The Anton Schwab Choir (named after the Slovene doctor and composer Anton Schwab) is a project vocal choir, established in 2009, and comprised mostly of students. Its most important achievement so far has been the second place with a special recognition at the 47th international competition Montreaux 2011. The choir is conducted by Alenka Goršič Ernst.
The House of Celje's Orchestra unites professional musicians and talented high school and university students from Celje and its vicinity. It has permanent members, occasionally accompanied by guest musicians. Its artistic leader and conductor is Simon Dvoršak. The orchestra also cooperates with local and foreign soloists, such as Andreja Zakonjšek Krt, Matjaž Stopinšek, Barbara Jernejčič Fürst, Janko Volčanšek, Ebony Buckle, Ney Rosauro, and performers such as the SToP Slovene Percussion Project. It prepares 3 to 4 projects a year.
Both the choir and the orchestra of the House of Culture Celje premièred in 2009 with the project Händel & Haydn, performing parts from the oratorios Messiah and The Seasons. Beside the orchestra and choir there are also two smaller ensembles that are part of the institute's activity – a tango Quintet Gamma and a male vocal quintet.
See also
External links
Gallery