Category:Design
From Culture.si
In our Events Archive you can search for Design from Slovenia Worldwide
The Month of Design is an annual event held in the city of Ljubljana every autumn for the whole month from October till November. Organised since 2003 by Zavod Big and Hiše Magazine this internationally acclaimed festival of product design, architecture, and fashion is a joint between successful companies and their design strategies, designers and developers with a business vision, and brand experts, who know how to capture market imagination.
Dedicated each year to a specific topic of global relevance, the Month of Design offers a platform for creative discourse on design, an indoor and outdoor exhibition space for outstanding images, and a colourful range of events creating an inspiring atmosphere of the city. The best achievements are honoured by the National Design Awards.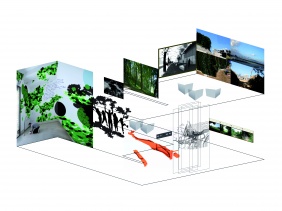 Studiobotas are Boštjan Botas Kenda, Primož Fijavž and Peter Rauch. The communication and graphic design activities of studiobotas focus on the letter as a visual sign, the book as a group of visual facts, and the city as a system of identities. The studio specialises in graphic design of public spaces, editorial graphic design, corporate identity, exhibition design, and organising and monitoring workshops. The corporate identity of some of the leading Slovene companies and studios were designed by studiobotas. Among them are Trimo, Arcadia, SADAR + VUGA Architects, and Scapelab.
Produced by the Museum and Galleries of Ljubljana, studiobotas and the Studio AKKA presents Slovenia at the 12th International Architecture Biennial in Venice with the All Shades of Green project. The playground built with elements of landscape design will interact with the urban space in front of the A+A Gallery, Venice.
Design web resources
Latest Entries
Subcategories
This category has the following 25 subcategories, out of 25 total.
D

D cont.

D cont.

F

G

I

P
Pages in category "Design"
The following 88 pages are in this category, out of 88 total.
A

B

C

D

E

F

G

H

I

J

K

L

M

N

N cont.

O

P

R

S

T

U

V

Z
Media in category "Design"
The following 144 files are in this category, out of 144 total.