Category:Design
From Culture.si
In our Events Archive you can search for Design from Slovenia Worldwide
The Architecture Museum of Ljubljana was established in 1972 by the Municipality of Ljubljana. In April 2010 the management of the museum was transferred from the city to the state. Under the new name the Museum of Architecture and Design (MAO) is the central Slovene museum for architecture, town planning, industrial and graphic design, and photography. Since 1992 the Museum is located at Fužine Castle.
Since 1972 the Secretariat of the Biennial of Design (BIO) (formerly known as Biennial of Industrial Design) operates under the aegis of the museum. In 2017 under the auspices of MAO, the Centre for Creativity was established in order to support Slovenia's cultural and creative sector (CCS).
In 2015 the MAO launched the Future Architecture Platform, with an aim of communicating the social, environmental, economic and design potentials of architecture to the widest possible audiences across Europe. The open call was open to architects as well as to urban planners, curators, landscape architects, designers, artists, filmmakers, etc. First the selected applicants presented their ideas at the February Matchmaking Conference at MAO where they pitched their ideas, afterwards the Future Architecture programme of exhibitions, conferences, lectures and workshops ran during 2016–2017 across Europe.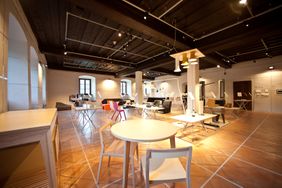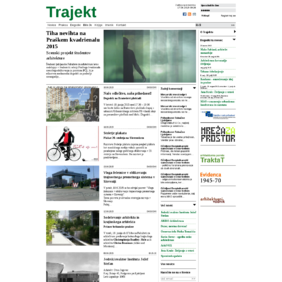 Since it was launched in 2003 Trajekt.org has become the most popular and most up-to-date source of information about architecture, spatial planning, and urban affairs in Slovenia. The website developed by TrajekT, Institute for Spatial Culture aims to encourage a sound and argued democratic discourse about different projects in Slovenian cities and rural areas.
Trajekt online is open to anybody interested in publishing news, articles and photos related to spatial culture, life in built environments, architecture, landscape architecture, town planning, design, and related matters. Comments on the national and municipal policies regarding architecture and planning, critics of the projects, and news about architectural events are published on the Internet and sent to subscribers every 2nd week.
The portal contains an online archive of interesting contributions and projects like Architectural Guide, as well as databases of architecture studios, magazines, and organizations.
Design web resources
Latest Entries
Subcategories
This category has the following 25 subcategories, out of 25 total.
D

D cont.

D cont.

F

G

I

P
Pages in category "Design"
The following 83 pages are in this category, out of 83 total.
A

B

C

D

E

F

G

H

I

K

L

M

N

N cont.

O

P

R

S

T

U

V

Z
Media in category "Design"
The following 145 files are in this category, out of 145 total.