Category:Design
From Culture.si
In our Events Archive you can search for Design from Slovenia Worldwide
The first Brumen Biennial of Slovenian Design was organised by the Brumen Foundation in November 2003 at the National Gallery of Slovenia in Ljubljana.
Since then the biennial has become a notable and respected event to evaluate and award Slovenian design in about seven categories. The biennial has come to provide a specialised and expert-based overview of the field of visual communication for Slovenian designers and design firms.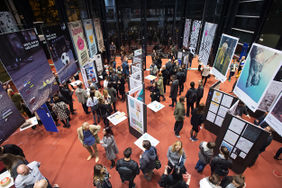 Founded in 2000, Gigodesign is one of the leading Slovene design firms specialised in industrial design, visual communication, web design, service design, and communication strategies. Providing a systematic approach to complex problems, its interdisciplinary design and consultancy work covers new product development and packaging, graphic representation, corporate identity, exhibition and retail design, branding, design management, and marketing strategies. Located in Ljubljana, its international clients include Yellow Cab, Hermes SoftLab, Jägermeister, Central European Presidential Summit, SONY, HIT Casinos, Studio Moderna, Intralighting, Saab, Xerox, and ELAN, among others.
Design web resources
Latest Entries
Subcategories
This category has the following 25 subcategories, out of 25 total.
D

D cont.

D cont.

F

G

I

P
Pages in category "Design"
The following 89 pages are in this category, out of 89 total.
A

B

C

D

E

F

G

H

I

J

K

L

M

N

O

P

R

S

T

U

V

Z
Media in category "Design"
The following 143 files are in this category, out of 143 total.