Category:Architecture & Design
From Culture.si
In our Events Archive you can search for Architecture & design from Slovenia Worldwide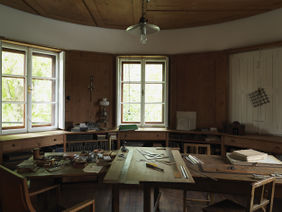 The collection is located at the Plečnik House in Trnovo, where Jože Plečnik lived from 1921 until his death in 1957. Plečnik's original work and furniture, his library, his drawing tools, and his personal belongings are preserved here, together with a large archive of sketches, plans, photographs, and models made of wood, clay, and plaster, as well as Plečnik's correspondence and his student work. The main part of the collection is on display in the cylindrical annex of the house, constructed between 1923 and 1925 by the architect himself.
From 1972 until 2010 the Plečnik Collection represented an important department of the Museum of Architecture and Design. Now it is managed by the Museum and Galleries of Ljubljana). The renovations of the Plečnik House and its surroundings took two years to complete, the Plečnik Collection together with a permanent exhibition and a study centre has been on view since September 2015. In 2018 the Plečnik House got the Europa Nostra Award, Europe's top honour in the field of cultural heritage.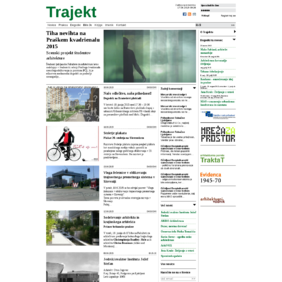 Since it was launched in 2003 Trajekt.org has become the most popular and most up-to-date source of information about architecture, spatial planning, and urban affairs in Slovenia. The website developed by TrajekT, Institute for Spatial Culture aims to encourage a sound and argued democratic discourse about different projects in Slovenian cities and rural areas.
Trajekt online is open to anybody interested in publishing news, articles and photos related to spatial culture, life in built environments, architecture, landscape architecture, town planning, design, and related matters. Comments on the national and municipal policies regarding architecture and planning, critics of the projects, and news about architectural events are published on the Internet and sent to subscribers every 2nd week.
The portal contains an online archive of interesting contributions and projects like Architectural Guide, as well as databases of architecture studios, magazines, and organisations.
Architecture & Design web resources
Latest Entries
Subcategories
This category has the following 49 subcategories, out of 49 total.
A

A cont.

D

D cont.

F

G

I

P

V
Pages in category "Architecture & Design"
The following 147 pages are in this category, out of 147 total.
3

A

B

C

D

E

F

G

H

I

J

K

L

M

N

O

P

R

S

T

U

V

Z
Media in category "Architecture & Design"
The following 382 files are in this category, out of 382 total.