Category:Theatre
From Culture.si
In our Events Archive you can search for Theatre from Slovenia Worldwide

eKumba is an online database of the Centre for Theatre and Film Studies, Academy of Theatre, Radio, Film and Television (AGRFT) where one can browse through and search the complete archives of the AGRFT Library and Video Library, the Film and Television Department Archives. Conceived as a multimedia catalogue of theatre and cinema related materials in 2004, eKumba can also be accessed by the general public. All the materials are meant just for personal use.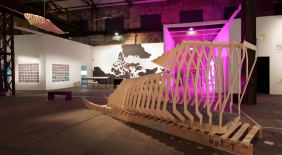 Projekt Atol is a non-profit cultural institution founded in 1992 by Slovene conceptual and new media artist Marko Peljhan and officially registered in 1994. Its activities range from art production to scientific research and technological prototype development and production. The technological arm of Projekt Atol, called PACT Systems (Projekt Atol Communication Technologies), was founded in 1995, and the flight operations branch, Projekt Atol Flight Operations, was founded in 1999 to support art and cultural activities in the atmosphere, in orbit, and beyond.
Projekt Atol serves as the institutional, financial and logistics support frame for several projects and initiatives, such as its Makrolab project and the recent Arctic Perspective Initiative.
Marko Peljhan will represent Slovenia at the 58th Venice Biennale in 2019.
Subcategories
This category has the following 27 subcategories, out of 27 total.
Pages in category "Theatre"
The following 162 pages are in this category, out of 162 total.
A

B

C

Č

D

E

F

G

H

I

J

K

L

M

N

O

P

R

S

Š

T

U

V

W

Z
Media in category "Theatre"
The following 276 files are in this category, out of 276 total.