Category:Theatre
From Culture.si
In our Events Archive you can search for Theatre from Slovenia Worldwide
GVR babaLAN Institute for Contemporary Arts is a producer of polymedia art, established in 1992 by Vlado G. Repnik. A vehicle for the work of the theatre director, painter and multimedia artist Vlado Repnik, the institute has focused on the production of authorial theatre projects, later on also internet and new media projects as well as interventions in the public space.
Since 2015 the GVR babaLan projects have been coproduced by Kino Šiška Centre for Urban Culture (Kam pa kam?, Luftballett), or KIBLA Multimedia Centre in Maribor (Caravaggio, Situation Map, The Witness).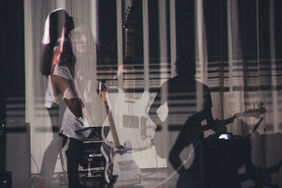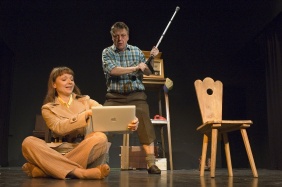 Established in 2003, Rozinteater is a vehicle for the talents of the well-known poet, dramatist, actor, and translator Andrej Rozman Roza. Rozman prepares his own productions, ranging from simple street performances and children's shows to politically engaged satirical performances for adults. Rozinteater's performances often tackle issues connected with Slovene national identity and re-examine its mythologies.
In 2009, Roza initiated a project with which he calls attention to extremely high taxes on books in Slovenia. For this purpose, he is inviting anyone who believes in the possibility of bringing this tax to zero to join the "community of believers", whom he dubs "the zeroers".
Upcoming events abroad
11 March to 21 March 2021


Baal, a drama piece written by

Andrej Rozman Roza

(based on motives by B. Brecht), directed by

Vito Taufer

, produced by Mladinsko Theatre at the Teatar na raskršću Festival at

Srbsko narodno gledališče Niš

in

Niš

,

Serbia


programme organiser more
all upcoming events
Theatre web resources
Latest Entries
Subcategories
This category has the following 27 subcategories, out of 27 total.
Pages in category "Theatre"
The following 134 pages are in this category, out of 134 total.
0

A

B

C

D

E

F

G

H

I

I cont.

J

K

L

M

N

O

P

P cont.

R

S

Š

T

U

V

W

Z
Media in category "Theatre"
The following 297 files are in this category, out of 297 total.