Category:Theatre
From Culture.si
In our Events Archive you can search for Theatre from Slovenia Worldwide
In 2007 Mladinsko Theatre set up a festival overview of its annual production, called the Mladinsko Showcase. It is a project of a distinctively international character, with all the performances subtitled in English. The better part of it has basically ever been a reiteration of the programme conducted at Mladinsko (and for a time also Glej Theatre) throughout the previous season, though not necessarily of premiers.
In 2016 the format of the festival has been renewed. While still maintaining the international character, the showcase is organised by Mladinsko alone and focused solely on theatre's own productions.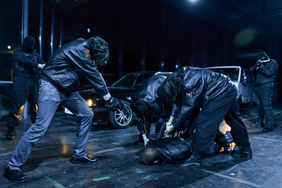 The Ljubljana Puppet Theatre (LPT) is the central puppet theatre in Slovenia, running a varied programme of puppet and also theatre performances. Mainly – though not exclusively – intended for children and youth, the theatre encompasses both traditional puppetry as well as its many contemporary forms. Involved in various international endeavours and working with domestic as well as foreign authors, its productions are often included at distinguished theatre and puppetry festivals in Slovenia and abroad. Established in 1948, it is still actively shaping the development of puppetry as such.
The theatre organises the Lutke International Puppet Festival and co-produces the Golden Stick Festival, both taking place every second year. Having merged with the Theatre for Children and Youth (GOML) in 2009, LPT also sets up children's and youth theatre productions. The Museum of Puppetry, another project co-founded by the theatre, opened its doors in 2015 and is stationed at the Ljubljana Castle.
Theatre web resources
Latest Entries
Subcategories
This category has the following 27 subcategories, out of 27 total.
Pages in category "Theatre"
The following 154 pages are in this category, out of 154 total.
A

B

C

Č

D

E

F

G

H

I

I cont.

J

K

L

M

N

O

P

P cont.

R

S

Š

T

U

V

W

Z
Media in category "Theatre"
The following 287 files are in this category, out of 287 total.