Category:Theatre
From Culture.si
In our Events Archive you can search for Theatre from Slovenia Worldwide

eKumba is an online database of the Centre for Theatre and Film Studies, Academy of Theatre, Radio, Film and Television (AGRFT) where one can browse through and search the complete archives of the AGRFT Library and Video Library, the Film and Television Department Archives. Conceived as a multimedia catalogue of theatre and cinema related materials in 2004, eKumba can also be accessed by the general public. All the materials are meant just for personal use.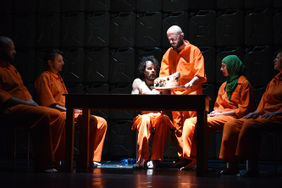 Mladinsko Theatre (Slovensko mladinsko gledališče) is one of two municipal theatres in Ljubljana and is considered to be a laboratory for actors and directors, choreographers and musicians to research and develop, risk and create. Throughout its history, Mladinsko has collaborated with the reformers of the Slovene theatre of the second half of the 20th century. The theatre regularly tours worldwide and was awarded the title European Ambassador of Culture by European Commission in 2008.
Through its current projects the theatre is dealing with the 'symptomisation' of the society, showing the detected symptoms via appropriate performative procedures. For this reason, public space becomes a performance space as well.
Theatre web resources
Latest Entries
Subcategories
This category has the following 27 subcategories, out of 27 total.
Pages in category "Theatre"
The following 129 pages are in this category, out of 129 total.
A

B

C

D

E

F

G

H

I

I cont.

J

K

L

M

N

O

P

P cont.

R

S

Š

T

U

V

W

Z
Media in category "Theatre"
The following 292 files are in this category, out of 292 total.