Category:Theatre
From Culture.si
In our Events Archive you can search for Theatre from Slovenia Worldwide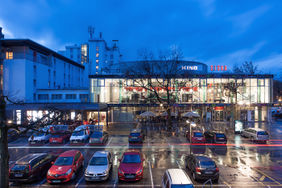 Kino Šiška is one of the main cultural centres in Ljubljana. Established in 2009, it is a highly industrious institution in terms of artistic scope, dealing with music, film, visual and new media art, theatre, and contemporary dance as well as with various other cultural endeavours. However, its main trade is that of music concerts, with the acts ranging from indie rock and alternative pop to experimental electronica and old school heavy metal.
Besides its 300 or so events per year, Kino Šiška also runs various programmes for finding and supporting upcoming artists, does international promotion for Slovene artists, runs a visual arts sales gallery DobraVaga, and collaborates with the local community.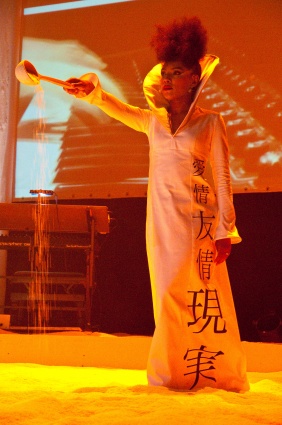 Anton Podbevšek Theatre (APT) was established in May 2005. As such, it is the youngest Slovene professional theatre house as well as the first professional theatre in the history of Novo mesto, a town in the south eastern region of Slovenia. APT's aim is to make engaged, challenging, and contemporary theatre that would surpass the distinction between popular and elite culture. Thus, it seeks to present a wide range of theatre genres (music drama, drama and post-drama theatre, and dance theatre), synthesising literature, dance, music, architecture, painting, and film. In addition, it organises programme-related colloquia and discussions. The choice for the theatre's name, namely after the first Slovene avant-garde artist Anton Podbevšek (1898–1981), suggests APT's orientation toward research, risk-taking, reflection, and new modes of presentation.
Upcoming events abroad
18 November to 25 November 2018


The devised theatre performance The Lords, produced by Glej Theatre, at

Ryan International Schools

in

Mumbai

,

India

more

23 November to 28 November 2018


Little Blue and Little Yellow, directed by

Miha Golob

and produced by the Maribor Puppet Theatre, at the KuKuK, Regional Theatre Festival For Young Audiences Wildon at

Eisenwurzenhalle

,

Stieglerhaus St. Stefan ob Stainz

in

Graz

,

Austria


programme organiser more

26 November 2018


The performance 365 Falls by Via Negativa at the Desiré Central Station at

Kosztolányi Dezső Theatre

in

Subotica

,

Serbia

organiser more
all upcoming events
Current events abroad
16 November to 18 November 2018


Little Blue and Little Yellow, directed by

Miha Golob

and produced by the Maribor Puppet Theatre, at the Take Part in Art - International Theatre Festival for Early Years at

Stara Prochownia

in

Warsaw

,

Poland


programme more

16 November 2018


Faust, directed by

Tomaž Pandur

, produced by the Slovene National Theatre Drama Ljubljana and co-produced by Ljubljana Festival, at

Alexandrinsky Theatre

in

Saint Petersburg

,

Russia


programme

7 November to 5 December 2018


The interactive theatre performance The Female Role Model Project by

Tjaša Ferme

, supported by the Embassy of the Republic of Slovenia Washington, at

3-Legged Dog Arts and Technology Center

in

New York

,

USA

organiser more
all events
Theatre web resources
Latest Entries
Subcategories
This category has the following 27 subcategories, out of 27 total.
Pages in category "Theatre"
The following 159 pages are in this category, out of 159 total.
A

B

C

Č

D

E

F

G

H

I

I cont.

J

K

L

M

N

O

P

R

S

Š

T

U

V

W

Z
Media in category "Theatre"
The following 276 files are in this category, out of 276 total.