Mini Theatre
From Culture.si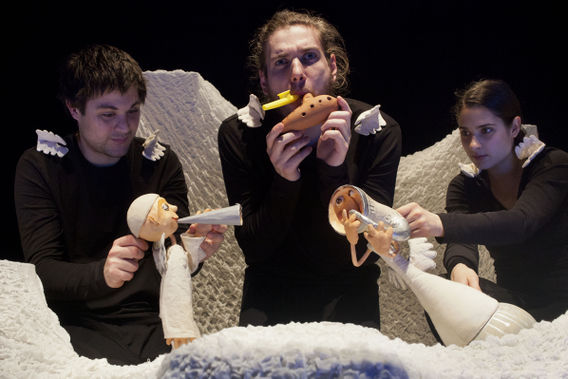 Programme
Mini Theatre's basic orientation is the production of high quality puppet and theatre performances that are attractive to the wider audiences but at the same time break with the traditional boundaries of theatre. In creating its programme, the theatre engages in fruitful collaborations with artists from different artistic environments as well as with domestic and international co-producers and strives towards a theatre of experimentation to develop more demanding theatrical formats.
Mini theatre has co-produced performances with Slovenian institutes, such as Prešeren Theatre Kranj, Slovene National Theatre Nova Gorica, Cankarjev dom, Ptuj City Theatre, Ljubljana Puppet Theatre, etc. and entered international partnership projects with Zagreb New Theatre, Art Workshop Lazareti Dubrovnik, Zagreb Youth Theatre, Zadar Snova Festival, Teatar ITD, Croatian National Theatre Ivan pl. Zajc Rijeka, Theaterhaus Berlin. It regularly participates in major Slovene theatre festivals and has received several awards at the Borštnik Theatre Festival and the Slovene Puppetry Biennial as well as from the Slovenian Association of Dramatic Artists.
Mini Theatre's venue at Križevniška Street also hosts performances of other producers, concerts, and exhibitions. Its adaptation was supported by a grant from Iceland, Lichtenstein, and Norway through the EEA Financial Mechanism and the Norway Financial Mechanism. Since 2013 the programme of the Jewish Cultural Centre Ljubljana takes place at the Križevniška 1.
Puppetry
The Mini Theatre offers a wide programme of puppet performances, ranging from adaptations of original texts to hybrid performances intertwining traditional puppetry with visual arts, story-telling, dance, etc.. Aiming to bring modern visuality and contents to the sphere of puppetry, Mini Theatre collaborates with acclaimed as well as emerging theatre directors, such as Alexander Anurov, Aleksei Leliavski, Pavel Polak, Marek Becka, etc. The programme for the young dedicates special attention to innovative educational projects. The co-production Thumbelina, created by the theatre's art director Robert Waltl in collaboration with Tadej Fius and Darij Kreuh, is the first virtual puppet performance in the world, a combination of computer animation and puppet performance presented in the virtual computer environment. The theatre's puppet programme has a strong local and international presence.
Mini Theatre runs the international Puppet Nomad Academy, a project aiming to connect the great masters of puppetry with young aspiring puppeteers to foster innovation and creativity in the area of puppetry, exchange knowledges, and promote intercultural dialogue. Organising workshops, exhibitions as well as producing performances of different formats that are disseminated within the network, the initiative connects puppeteers from Armenia, Belarus, Czech republic, Croatia, Slovenia, and Belgium.
Post-dramatic theatre
The theatre is also actively engaged in promoting contemporary drama texts for adults through the production of contemporary post-dramatic performances for adults and youth, working with Slovene and international stage directors and actors, such as Robert Waltl, Ivica Buljan, Philippe Calvario, Jaka Ivanc, Primož Ekart, etc. Next to establishing new approaches in directing and always in search of the subversive potentials of art, Mini Theatre explores new forms of theatre, monodrama, performance art, physical theatre, live reading of texts, political and theoretical discourse, contextualising these new forms through the lens of post-dramatic theatre.
Festivals
Mini Theatre organises the Mini Summer - International Festival for Children and the annual Festival of Medieval and Renaissance Music, in co-operation with the Festival Ljubljana, which takes place at Ljubljana Castle and other open-air locations across Ljubljana.
Since 2015 Mini Theatre co-organises together with the Jewish Cultural Centre Ljubljana and the Zagreb Jewish Film Festival Association the House of Tolerance Festival, intended to spread the idea and awareness of the importance of tolerance and offering an international film programme, exhibitions, the so called educational mornings with lectures, talks, and discussions.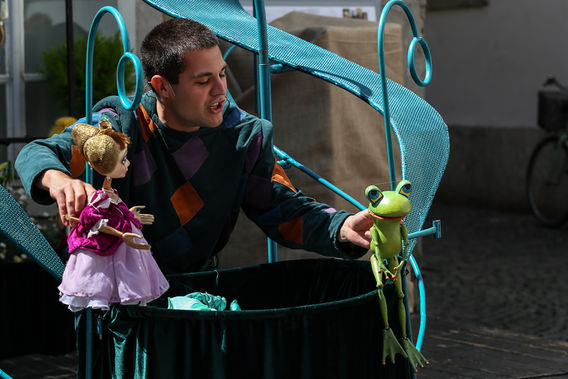 See also
External links
Gallery