Mini Theatre
From Culture.si
Contact info
11 May 2018


The Jewish Dog, produced by Mini Theatre and co-produced by Prešeren Theatre Kranj and the Jewish Cultural Centre Ljubljana, at

F. X. Šalda Theatre

in

Liberec

,

Czech Republic


programme info
Past Events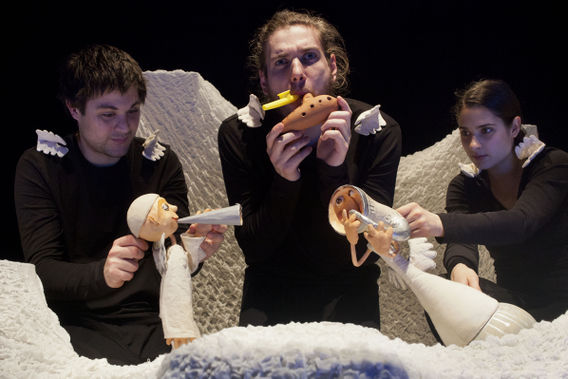 Programme
Mini Theatre regularly participates in major Slovene theatre festivals, it has received awards several times at the Borštnik Theatre Festival and at the Slovene Puppetry Biennial as well as from the Slovenian Association of Dramatic Artists. Mini Theatre organises also the Mini Summer - International Festival for Children and the annual Medieval Days or Festival of Medieval and Renaissance Music that takes place at the Ljubljana Castle, as well as some other open-air locations.
Since 2013 the programme of the Jewish Cultural Centre Ljubljana takes place at the Križevniška 1.
Puppetry
Mini Theatre's produces quality puppet performances for children and adults as well as drama theatre performances in cooperation with artists from different artistic environments, staging about 500 performances in Slovenia and abroad annually.
The Mini Theatre puppetry performances of various genres cover all eminent authors, e.g. Little Red Riding Hood by Brothers Grimm and Caliph Stork by Wilhelm Hauff, The Mishmash Bakery [Pekarna Mišmaš] by the Slovene poet Svetlana Makarovič, The Wishing Table by Brothers Grimm and Marek Becka, and The Ugly Duckling by Hans Christian Andersen and Robert Waltl.
In 2004, Mini Theatre staged Pushkin's The Tale of Tsar Saltan [Car Saltan], which was directed by the prominent director Alexander Anurov, it collaborated twice with Aleksei Leliavski, who directed Pushkin's Little Tragedies [Male tragedije] and the 2010 staging of Cinderella [Pepelka], produced in the frame of the project Puppet Nomad Academy.
Post-drama theatre
The theatre produces acted contemporary theatre performances for adults and youth within its "Post-drama Theatre" section, working with Slovene and international stage directors and actors, such as Robert Waltl, Ivica Buljan, Philippe Calvario, Jaka Ivanc, etc. Next to staging Slovene texts (preferably from Slovene national heritage), Mini Theatre's programme promotes contemporary world drama texts for adults as well as develops new approaches in directing.
Some of the most-recognised drama performances by Mini Theatre include Quartet [Kvartet] by Heiner Mueller, Mad About Vincent by Hervé Guibert, Heiner Mueller's Macbeth After Shakespeare [Macbeth po Shakespearu] (2009), co-produced by Cankarjev dom and ZeKaM, Croatia, which was awarded the best performance at the 2009 Maribor Theatre Festival, Jackie by Elfriede Jelinek, co-produced by New Theatre Zagreb, Croatia and Bernard-Marie Koltès' and The Night Just Before the Forests [Noč čisto na robu gozdov] (2009) co-produced by ARL Dubrovnik and New Theatre Zagreb, Croatia, all three performances were directed by Ivica Buljan. In 2010 Ingmar Bergman's Persona (2010) was directed by Janez Pipan, while in 2011 the Melville's Bartleby, the Scrivener [Bartleby pisar] (2011), directed by Miloš Lolić, got the best performance award at the Maribor Theatre Festival.
Mini Theatre's venue at Križevniška Street also hosts performances of other producers, concerts, and exhibitions.
Festivals
Behind the ancient walls of the Ljubljana Castle, Mini Theatre organises the "Summer Castle Afternoons". It also annually organises two festivals: the Mini Summer - International Festival for Children and since 2005 the Festival of Medieval and Renaissance Music.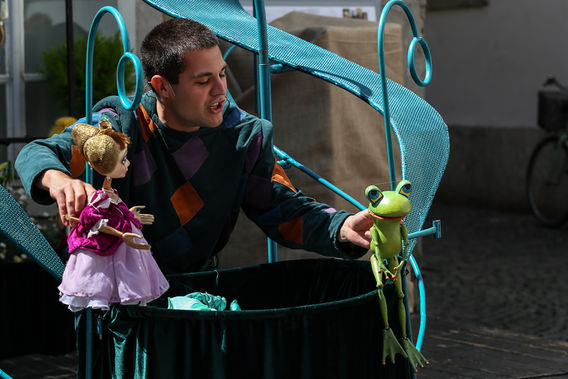 International cooperation
Mini Theatre regularly collaborates with internationally renowned theatre makers and puppeteers: in 2005 Mini Theatre collaborated with WaxFactory, New York, on a multimedia production She Said... with a soundtrack by Random Logic.
Mini Theatre's partners are New Theatre Zagreb (Croatia), ARL Dubrovnik (Croatia), ZeKaeM - Zagreb Youth Theatre (Croatia), Zadar of Dreams International Festival (Croatia), Teatar ITD (Croatia), and Croatian National Theatre Rijeka, with which Mini Theatre regularly enters co-productions. The theatre's activity (also the adaptation of the venue at Križevniška Street) is supported by a grant from Iceland, Lichtenstein, and Norway through the EEA Financial Mechanism and the Norway Financial Mechanism. Since 2009, Mini Theatre is involved in the international project of workshop exchange Puppet Nomad Academy, which is supported by the Culture Programme of the European Commission.
In the time of its activity, Mini Theatre has appeared worldwide at international festivals over 180 times. The performances were performed in Italy, Egypt, Venezuela, Denmark, USA, Austria, Serbia, Bosnia and Herzegovina, Croatia, Czech Republic, Hungary, Poland, Belgium, United Kingdom, Russia, Iran, Venezuela, Cuba, etc. In November 2011 the performance Macbeth After Shakespeare was staged at the renowned La MaMa Experimenatal Theatre in New York.
See also
External links
International reviews
Gallery