Category:Visual arts
From Culture.si
In our Events Archive you can search for Visual arts from Slovenia Worldwide
Equrna Gallery was established in 1982 as the first private gallery in the former Yugoslavia by a group of artists (some of them are now professors at the Academy of Fine Arts and Design) as an association of freelance artists with Taja Vidmar Brejc (the current owner and director) and Marjeta Marinčič at the head. From the outset Equrna has been an exhibition space and a commercial gallery of contemporary creation. It is also a pioneer of Slovene participation at international art fairs.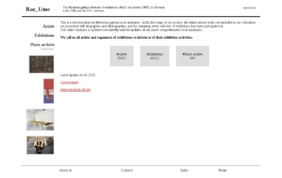 The Modern Art Archive, Museum of Modern Art department collects printed matter and press clippings related to exhibitions of Slovene artists (digitised with the special Razstava ("Exhibition") software programme). It has also built an archive and press clipping service of articles containing biographical and bibliographical and also other data on Slovene 20th- and 21st-century artists (digitised with the Umetnik ("Artist") computer programme).
A selection of the two databases is available online through the Raz_Ume Database. It currently contains over 13,500 artists, more than 8,300 exhibitions and 170 photographs. (Interestingly, Raz_Ume is a play on words using Raz from Razstava, "exhibition" and Ume from Umetnik, "artist" to create the Slovenian expression "He/She understands".)
Subcategories
This category has the following 35 subcategories, out of 35 total.
C

G

P

S

V

V cont.

V cont.
Pages in category "Visual arts"
The following 282 pages are in this category, out of 282 total.
3

A

B

C

D

E

F

F cont.

G

H

I

J

K

L

M

M cont.

N

O

P

R

S

Š

T

U

V

W

Z

Ž
Media in category "Visual arts"
The following 266 files are in this category, out of 266 total.