Category:Visual arts
From Culture.si
In our Events Archive you can search for Visual arts from Slovenia Worldwide
Laibach is a retro-avant-garde music group from Trbovlje, established in 1980. Probably the most internationally acclaimed Slovene band, Laibach works as a "gesamtkunstwerk", dealing in multidisciplinary art practice and mixing their music with visual and video art, as well as with heavy political (and philosophical) undertones. The band is well known for their subtly crafted cover versions, often used to subvert the original message or intention of the song.
Since the beginning the group was associated and surrounded with controversy (their name being the historic German version of the name for the Slovene capital Ljubljana), provoking strong reactions by political authorities in former Yugoslavia. However, as of the 90s onward the band functions as a well known art institution in Slovenia and abroad.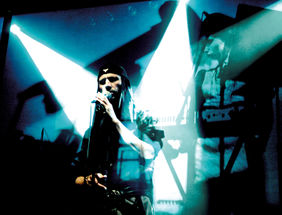 The Nova Gorica Arts Centre (Kulturni dom Nova Gorica) was opened as a regional cultural and community centre back in 1980. Besides being a prominent concert and film theatre venue, it is nowadays also the most important concert producer for classical and early music in Western Slovenia. Besides using its own two event halls, the Arts Centre often sets up concerts at other venues, most regularly at the Kromberk Castle and the Franciscan Monastery at Kostanjevica, a hill just above Nova Gorica.
Its visual arts branch, the Nova Gorica City Gallery, is located within the Nova Gorica theatre building complex. The Arts Centre organises a range of other programmes, including the Pixxelpoint International Festival of Computer Art, the October Jazz festival, the International Saxophone Meeting and the Flores Musicae Festival of mediaeval and renaissance music. All in all, the Nova Gorica Arts Centre organises more than 500 events with almost 65,000 visitors per year.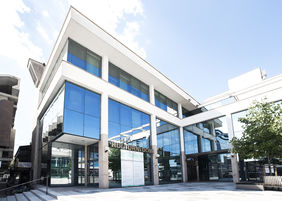 all events
Visual arts web resources
Latest Entries
Subcategories
This category has the following 35 subcategories, out of 35 total.
C

G

P

S

V

V cont.

V cont.
Pages in category "Visual arts"
The following 279 pages are in this category, out of 279 total.
3

A

B

C

D

E

F

F cont.

G

H

I

J

K

L

M

M cont.

N

O

P

R

S

Š

T

U

V

W

Z

Ž
Media in category "Visual arts"
The following 277 files are in this category, out of 277 total.