Category:Visual arts
From Culture.si
In our Events Archive you can search for Visual arts from Slovenia Worldwide
Established in 1991 and located in the Ljubljana old town, Zala Gallery is a commercial gallery which sells works by Slovene painters, ranging from Impressionists (Rihard Jakopič, Matija Jama, Ivan Grohar, and Matej Sternen) through modernists (Gabrijel Stupica, Avgust Černigoj, Lojze Spacal, Zoran Mušič) to the representatives of the young generation. Zala Gallery combines its commercial activities with research, focused on the artistic heritage that is privately owned, often hidden from the public and undocumented in public institutions. The gallery also offers expert evaluation and counselling on purchasing the artworks.
As the name already implies, the Night Window Display Gallery Pešak is a rather special gallery in that one doesn't actually enter it and that its exhibitions can only be seen at night, by way of a telescope that is set on a nearby tower, 20 metres away. The gallery is located on the first floor of one of the buildings at Metelkova mesto Autonomous Cultural Centre, and is 'open' till 1.00 AM.
Pešak is run by KUD Mreža Arts and Culture Association, and was established in 2014 as a part of its Urban arts projects, a programme that is upgrading and diversifying the urban fabric of Metelkova since 2003. Under the auspices of that same programme, the monocular (set on a steel-frame tower) was also created. The initiators and now also curators of the gallery are Damijan Kracina, Vladimir Leben, Terah, Mitja Ficko, Jaka Mihelič, Božo Rakočevič in Anabel Černohorski.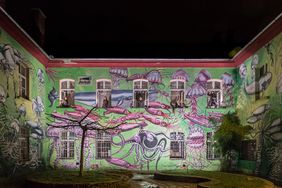 Subcategories
This category has the following 35 subcategories, out of 35 total.
C

G

P

S

V

V cont.

V cont.
Pages in category "Visual arts"
The following 281 pages are in this category, out of 281 total.
3

A

B

C

D

E

F

F cont.

G

H

I

J

K

L

M

M cont.

N

O

P

R

S

Š

T

U

V

W

Z

Ž
Media in category "Visual arts"
The following 277 files are in this category, out of 277 total.