Category:Visual arts
From Culture.si
In our Events Archive you can search for Visual arts from Slovenia Worldwide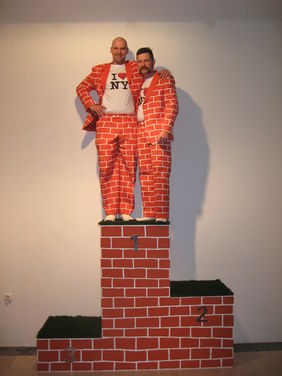 Beli sladoled (meaning, "White ice cream") is an artist group consisting of two academic painters: Miha Perne from Ljubljana and Leon Zuodar from Postojna. They are primarily interested in drawing and use the element of surprise when preparing exhibitions in which they always avoid showing things twice.
Beli sladoled develops drawing in a wider context. The group considers drawings as living forms that set off visible reactions in contact with the viewer, mostly laughter. The drawings are usually on smaller formats and with various motifs that are a result of artistic experiment and the development of a context.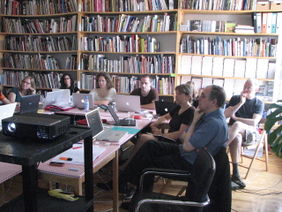 Established in 2000, SCCA-Ljubljana Centre for Contemporary Arts (a successor to the Soros Centre for Contemporary Arts – Ljubljana, 1993–1999) is a generator of innovative programmes and services that facilitate artistic and interpretative practices. Its diverse activities address artists, curators, theorists, and critics in the fields of visual and new media arts. They trigger discursive and social practices and are rooted in the interdisciplinary approach and intense international cooperation. SCCA-Ljubljana divides its programme into four complementary areas: projects, video/archive, school and services.
Visual arts web resources
Latest Entries
Subcategories
This category has the following 35 subcategories, out of 35 total.
C

G

P

S

V

V cont.

V cont.
Pages in category "Visual arts"
The following 264 pages are in this category, out of 264 total.
3

A

B

C

D

E

F

F cont.

G

H

I

J

K

L

M

M cont.

N

O

P

R

S

Š

T

U

V

W

Z
Media in category "Visual arts"
The following 278 files are in this category, out of 278 total.