Category:Visual arts
From Culture.si
In our Events Archive you can search for Visual arts from Slovenia Worldwide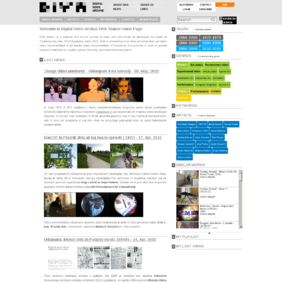 DIVA Station is a research and study archive of video and new media art developed and maintained by the SCCA-Ljubljana Centre for Contemporary Arts. It presents artworks by more than hundred artists based in Slovenia who have contributed their works to the care of the archive while maintaining the licence for these works. Apart from analogue and digital archive accessible for viewing at the SCCA Project Room, DIVA (Digital Video Archive) it is now also available online. DIVA Station constantly adds newly acquired works to the archive and promotes an overall understanding of artistic oeuvre by organising discussions, screenings and presentations.
The DIVA Station is also a partner archive of GAMA (Gateway to Archives of Media Art), an international Internet platform, which brings together eight European video and media archives to make them more visible and easily accessible in order to increase awareness and mediation of media art.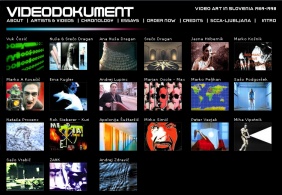 Videodokument is a documentation, archival and research project which offers a comprehensive overview of 30 years (1969–1998) of video art in Slovenia, developed within the scope of the SCCA-Ljubljana (former Soros Center for Contemporary Arts – Ljubljana Documentation Programme). It comprises the catalogue, essays, CD-ROM, website and videotheque, and emanates through the Videospotting survey or thematic programmes. The project ran from 1994 to 1999 and has been followed by DIVA Station, an online digital video archive.
Subcategories
This category has the following 35 subcategories, out of 35 total.
C

G

P

S

V

V cont.

V cont.
Pages in category "Visual arts"
The following 285 pages are in this category, out of 285 total.
3

A

B

C

D

E

F

F cont.

G

H

I

J

K

L

M

M cont.

N

O

P

R

S

Š

T

U

V

W

Z

Ž
Media in category "Visual arts"
The following 277 files are in this category, out of 277 total.