Category:Visual arts
From Culture.si
In our Events Archive you can search for Visual arts from Slovenia Worldwide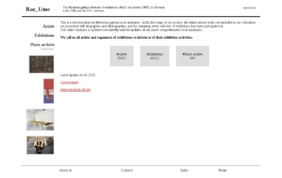 The Modern Art Archive, Museum of Modern Art department collects printed matter and press clippings related to exhibitions of Slovene artists (digitised with the special Razstava ("Exhibition") software programme). It has also built an archive and press clipping service of articles containing biographical and bibliographical and also other data on Slovene 20th- and 21st-century artists (digitised with the Umetnik ("Artist") computer programme).
A selection of the two databases is available online through the Raz_Ume Database. It currently contains over 13,500 artists, more than 8,300 exhibitions and 170 photographs. (Interestingly, Raz_Ume is a play on words using Raz from Razstava, "exhibition" and Ume from Umetnik, "artist" to create the Slovenian expression "He/She understands".)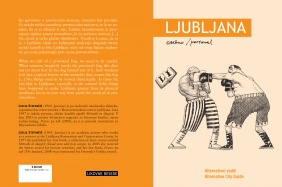 The magazine Likovne besede (Art Words) has been published since 1985 by the Slovenian Association of Fine Arts Societies (ZDSLU). Likovne besede usually comes out twice a year as a double issue and is the main periodic publication in the field of visual art and art theory in Slovenia. It is published in Slovenian with summaries in English. Since 2009 a booklet series Ljubljana Personal, Alternative City Guides has been published as an artistic alternative to the tourist brochures.
Visual arts web resources
Latest Entries
Subcategories
This category has the following 35 subcategories, out of 35 total.
C

G

P

S

V

V cont.

V cont.
Pages in category "Visual arts"
The following 272 pages are in this category, out of 272 total.
3

A

B

C

D

E

F

F cont.

G

H

I

J

K

L

M

M cont.

N

O

P

R

S

Š

T

U

V

W

Z
Media in category "Visual arts"
The following 278 files are in this category, out of 278 total.