Category:Visual arts
From Culture.si
In our Events Archive you can search for Visual arts from Slovenia Worldwide
Beli sladoled (meaning, "White ice cream") is a painting group consisting of two academic painters: Miha Perne from Ljubljana and Leon Zuodar from Postojna. They are primarily interested in drawing and use the element of surprise when preparing exhibitions where they always avoid showing things twice.
Beli sladoled develops drawing in a wider context. The group considers drawings as living forms that set off visible reactions in contact with the viewer, mostly laughter. The drawings are usually on smaller formats and with various motifs that are a result of artistic experiment and development of a context.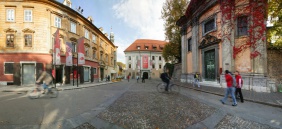 In 2009 the City Museum of Ljubljana and the City Art Gallery Ljubljana merged into a new public institute called the Museum and Galleries of Ljubljana (MGML). The merger was part of the Municipality of Ljubljana's cultural development plans for 2008–2011, endorsed in June 2008.
Subcategories
This category has the following 35 subcategories, out of 35 total.
C

G

P

S

V

V cont.

V cont.
Pages in category "Visual arts"
The following 279 pages are in this category, out of 279 total.
3

A

B

C

D

E

F

F cont.

G

H

I

J

K

L

M

M cont.

N

O

P

R

S

Š

T

U

V

W

Z

Ž
Media in category "Visual arts"
The following 277 files are in this category, out of 277 total.