Photoclub Maribor
From Culture.si
Contact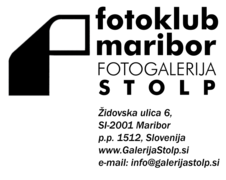 Fotoklub Maribor
Židovska 6, SI-2000 Maribor
Branimir Ritonja, President
Exhibitions
Besides the twelve exhibitions held annually at the Stolp Photogallery, the club assists its member in setting up at least twice as many exhibitions per year in other galleries, across Slovenia as well as Europe.
Background
The Photoclub Maribor is known on its long and variegated history: by 1949 it had 277 members, many of whom toured the former Yugoslavia with their exhibitions. During the 1960s it became Photoclub Maribor under the leadership of Simon Tihec, and at this time the unique exhibition Photographs by the Maribor Circle received international acclaim, featuring work by photographers such as Zmago Jeraj, Stojan Kerbler, Slavko Tihec, Dragiša Modrinjak, Ivan Dvoršak, Antonio Baričević, Branko Jernejić, and Janko Jelnikar.
The photographs of the Maribor Circle were analysed by art historian Meta Gabršek Prosenc in the context of the conceptual visual arts practices in the 1970s. They are presented at the Maribor Art Gallery.
See also
External links
Gallery