Category:Education
From Culture.si
This section offers you information on diverse opportunities for professional education and training in different fields of arts and heritage. Various institutions and some professional courses and workshops are presented as well as their producers.
If you are seeking for information on educational programmes for children and youth, please contact the organisers of the Cultural Bazaar, an annual presentation of educational programmes and producers at Cankarjev dom, Cultural and Congress Centre.
A general overview of Slovene educational system is provided by Eurypedia, European Encyclopaedia on National Education Systems.

Dealing in experimental and technologically inquisitive arts, MoTA serves as a production vehicle for setting up music concerts, audiovisual acts, visual art exhibitions, public interventions, art residencies and an abundance of other artistically charged activities (as of recently it also bestows the TESLA Award). Its programme predominantly takes place at various Ljubljana venues, yet also on the web and very frequently around the world.
This non-profit cultural organisation was founded in 2007 as a continuation of the CodeEp art collective and enterprise. Besides partaking in various international endeavours, MoTA cooperates with dozens of Slovene organisations, venues and festivals, among them the Speculum Artium Festival, the Ljudmila Art and Science Laboratory, the Sploh Institute, and Kino Šiška.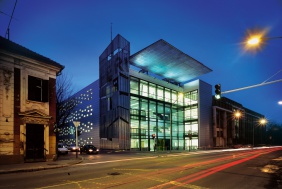 The Faculty of Electrical Engineering and Computer Science offers 13 undergraduate and 10 Masters degree study programmes in Electrical Engineering, Computer Science, Informatics, Media Communications, Telecommunications, Industrial Engineering and Mechatronics. The faculty has a library furnished with around 70.000 books, many technical magazines and journals. The faculty has also an art gallery where works by Slovene and foreign artists are regularly exhibited.
Subcategories
This category has the following 19 subcategories, out of 19 total.
Pages in category "Education"
The following 158 pages are in this category, out of 158 total.
Media in category "Education"
The following 17 files are in this category, out of 17 total.