French Institute in Slovenia
From Culture.si
Cultural cooperation
In May and June 2012 the programme of the Cultural Embassy France took place in Maribor, European Capital of Culture 2012. It included the photo exhibition by Eric Emo offering a different view of artworks by Auguste Rodin and Antoine Bourdelle (prepared in collaboration with Musée Bourdelle and Musée Rodin). The programme was complemented by DJ acid Washed concert.
A colloquium Deleuze and art hosted Arnaud Villani, professor from Nice, the author of numerous poetic pieces, critiques of poetry and philosophy and Suzanne Hême de Lacotte from the Universite Paris 1 Panthéon-Sorbonne, the author of Deleuze, Philosophy and Film. A retrospective of French film took place at Kino Udarnik Maribor.
A lecture by screenwriter and actor Jean-Claude Carrière was complemented with the staging of the play Manteq Al-Teyr (The Conference of the Birds), a dramatization (by Jean-Claude Carrière, Peter Brook) of the Persian poem written in 12th century by the Sufic mystic Farid ud-Din Attar, directed by Slovene director Jernej Lorenci.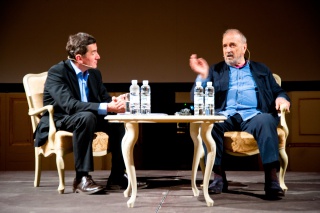 In June a grand equine modern art performance The Way of the Rider [La Voie de l'écuyer] by Bartabas, founder of Académie du Spectacle Équestre de Versailles, showcased the horsemanship artistry, cultural heritage, tradition, and ancient skills at the Hippodrome Kamnica, Maribor.
In August 2012 the exhibition Beautiful Painting Is Behind Us brought together around forty internationally established as well as lesser known artists from France and Slovenia. The artists who entered the art world in the 1980s or 1990s or later and continued to produce persuasive works in various poetic forms. The exhibition was conceived by Eva Hober (Eva Hober Gallery in Paris) in cooperation between with the French Institute.
The artist in residence Fouad Bouchoucha, invited by Otto-Prod art collective, created in Maribor his sound sculpture.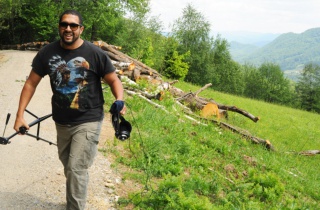 Support programme for publishers
The French Institute in Slovenia also runs the Valentin Vodnik Support Programme for Publishers which helps defray publishing costs for French works published in Slovenian language. Recent works are given priority. It was named after the Slovene poet and journalist Valentin Vodnik (1758–1819), who was a fervent supporter of Napoleon Bonaparte's occupation of the Slovene lands in the 1810s and promoted the use of Slovenian language during that time.
French Government bursaries
The French Government offers various scholarships for one- to three-month postgraduate study visits to France, in fields which include humanistic and social sciences. Where Slovene and French university cooperation is concerned, stipends are offered for co-tutoring, enabling students to conduct combined research in both countries. Co-tutoring stipends for postgraduate studies are offered in cooperation with the Slovene Human Resources Development and Scholarship Fund.
A special kind of stipend is also available for Slovene translators to translate French works of literature for publication within one year by a Slovene publisher: translators get financial support for a residency at the Collège International des Traducteurs Littéraires in Arles, France.
Film programmme
Every March the Francophone Film Festival takes place in Ljubljana to present the Francophonie and Francophone culture to the broader public in Slovenia which has held observer status in the International Organization of the Francophonie since 1999. In 2014 the 3rd edition of the festival was organised at Kinodvor Cinema and Slovenian Cinematheque by the embassies of France, Belgium, Egypt, Switzerland, Romania, and Bulgaria, in cooperation with the French Cultural Institute Charles Nodier, Ljubljana.
See also
External links
Gallery