Category:Dance
From Culture.si
In our Events Archive you can search for Dance from Slovenia Worldwide
Launched in 2003 by the VAL Piran Folkloric Dance Association, the Mediterranean International Folklore Festival (MIFF) is an annual showcase of folklore music, dance, and gastronomic culture of the Mediterranean countries, however in recent years, the festival also hosts folklore groups from other countries. The festival's events take place in the old city centre of Piran, either in the open air or at the Tartini Theatre, and in the nearby coastal towns Koper, Izola, and Portorož. The festival's concluding event traditionally takes place in the Portorož Auditorium.
Since 2007 the festival is also presented in Croatia, in the coastal town of Umag.
Following the success of theirs debut features Idle Running (V leru, 1999) and Bread and Milk (Kruh in mleko, 2001) Staragara was established as an independent non-profit cultural organisation in 2003 by filmmakers Janez Burger and Jan Cvitkovič. Although it is primarly focused on film production (its unorthodox films have won numerous international awards), Staragara also produces commercial spots, contemporary dance performances by the choreographer Magdalena Reiter and occasionally organises special dance events and programmes.
In 2016 Staragara co-produced Morten Traavik's Liberation Day (2016), a much lauded documentary about the Slovene rock band Laibach performing in North Korea.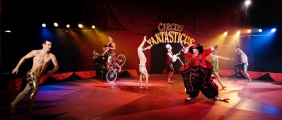 Dance web resources
Latest Entries
Subcategories
This category has the following 19 subcategories, out of 19 total.
B

C

D

D cont.

D cont.

F

P
Pages in category "Dance"
The following 74 pages are in this category, out of 74 total.
A

B

C

D

E

E cont.

F

G

H

I

K

M

N

N cont.

P

Q

R

S

Š

T

U

V
Media in category "Dance"
The following 135 files are in this category, out of 135 total.