Anton Podbevšek Theatre
From Culture.si
Contact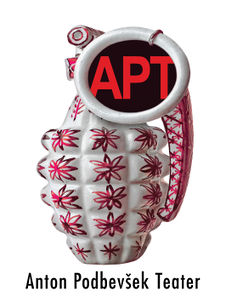 Anton Podbevšek Teater (APT)
Prešernov trg 3, SI-8000 Novo mesto
Matjaž Berger, Director
A theatre of thought
APT aims to develop its activities as a visual institute that articulates contemporary performing arts, theoretical discourse and theatre pedagogy while striving to make engaged and challenging contemporary theatre that surpasses the distinction between popular and elite culture.
Building on the concept of theatre as a form of thought, APT focuses on producing primarily post-dramatic but also dramatic, dance, musical and children's performances. Its productions, often synthesising literature, dance, music, architecture, painting and film, seek to take risks by exploring different genres codes and contemporary performing arts methods, while relying heavily on the category of "emancipated spectatorship" and the theatrical-philosophical ideas, concepts, principles and methods of Bertolt Brecht, Antonin Artaud and Alain Badiou.
APT produces four premieres annually. It regularly premieres new works by Matjaž Berger, collaborates with a number of theatre directors and choreographers of younger generations such as Nejc Gazvoda, Bara Kolenc, Jana Menger, Matjaž Pograjc, Gregor Luštek, etc. and occasionally enters co-productions with other cultural producers such as Dance Theatre Ljubljana, Cankarjev dom Culture and Congress Centre, etc.
Awards and additional programme
The theatre's productions appear at acclaimed domestic theatre festivals, such as the Maribor Theatre Festival, the Week of Slovenian Drama, the Golden Stick Festival, etc. APT's co-production with the Bologna-based Teatri di Vita, Italy, Portrait of a Lady (Portret neke gospe), directed by Matjaž Berger, won two awards at the 2009 Borštnik Theatre Festival, while the performance The Serfs: An Annotated Edition received two awards at the Week of Slovenian Drama. APT was also awarded the Little Golden Stick Awards at the biennial Golden Stick Festival for the production of Livingston's Last Kiss, a synthesis of theatre and electronic art, directed by Nana Milčinski and featuring the rock band Siddharta.
In addition to its performing arts and educational activities, APT also organises an art cinema programme, partly carried out in cooperation with Ljubljana International Film Festival (LIFFe), which also hosts round tables with filmmakers and different thinkers.
See also
External links
Gallery