Category:Producers
From Culture.si
Known for integrating innovative and socially engaged approaches to contemporary art practice since 1993, Maska Institute is one of the major cultural non-governmental organisations in Slovenia. Its activities engage in contemporary art production, publishing, education, and research, all with a strong emphasis on international cooperation, especially throughout the entire space of Europe.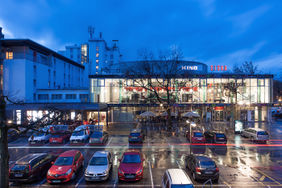 Kino Šiška is one of the main cultural centres in Ljubljana. Established in 2009, it is a highly industrious institution in terms of artistic scope, dealing with music, film, visual and new media art, theatre, and contemporary dance as well as with various other cultural endeavours. However, its main trade is that of music concerts, with the acts ranging from indie rock and alternative pop to experimental electronica and old school heavy metal.
Besides its 300 or so events per year, Kino Šiška also runs various programmes for finding and supporting upcoming artists, does international promotion for Slovene artists, runs a visual arts sales gallery DobraVaga, and collaborates with the local community.
Year of establishment
Latest Entries
Subcategories
This category has the following 12 subcategories, out of 12 total.
Pages in category "Producers"
The following 162 pages are in this category, out of 162 total.
A

B

C

D

E

F

G

G cont.

H

I

J

K

L

M

N

O

P

P cont.

Q

R

S

Š

T

U

V

Z