Category:Producers
From Culture.si
Kinoatelje, the centre for audio-visual and intercultural services was established in 1977 by Darko Bratina (1942–1997) in Gorizia-Gorica, a town situated on the Italian side of the Italo-Slovene border. Bratina was a sociologist and a film critic who considered film, television and video media as some of the best means of understanding society, history and culture.
Since its establishment, Kinoatelje's main goal has been to promote intercultural dialogue, a collaboration between Italy and Slovenia, and to introduce Slovene cinema to the Italian public. Its branch office Kinoatelje Institute was established in 2003 in Nova Gorica.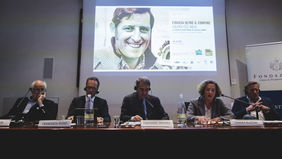 The Nova Gorica Arts Centre (Kulturni dom Nova Gorica) was opened as a regional cultural and community centre back in 1980. Besides being a prominent concert and film theatre venue, it is nowadays also the most important concert producer for classical and early music in Western Slovenia. Besides using its own two event halls, the Arts Centre often sets up concerts at other venues, most regularly at the Kromberk Castle and the Franciscan Monastery at Kostanjevica, a hill just above Nova Gorica.
Its visual arts branch, the Nova Gorica City Gallery, is located within the Nova Gorica theatre building complex. The Arts Centre organises a range of other programmes, including the Pixxelpoint International Festival of Computer Art, the October Jazz festival, the International Saxophone Meeting and the Flores Musicae Festival of mediaeval and renaissance music. All in all, the Nova Gorica Arts Centre organises more than 500 events with almost 65,000 visitors per year.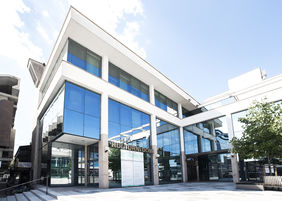 Year of establishment
Latest Entries
Subcategories
This category has the following 11 subcategories, out of 11 total.
Pages in category "Producers"
The following 164 pages are in this category, out of 164 total.
6

A

B

C

D

E

F

G

H

I

K

L

M

N

O

P

P cont.

Q

R

S

Š

T

U

V

Y

Z