Category:Producers
From Culture.si
The Ljubljana Puppet Theatre (LPT) is the central puppet theatre in Slovenia, running a varied programme of puppet and also theatre performances. Mainly – though not exclusively – intended for children and youth, the theatre encompasses both traditional puppetry as well as its many contemporary forms. Involved in various international endeavours and working with domestic as well as foreign authors, its productions are often included at distinguished theatre and puppetry festivals in Slovenia and abroad. Established in 1948, it is still actively shaping the development of puppetry as such.
The theatre organises the Lutke International Puppet Festival and co-produces the Golden Stick Festival, both taking place every second year. Having merged with the Theatre for Children and Youth (GOML) in 2009, LPT also sets up children's and youth theatre productions. The Museum of Puppetry, another project co-founded by the theatre, opened its doors in 2015 and is stationed at the Ljubljana Castle.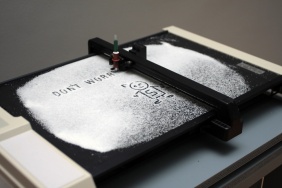 BridA (Jurij Pavlica, Sendi Mango, Tom Kerševan) represents the Slovene young generation of artists while questioning artistic content and researching contemporary society with the help of art and science. Since its formation during the artists' studies at the Academy of Fine Arts of Venice in 1996 BridA has developed a series of internationally recognised artistic projects .
Since February 2009 they are partners in the Time for Nano project launched by the European Commission. Selected by Charles Esche BridA took part at the 6th edition of the U3 Triennial of Contemporary Slovene Arts in 2010.
Year of establishment
Latest Entries
Subcategories
This category has the following 11 subcategories, out of 11 total.
Pages in category "Producers"
The following 157 pages are in this category, out of 157 total.
A

B

C

D

E

F

G

H

I

K

L

M

N

O

P

P cont.

Q

R

S

Š

T

U

V

Y

Z