Category:Producers
From Culture.si

Dealing in experimental and technologically inquisitive arts, MoTA serves as a production vehicle for music concerts, audiovisual acts, visual art exhibitions, public interventions, art residencies and an abundance of other artistically-charged activities (as of 2017, it also bestows the TESLA Award). Its programme predominantly takes place at various Ljubljana venues, yet also on the web and very frequently around the world.
This non-profit cultural organisation was founded in 2007 as a continuation of the CodeEp art collective and enterprise. Besides partaking in various international endeavours, MoTA cooperates with dozens of Slovenian organisations, venues and festivals, among them Speculum Artium Festival, Ljudmila Art and Science Laboratory, Sploh Institute and Kino Šiška.
Following the success of theirs debut features Idle Running (V leru, 1999) and Bread and Milk (Kruh in mleko, 2001) Staragara was established as an independent non-profit cultural organisation in 2003 by filmmakers Janez Burger and Jan Cvitkovič. Although it is primarly focused on film production (its unorthodox films have won numerous international awards), Staragara also produces commercial spots, contemporary dance performances by the choreographer Magdalena Reiter and occasionally organises special dance events and programmes.
In 2016 Staragara co-produced Morten Traavik's Liberation Day (2016), a much lauded documentary about the Slovene rock band Laibach performing in North Korea.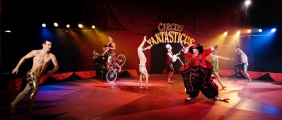 Year of establishment
Latest Entries
Subcategories
This category has the following 11 subcategories, out of 11 total.
Pages in category "Producers"
The following 161 pages are in this category, out of 161 total.
6

A

B

C

D

E

F

G

H

H cont.

I

K

L

M

N

O

P

P cont.

Q

R

S

Š

T

U

V

Y

Z