Category:Producers
From Culture.si
GVR babaLAN Institute for Contemporary Arts is a producer of polymedia art, established in 1992 by Vlado G. Repnik. A vehicle for the work of the theatre director, painter and multimedia artist Vlado Repnik, the institute has focused on the production of authorial theatre projects, later on also internet and new media projects as well as interventions in the public space.
Since 2015 the GVR babaLan projects have been coproduced by Kino Šiška Centre for Urban Culture (Kam pa kam?, Luftballett), or KIBLA Multimedia Centre in Maribor (Caravaggio, Situation Map, The Witness).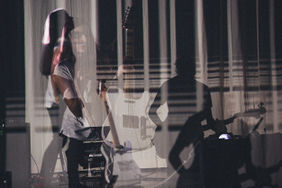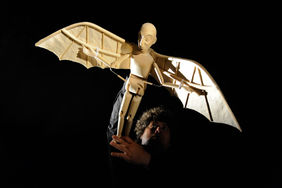 Konj ("Horse") Puppet Theatre was established in 1993 by Silvan Omerzu, who studied fine arts in Ljubljana and then undertook puppet design and set design for puppet stages in Prague. At the outset he collaborated closely with Jan Zakonjšek in performances which were aimed at adult audiences as they were replete with macabre and obscene humour, oscillating between the noble, the grotesque and the lascivious, soapiness and aestheticism, the traditional and the contemporary. Since 2001 Silvan Omerzu continues with the performances based on carefully selected texts and innovative relations between the puppet and its animator.
To date Omerzu has received the Prešeren Foundation Award in 2006 and several Slovene and international puppetry awards. ). In 2010 only his performance Forbidden Loves, based on antique motifs, was awarded at the festivals in Hungary, Croatia and Bulgaria. In Summer 2015 an exhibition Loutky a automaty at the Castle Sovinec (CZ) offers a retrospective overview of Omerzu's site-specific puppet installations.
The performances have been co-produced with Cankarjev dom Culture and Congress Centre, Glej Theatre, Mladinsko Theatre, Ljubljana Puppet Theatre or Maribor Puppet Theatre.
Year of establishment
Latest Entries
Subcategories
This category has the following 11 subcategories, out of 11 total.
Pages in category "Producers"
The following 162 pages are in this category, out of 162 total.
6

A

B

C

D

E

F

G

H

H cont.

I

K

L

M

N

O

P

P cont.

Q

R

S

Š

T

U

V

Y

Z