KIBLA Multimedia Centre
From Culture.si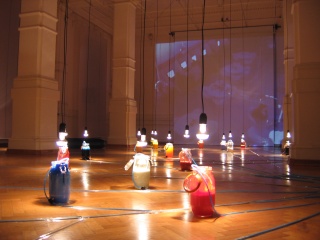 Background and location
Multimedia Centre CyberSRCeLab – MMC KIBLA was founded in July 1996 as a project of Narodni dom Maribor and Open Society Institute Slovenia. From June 1998 MMC KIBLA has legal status as an Association for Culture and Education (ACE KIBLA). Its founding member Peter Tomaž Dobrila was KIBLA's president from 1998 up to 2004 (later an advisor), he was followed by Aleksandra Kostič.
In the beginning KIBLA Multimedia Centre offered computer education and free Internet access, e-mail addresses and server space for non-profit organisations and individuals. Located in the ground floor of the premises of the Narodni dom Maribor, today KIBLA comprises KiBela exhibiting art space, Za:misel Bookshop known for its selection of student books and KiBar cyber café complete with 10 computer terminals with free Internet access.
Since 2001 ACE KIBLA also runs a dislocated Information and Communication Point (KIT) at Glavni trg 14 in Maribor. KIT offers Internet access, consulting and educational programmes regarding information and communications technology.
Programme
ACE KIBLA's extensive programme includes exhibitions, performances, concerts, festivals, theatre, lectures, symposia, fairs, and workshops. Through its KiBela Art Space it collaborates with Slovene artists and institutions and also with contemporary artists and arts organisations in Graz, London, Zagreb, Belgrade, and the USA, presenting new approaches through new media as well as contemporary visual arts.
ACE KIBLA's festivals include the KIBLIX Linux IT Festival, and the acclaimed Skrite note (Hidden Music Score) Festival with the programme of avant-garde music. Since 2007 it has been organising also the (DA)(NE)S Festival of Microtonal Music, which is now being set as a concert series. It also cooperates with numerous other organisations in Maribor, Ljubljana (Ljubljana Jazz Festival, Druga Godba Festival) and abroad. The 3rd edition of the Festival ljubezni [Festival of Love] (usually organised each spring and always in a different Slovene town) is also part of the events marking the World Book Capital Ljubljana 2010 in April 2010 in Negova Castle. Kibla was also the initiator of the Izzven Jazz Festival, which was taken over by Narodni dom Maribor in 2011.
Regular literature events such a readings, interviews with renowned authors, and roundtables are organised throughout the year within KIBLA's Za:misel Bookshop programme.
KIBLA is a founding member of the M3C Multimedia Centres Network of Slovenia and has contributed to the network's development of the Dravoskop cultural portal, which features the latest creative happenings in Slovenia's Podravje region and also presents cultural organisations in all municipalities.
International cooperation
Whether as an active member in many international networks or as a project leader engaging in the production and dissemination of numerous complex cultural works, ACE KIBLA has significant experience working in international cooperation projects. The list of projects co-funded by the European Commission and its funding bodies in which the organisation has participated is perhaps among the largest for a Slovene institution.
With funding from the Culture 2000 programme in the years 2002–2003 KIBLA co-organised the annual project tx0om – Textures in bloom, which investigated interactive, intelligent and responsive environments at the crossroads of digital physics, phenomenology and biomimeticswhere the body becomes intermediary, and the multiannual project Virtual Centre Media Net. KIBLA also collaborated as a partner in two annual projects TRANZart disLOCATED and Soziale Geräusche [Social Noises]. Two additional projects were FP5-IST (EMMA – European Multimedia Accelerator) and FP6-IST (PATENT – Partnership for Telecommunication New Technologies).
In 2004–2005 KIBLA participated in the annual projects, e-Agora, which developed a virtual multimedia platform for innovative production and presentation of Performing Arts using the latest communication technologies (multi-user shared environments on the Internet) in order to interconnect European theatres, cultural centres, and enhance their co-operation, and TRG – Transient reality generators – a continuation of the tx0om project – focused on the phenomenon of Mixed Reality (environments containing significant virtual and physical interaction possibilities, strongly intertwined) and examined the potential of synaesthetic MR experience design, in which the art-works become all-encompassing art-worlds. In 2006, the multiannual projects gRig – Guild for Reality integrators and generators and TiE – Travel in Europe.
Within the framework of the EUREKA multimedia umbrella and with support from the Leonardo da Vinci programme, KIBLA participated in the project Name multimedia, a Multimedia Tasks & Skills Database, researching and evaluating 26 different jobs and 96 operational multimedia tasks. NAME is presented in 9 languages, with a database of more than 650 companies from 11 countries.
Project activities have included the conference True Art/Truely Merchandise in Berlin (DE), Media-Scape 2009. Infinite games in Novigrad (HR).
On the global level, in 2009 KIBLA co-organised ASEUM, the 1st International New Media Art Festival in the Philippines, together with SABAW Media Art Kitchen (Philippines) and Asia-Europe Foundation.
One of KIBLA's significant networking European projects was X-OP - eXchange of art operators and producers, a multiannual (2008–2011) project intended to nurture a network of artists, researchers, operators, producers, and centres with the aim to establish a European platform for creation of art and exchange. By long-term cooperation the partner centres are establishing and further developing infrastructural and information supportive environment in relation to information technology, digital culture and art creation in wide aspect from art production and presentation to research and education. Alongside ACE KIBLA the partners in the consortium were Museum Lapidarium (Novigrad, Croatia), Media in Motion (Berlin, Germany), Egon March Institute (Ljubljana, Slovenia), MoKS – Kunsti ja Sotsiaalpraktika Keskus, Center for Art and Social Practice (Mooste, Estonia), CIANT – International Centre for Art and New Technologies (Prague, Czech Republic), Politechnic of Tomar (Tomar, Portugal), MAA – Taidekoulu, Art School (Helsinki, Finland), Apartment Project (Istanbul, Turkey), and Rahmenwerk – Transforming Freedom (Vienna, Austria).
During the last 5 years KIBLA was a partner in the following projects cofunded by European Commission: Caravan. Artists on the Road (2011–2014, led by Fondazione Cassa di Risparmio di Torino (IT)), Robots and Avatars – Collaborative and Intergenerational Futures (2011–2012, initiated by bodydataspace (UK)), EuroPA - European Public Art Project(2011–2013, led by Comune di Jesolo – Municipality of Jesolo (IT)), Materiality (2012–2014, initiated by Wyspa Progress Foundation (PL)).
KIBLA initiated the project Soft Control (2012–2015) supported by EU funding scheme, with eight partners from Slovenia (Koroška Gallery of Fine Arts), Serbia, Croatia, Latvia, Czech Republic, Portugal and Spain.
In 2016 KIBLA won the Creative Europe funding and started the project Risk Change with partners: 7scenes (NL), Ethniko Kai Kapodistriako Panepistimio Athinon (GR), Fuggetlen Kepzomuveszeti Muhelyek Ligaja Alapitvany (HU), Jauno Mediju Kulturas Centrs RIX-C (LV), Museum of Modern and Contemporary Arts (HR), Museum of Contemporary Arts Vojvodina (RS), The Mighty Creatives (UK), and the ZINC (FR).
Recently KIBLA was invited as a partner producer in two interdisciplinary multi-annual European projects: Ephemeral Heritage of the European Carnival Rituals (2014–2017) led by Universitat Politecnica de Valencia (ES)), and in Growing up here, there and everywhere in EU (2015–2019), initiated by Nordisk Teaterlaboratorium – Odin Teatret (DK).
Award
In 2008 KIBLA joined the ranks of Alcatel Space, Amadeus, Brainstorm Multimedia, EVS, Navicore, Nokia, OpenBC, Strato, Young Digital Planet, Zanox and others when it was awarded a silver European Seal of e-Excellence by the European Multimedia Forum. The seal recognises ICT and digital media companies with an excellent track record in developing and marketing innovative products and services.
See also
External links
International cooperation projects
Gallery