Kapelica Gallery
From Culture.si
Contact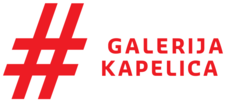 Galerija Kapelica
Kersnikova 4, SI-1000 Ljubljana
Jurij Krpan, Artistic Director
Programme
Since its inception the Kapelica Gallery's programme has been conceived by Jurij Krpan, recently assisted by art historian and curator Sandra Sajovic.
With a programme which consists of spatial installations, performances, sound research and theoretically-reflective lectures, Kapelica Gallery challenges scientific and technological applications, biopolitics and urban phenomena, addressing both professional and general public. The Gallery programme is developed as a response to the profound changes in society, thus it is constructed from art activities that reflect the multitudes of contemporaneity and announce the possible future scenarios.
Some of the international artists who have been presented at the gallery are: Survival Research Laboratories, Stelarc, Marcel Li, Chico Mc Murphy, Franco B., Orlan, Ron Athey, etc. Jurij Krpan frequently works with the following local artists: Marko Peljhan, Tao G. Vrhovec Sambolec, Marko Batista, Sašo Sedlaček, Sanela Jahić, Žiga Kariž, Janez Janša, Stefan Doepner, Borut Savski, Polona Tratnik, Ive Tabar, and Eclipse.
International collaboration
The Kapelica Gallery has established links with numerous galleries and initiatives abroad (including the UK's Live Art Development Agency), working with many guest curators, artists and theoreticians of contemporary artistic practice.
Trust me, I'm an Artist is a project carried out by eight European partners, in which they addressed and discussed the ethical frames of the contemporary Western society, which limit artistic expression in a number of ways. The Kapelica Gallery focused on questioning the ethical issues in contemporary research art.

The European Digital Art and Science Network project connected The Kapelica Gallery with two of the best scientific laboratories in the world: The European Space Agency in the Netherlands and the European Southern Observatory in the Atacama Desert in Chile. Through public tenders the international initiative offered an opportunity to artists from Europe to cooperate with experts from the aforementioned scientific and research platforms.
See also
External links
Gallery