Vizo
From Culture.si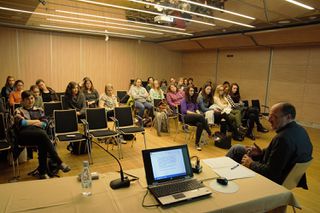 Educational projects
The underlying creed of Vizo's work lies in developing and offering tools for a more complex and informed understanding of film culture. These tools are modelled with regards to the nature of the audience (pre-school kids, primary school goers, highschoolers or adults) and feature screenings, workshops, lectures and discussions. They deal with topics such as film history, the cinematic role of sound and music and so on. In these endeavours, Vizo collaborates with the Slovenian Film Centre, the Art Cinema Network, the network's various members from all over Slovenia (Art kino Metropol Celje, Franc Bernik Culture House, Domžale, Nova Gorica Arts Centre, Kosovel Culture House Sežana, etc) and the various schooling institutions in the respective urbanities.
The programme for the youngest ones is usually done in the form of a workshop (on, for example, animated film creation), on which they sometimes collaborate with the 2 Reels - Association for Reanimation of Storytelling.
They also set up discussion with film authors and produce educational courses at the Museum of Contemporary Art Metelkova (MSUM). As a part of the film platform for youth called Mad About Film, they also organised a workshop on film critique and screen-writing at the Festival of Slovenian Film, the Ljubljana International Film Festival (LIFFe), the Animateka International Animated Film Festival and the Ljubljana Documentary Film Festival.
Festival production
Vizo is the main producer of Film na oko, a festival that takes place all around Slovenia and presents quality world cinema for children and youth. The festival is a further expanding the activities of introducing the youngest ones into a diverse and unorthodox cinematic culture.
Together with Slovenian Animated Film Association and Kino Odeon Izola, Vizo has in 2014 co-organised a comprehensive showcase of contemporary Slovenian animation.
Gallery
See also
External links