Equrna Gallery
From Culture.si
Contact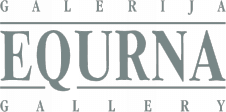 Galerija Equrna
Gregorčičeva 3, SI-1000 Ljubljana
Arne Brejc, Director
History and location
In the first years of operation the Equrna Gallery, named after the Celtic goddess of the Ljubljanica River and the Ljubljana swampland (barje), prepared guest exhibitions in various venues such as the atrium of Ljubljana's town hall, City Art Gallery Ljubljana and in Hotel Slon. Since November 1984 it has had its own exhibition spaces in a renovated courtyard building at Gregorčičeva 3 in the centre of the city that was built in the early 18th century, and around 1809 was used also as stables for Napoleon's army. The gallery space occupies a total area of 300 square metres, separated into two areas, both with arches and four-metre-high ceilings.
Programme and artists
The gallery offers monthly exhibitions mostly in the format of solo exhibitions, occasionally also group shows. Equrna presents the newest art works by mid-generation artists who defined Slovene art during the 1980s along with some output of younger artists. Altogether the Gallery represents more than 50 artists.
From the pinnacle of creativity in Slovenia's post-modern art scene after 1980 Equrna represents: Emerik Bernard, Metka Krašovec, Gustav Gnamuš, Tugo Sušnik, Živko Marušič, Jože Slak, Sergej Kapus, Žarko Vrezec, Irwin, V.S.S.D., Dušan Kirbiš, Andraž Šalamun, Bojan Gorenec, and Sandi Červek. Some younger artists are also presented, including Aleksij Kobal, Zdenka Žido, Eva Heimer, Andrej Brumen Čop, Robert Ložar, Mojca Oblak Crowther, Irena Romih, Marko Jakše, and Petra Varl. Representatives of the youngest generation include Ksenija Čerče, Mitja Ficko, Ana Sluga, Polona Maher, Arjan Pregl, Katja Sudec, Robert Černelč, etc.
International art fairs and sales service
Since its foundation the gallery has prepared over 400 exhibitions in Slovenia and abroad. Equrna Gallery has participated in all major international fine art fairs, for example, Art Basel, LA Art Fair, Art forum Berlin, ARCO-Madrid, and Art Chicago.
Works mediated by Equrna gallery adorn many important business buildings. For the last 20 years the gallery has co-operated with the corporate sector, selling works to the Factor Bank Art Collection, Moravske toplice, Zdravilišča Krka spas and to individuals for private interiors. All artists whose works can be commissioned at Equrna Gallery are presented on its website.
Exhibition space
dimension: Main vaulted space with two columns: 147m² (14m x 10.5m x 3m H) incorporating 45 linear metres of wall space; Room 2: 121m² (11.5m x 10.5m x 3.5m H) incorporating 23 linear metres of wall space
installation system: hammer-and-nail installation throughout, track and hanging rods
lighting: standard lights
climate control: none
sales policy: sales permitted, 30% sales commission levied
See also
External links
Gallery