Klub Gromka
From Culture.si
Contact

Klub Gromka
Masarykova 24, SI-1000 Ljubljana
Jasna Babič, Programme Head
History
The beginnings of Gromka go back to 1995, when one of the premises at the squatted ground of the ex-military barracks was re-programmed to became a theatre space called Teater Gromki, with gromki meaning "loud". Eventually, the place was transformed into a club with a bit broader aspirations, and it also started to include music concerts and other art forms.
Political activities have always figured as a strong dimension of Gromka, which for many years hosted the weekly lectures of the Workers' Punk University, organised by the Peace Institute and set up by the sociologist Tonči Kuzmanić in 1998. Working outside the institutionalised academic setting, this very influential "university" enabled an alternative production of theory and presented an important space for the dissemination of autonomous and theoretically ambitious thought.
Programme
The club's programme is run by a consortium of NGOs and individual organisers, and the events are usually very affordable or even admission-free. Music-wise, currently the most active are Defonija, a renowned series for improvised and experimental music; the genre unbound and loud events by KiborgSpužva Büking; the raging R.A.F.A.L. concerts with grindcore, d'beat, crust, and other punk and hard core tendencies; and gigs set up by the similarly punk and HC oriented crews of Giljotina and Human Beans.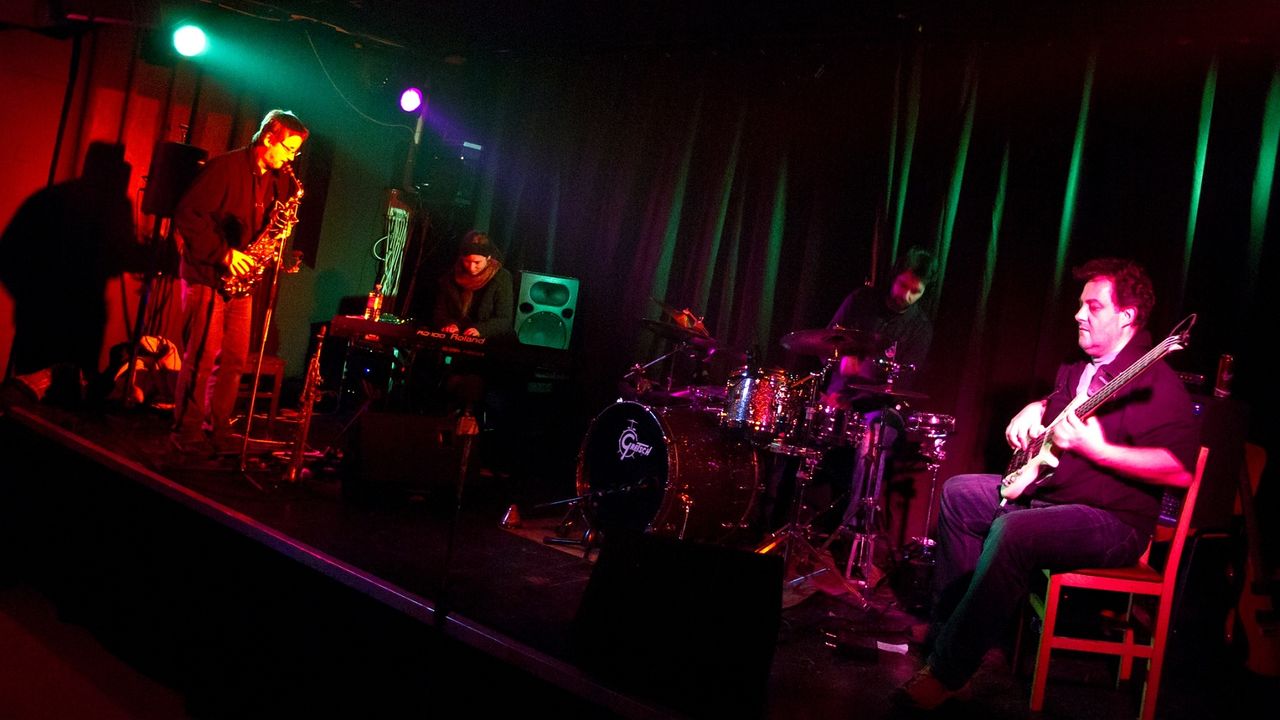 Lolita performing at Klub Gromka, Primoz Simončič - saxophone, Iztok Vidmar - electric guitar, bass guitar, Neža Naglič - keyboards, Uros Srpčič - drums. Metelkova mesto Autonomous Cultural Zone, 2011
Theatre is also still very much present in Gromka, with the performances usually held on Wednesdays. Very different groups and producers are involved, for example, Emanat Institute. Other events involve the cinema evenings and discussions held by the Cultorologist Association, clubbing nights, occasional events organised by humanities students associations, and so on. It is the home of the Ljubljana International Short Film Festival and the DokuBazaar, Ljubljana Independent Documentary Film Festival.
Gromka collaborates with a number of other organisers, institutions, and festivals, among them, the City of Women, the International Feminist and Queer Festival Red Dawns, the Ljubljana Jazz Festival, MENT Ljubljana, the KUD Mreža Arts and Culture Association, and Moonlee Records.
See also
External links
Gallery