International Feminist and Queer Festival Red Dawns
From Culture.si
Background
The festival was instigated by the requestioning of the position of women in an inseparable intertwinement of art, culture, politics, activism, and everyday life. The title and motto of Red Dawns festival is taken from Kurt Held's 1941 novel The Red Zora and Her Gang. Red Zora had beautiful red hair and her daringly witty, anarchist attitude inspired many struggles, including the militant feminist organisation Rote Zora of West Germany, which stood against patriarchy, biotechnology, and nuclear power, among other things. Zora means "dawn" in Slovenian language.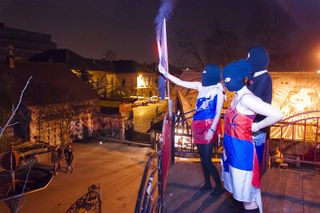 Overview
Red Dawns annually invites women and queer artists who actively voice their visions, politics, opinions and feelings through any media. It supports women and queers who express their creativity in self-organised ways, capturing the do-it-yourself ethic of constructive rebellion against capitalist consumption. The festival's ideal ground is to unite the strength of women and queer activists as well as artists in order to demonstrate the possibility of a festival that is produced, organised, and performed by women and queer men.
The festival revolves around March 8, addressing the International Women's Day in a non-hierarchical, non-exploitative and anti-capitalistic manner, with all organizational work done voluntarily.
Programme
Each year the festival presents from 20 to 30 different events. The 2009 edition of the festival, for instance, featured the first exhibition of Slovene feminist art Women Are Coming [Ženske prihajajo], presenting Slovene feminist video, photography, and other visual art works, accompanied by performances by of artists such as Liad Kantorowitz (Israel/Palestine), Noa Reshef (Israel), and with concerts by the Kombinat Choir and Cherry Sunkist (Austria), etc.
The festival also organises intriguing workshops, such as a DIY workshop of clothes recycling, a workshop on Internet security and privacy, a workshop on preventing burn-out, a workshop on DIY sex toys, etc.
Bodeča Neža Award
The Bodeča Neža (Barbed Flower) Award points out sexist statements of public persons, which are usually neither reflected upon nor criticized. The first Barbed Flower award was bestowed on 8 March 2013. Since 2015, the Red Dawns cooperates with the web portal spol.si in the making and bestowing of the Barbed Flower Award.
Partners
The first edition of the Red Dawns festival presented artists and activists working at the Metelkova mesto Autonomous Cultural Zone. In 2001 the festival already joined up with political allies from the Balkans and Central European neighbourhood. The Red Dawns was supported also by the ACU, Utrecht (2005), Mama Cash (2005), XminY (2008) and the Global Fund for Women (2008), it is partially cofunded by the Ministry of Culture and the Municipality of Ljubljana as a part of the programme of KUD Mreža Arts and Culture Association.
A few cultural centres round Slovenia, e.g. MC Podlaga (Sežana), Pekarna Magdalena Network (Maribor), C.M.A.K. Cerkno and Mostovna Cultural Centre (Nova Gorica) widened the circle of contributors. There is also a partner festival called Deuje babe Festival, organised since 2013 in the Cerkljansko region.
Many individuals initiatives and other associations have joined and supported the Red Dawns, among them Alkatraz Gallery, KUD Anarhiv, Radio Študent, DZAC, CrossConversationCut, kamera REVOLTA, Cinema iNVISIBLE, the feminist debate club of the Faculty of Social Sciences, University of Ljubljana, Klub Gromka, MKC Koper Youth and Culture Centre, MIKK Youth Information Cultural Club, Murska Sobota, Klub Menza pri koritu, the ŠKUC - Cultural Centre Q, Lesbian-Feminist University, [A]Infoshop Metelkova, Klub SOT 24,5, SCCA-Ljubljana Centre for Contemporary Arts, GRRRLS Kulturverein Graz, C.M.A.K. Cerkno, Zaklada Kultura nova Zagreb, Deep Green Resistance Slovenija, Vstajniške socialne delavke, KUD Transformator, VE-ZA Collective, Delavski dom Trbovlje Cultural Centre, Gulag Institute for Contemporary Arts and Cultures, Cyberpipe, Ljudmila Art and Science Laboratory, ZadrugeFemale's'Cream, Mizzart gallery, Café Open, Museum of Contemporary Art Metelkova (MSUM), Red Min(e)d, Workers' Punk University (Peace Institute - Institute for Contemporary Social and Political Studies), Serbian Cultural Center Danilo Kiš, Institutum Studiorum Humanitatis (ISH), Spol.si web portal, etc.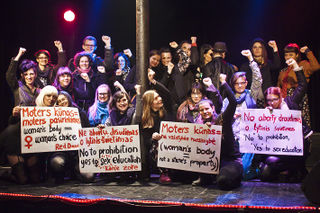 See also
External links
Gallery