Depot:Magdalena International Festival of Creative Communication
From Culture.si
Archival article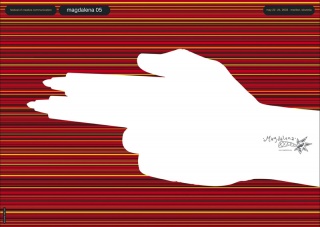 The Magdalena International Festival of Creative Communication is a non-profit festival for designers, copy writers, illustrators, directors, web hackers, mobile freaks, young professionals, amateurs and students – for anyone under the age of 30 active in the world of public communication. Taking place in May in Maribor, the three-day festival programme includes exhibitions, lectures, discussions, workshops, parties and the Magdalena Awards gala ceremony. The festival is known for its good organisation and informal spirit. Entry fees are minimal and thus accessible to most young people.
With more than 4,000 works from 15 different countries presented at the festival in the last decade, Magdalena has become an important player in the international arena, still organised by a group of enthusiasts and friends.
Background
The Magdalena Festival came into existence in 1999 as a reaction to classical advertising festivals in Slovenia and abroad. The primary objective of the festival was to bring together representatives of the younger generation of creative people who are producing works with the aim of informing, promoting or advertising.
A competition festival open to authors worldwide, Magdalena usually takes place in Narodni dom Maribor, KIBLA Multimedia Centre and in the galleries in the centre of the town (Maribor Art Gallery, Media Nox and Hladilnica). The first edition took place in Pekarna Cultural Centre.
The visual identity of the festival is created by a different young designer each year. The authors of the Magdalena logotype are Tom Mezga and CodeSign's Martin Bricelj.
Awards
Central to the festival programme is the competition for several Magdalena Golden Bra Awards: Magdalena for best work of the festival, Golden Bra for best entry in each category and Silver Bra for second best work in selected category (print, outdoor, motion, interactive and experimental media, logotypes, magazine and newspaper design, book design, CD cover design and typography). The Brief Sponsor's Award is also awarded each year for the best creative brief.
The jury consists of a group of internationally acknowledged practitioners, who select and award the best examples of public communication.
See also
External links
Gallery