Slovene Philharmonic String Chamber Orchestra
From Culture.si
Contact info
Past Events
6 June 2015


Fire and Ice, a concert by guitarist Vlatko Stefanovski and saxophonist

Vasko Atanasovski

(see also Vasko Atanasovski Trio) with the Slovene Philharmonic String Chamber Orchestra, at the Summer at Opatija's Open Air Thatre Festival at

Open Air Theatre Opatija

in

Opatija

,

Croatia


programme

20 April 2015


A concert by the Slovene Philharmonic String Chamber Orchestra also featuring violoncellist

Andrej Petrač

at the Music Biennale Zagreb at

HGZ Croatian Music Institute

in

Zagreb

,

Croatia


programme
Programme
Under the artistic leadership of violinist Steven Loy, the Slovene Philharmonic String Chamber Orchestra plays mostly repertoire works of the baroque and classical periods as well as 19th- and 20th-century music, by composers such as J.S. Bach, A. Vivaldi, J. Haydn, W. A. Mozart, P. I. Tchaikovsky, B. Bartók, and B. Britten. The orchestra also presents newer works of Slovene contemporary composers such as Nina Šenk, Lojze Lebič, and Ivo Petrić as well as covering much of the Slovene classical repertoire.
The orchestra, which plays without a conductor, has been recorded many times in live concerts and has released 10 CDs. One of the CDs is dedicated to Slovene Baroque music with compositions of Isaach Posch and Janez Krstnik Dolar. Other CDs include the works of A. Corelli, G. B. Pergolesi, D. Shostakovich, and E. Grieg, as well as 20th-century Slovene composers Uroš Krek and Primož Ramovš.
International cooperation and concerts
The ensemble has appeared throughout Croatia, Austria, Serbia and Italy at events such as the Ljubljana Festival, the Danubia Festival, Slovene Music Days, World Days of Music, Dubrovnik Summer Festival, Zadar Festival, Zagreb Summer Festival, Novi Sad Music Festival, and Zagreb Baroque Festival. The orchestra's performances have been well received by audiences and music critics alike.
The ensemble has cooperated with several leading Slovene soloists including mezzo-soprano Marjana Lipovšek, pianist Dubravka Tomšič-Srebotnjak and flautist Irena Grafenauer, as well as many internationally renowned soloists including cellist Mischa Maisky, violinist Sarah Chang, pianist Polina Leschenko and horn player Stefan Dohr. In 2007 the ensemble participated with recognised accordion player Richard Galliano at the International Chamber Music Festival (Music September Festival) in Maribor.
In 2009 the ensemble played the role of residential orchestra and co-produced with the Maribor Festival. Under the artistic direction of violinist Richard Tognetti the orchestra performed 12 concerts at the festival and cooperated with renowned musicians including pianist Boris Berezovsky, horn player Marie Luise Neunecker, soprano Sabina Cvilak, and bassoonist Jane Gower.
The Slovene Philharmonic String Chamber Orchestra works closely with the National Gallery of Slovenia, which hosts a cycle of concerts and lectures each year, entitled "Harmony of the Spheres". The events combine lectures on fine arts with concerts of chamber music.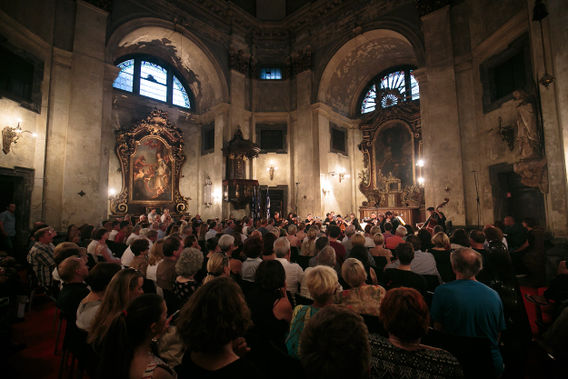 See also
External links
Gallery