Slovenia on the Global Music Map
From Culture.si

Imagine yourself a music professional living in a country like Slovenia. You'd find around 130 music festivals and 200 concert venues. It would take you only three-and-a-half hours by car to reach Piran from Lendava, two of the country's most distant cities. It might sound cosy, but the land of opportunities is obviously small, with only two million citizens, a couple of old-fashioned broadcasting opportunities and a low-level awareness about the global music digital switch. Spotify only recently made it to this land. YouTube copyright licencing is yet to be regulated. Would you think about staying in the music biz by expanding your professional opportunities? Would you think about touring and selling your music abroad? Are you and your music product export-ready?
The good old days
Looking at a couple of examples from the past, we see that deleting national borders from one's professional musical career planning should be taken seriously. Truly, many past examples are no longer relevant. The brotherhood with ex-Yugoslav countries is over. The Yugoslav passport, one of the most desirable documents on the global black market way back, which allowed you to travel to the East or the West without a significant problem, is no longer valid.
Many Slovenian bands benefitted from those "good old days". Unique groups like Laibach, Buldožer, Begnagrad, Borghesia, Pankrti and Videosex can find their names in every encyclopedia of ex-Yugoslav popular music. The vocal skills of singers like Lado Leskovar were adored all around the Soviet brotherhood. Same with the group September and the Slovenian ABBA-style quartet Pepel in kri.
And let's not forget jazz! Here's a good moment to tell a half-true joke: Who's the only one who could make Frank Sinatra sound even better? Jože Privšek! The legendary Slovenian composer, arranger, conductor and graduate of Boston's Berklee College of Music, fell in love with jazz by listening to Radio Luxembourg back in the 1950s. Back then, this radio station was the holy grail for many Slovenian music lovers interested in new sounds from the West.
Successful stories about the internationalisation of Slovenian music also echo from other parts of the world, with the Avsenik brothers leading the pack. Known internationally as Das Original Oberkrainer Quartett Avsenik, it clearly shows that German-speaking nations comprised their main market. The Beatles of their music style, Avsenik's folk-pop reached all the way to the USA. You can find their famous music vibe in a very popular (dixie-) polka music style, which found its capital in Cleveland, Ohio.[1]
The music sector's strategy. What strategy?
Thirty years ago, Slovenia found itself among the many post-communist countries that had to build international relevance and visibility almost from scratch. Through the significant role of government entities in creating and routing cultural and creative policies, the distinctions between the understanding of culture (including music) as a tool for preserving the national identity and the other cultural activities as a part of commercial entertainment has started to grow.


The lack of a national strategy for the cultural and creative industries and their potential for positive economic and other social impact has forced Slovenian cultural workers (including musicians) to shift their focus toward non-profit cultural activities, described as cultural programmes and projects in the public interest in culture.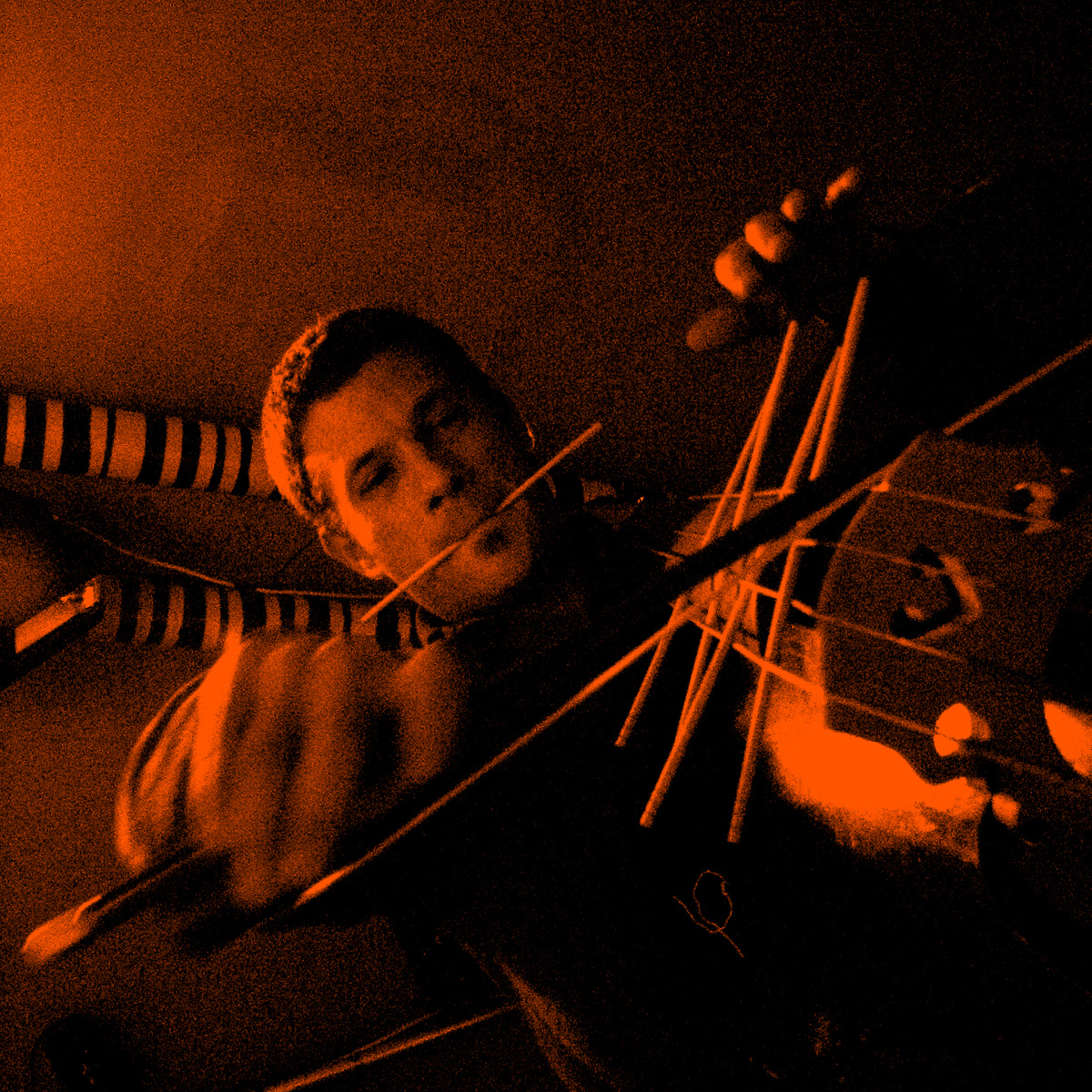 Double bass player Tomaž Grom of Sploh Institute has contributed greatly to the improvised music scene.
Although we find many positive results based on this approach – including well-educated musicians, emerging from a strong public music education system and a variety of public supported musical scenes, including alternative, experimental and contemporary music – music as a business opportunity has gotten the short end of the stick. Other than the music quota of the percentage of national music broadcast by Slovenian radio stations, there is no government regulation to help the Slovenian music sector to develop and sustain itself as a business.
And yet it moves …
In 2015, with the first edition of the showcase festival and conference MENT Ljubljana, produced by CUK Kino Šiška, the local public venue in Ljubljana, the situation slowly started to change. In the beginning, the idea of a Slovenian international showcase festival met a lot of scepticism from some music scenes. That has a lot to deal with the presumption that the idea of music as a non-profit activity with higher symbolic values than greedy money-making was successfully integrated from the policymakers into the cultural field itself. But MENT Ljubljana quickly showed results in the more visible presence of Slovenian musicians abroad, especially after joining the international networks such as INES (Innovation Network for European Showcases) and ETEP (European Talent Exchange Programme).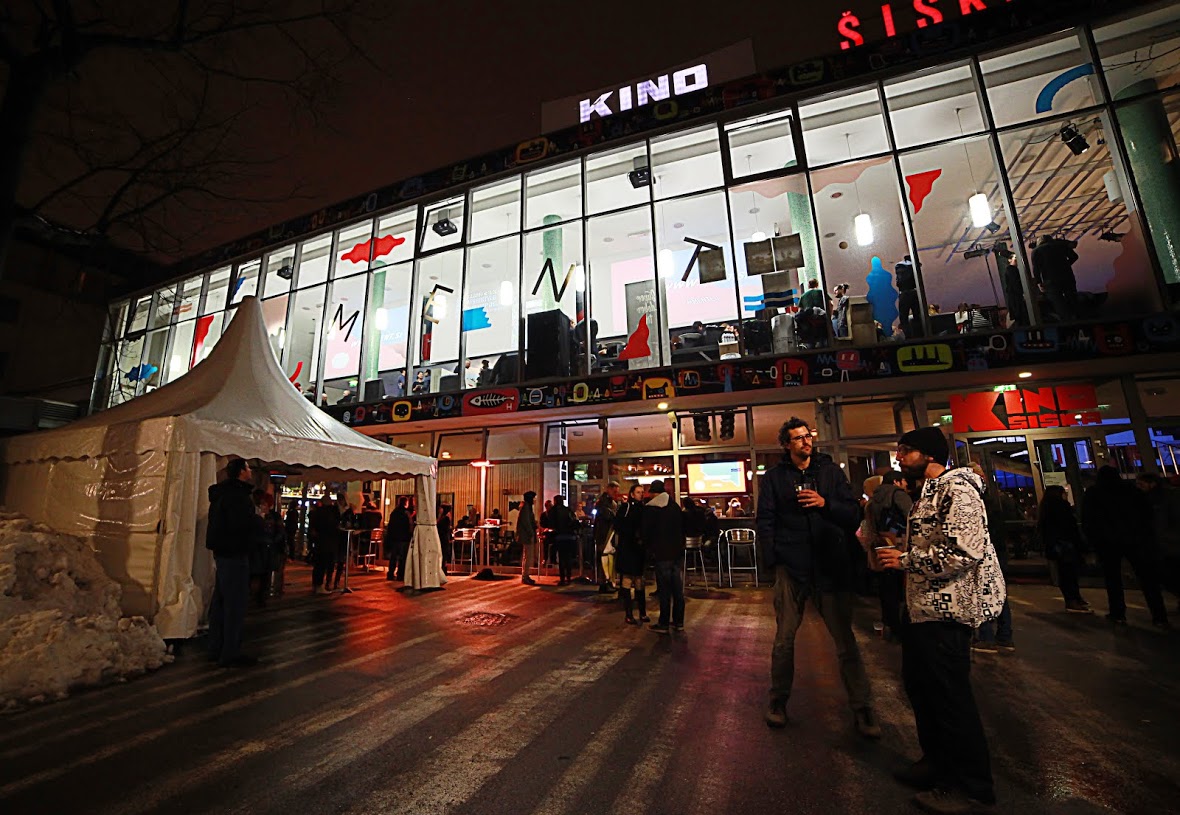 The first edition of MENT Ljubljana at Kino Šiška Centre for Urban Culture, 2015.
SIGIC, the Slovenian Music Information Centre, established in 2004 as a central Slovenian music information point for promoting Slovenian music and musical infrastructure nationally and internationally, has started to deal with vocational training to professionalise the Slovenian music sector. This training mostly focuses on the sector's internalisation and expanding business opportunities beyond the national borders.
In 2018, SIGIC started to collaborate with the Centre for Creativity (CzK), the newly-founded public entity operating under the auspices of the national public Museum of Architecture and Design. The CzK presents a huge step forward in the Slovenian government's understanding of the need and opportunities for the professionalisation of the cultural and creative sector. Together, SIGIC and CzK have presented the series Music Business, including workshops, seminars and lectures.[2]
MENT Ljubljana also received its first big confirmation from abroad, winning the prestigious European Festival Award in two categories: Best Indoor Festival and Best Small Festival. The ambitions have started to grow further. Internationally-active Slovenian music organisations started to present Slovenian music scenes at various musical fairs, such as Jazzahead, Womex and Classical:Next, under the brand Music Slovenia.

The brand was established as a music export consortium, aiming to connect over 30 Slovenian organisations that are members of various international musical networks and associations for the transnational cooperation for the circulation of musicians and their musical works. By then, these international collaborations have mostly served for the import of foreign music into Slovenia. Still, international activities have gradually started to more ambitiously include exporting opportunities. In 2020, Music Slovenia joined the EMEE (European Music Exporters Exchange).
Bright stars in the sky
Still, it'd be a mistake to think that everything about the international presence of Slovenian music is connected to Music Slovenia's initiative and that nothing has happened meanwhile. Many Slovenian musicians have established their international presence based on their own hard work, with proper business planning and with a little help from their friends.
Luka Šulić is the Slovenian part of the world-famous attraction 2Cellos. In 2011, after watching the video of the duo's cover of Michel Jackson's "Smooth Criminal", Sir Elton John invited the duo to join him on tour, and the rest is history. Indeed, Šulić's fame is global (although I'm aware that many of his fans don't even know the guy is Slovenian).
Senidah is another interesting name to mention in terms of broader recognition, although they are shaping the musical taste in the Balkans. While Slovenian listeners have traditionally been very keen on music from Croatia, Serbia and Bosnia, Senidah is turning the direction and bringing Slovenian pop music closer to the spotlight of the Balkans audience.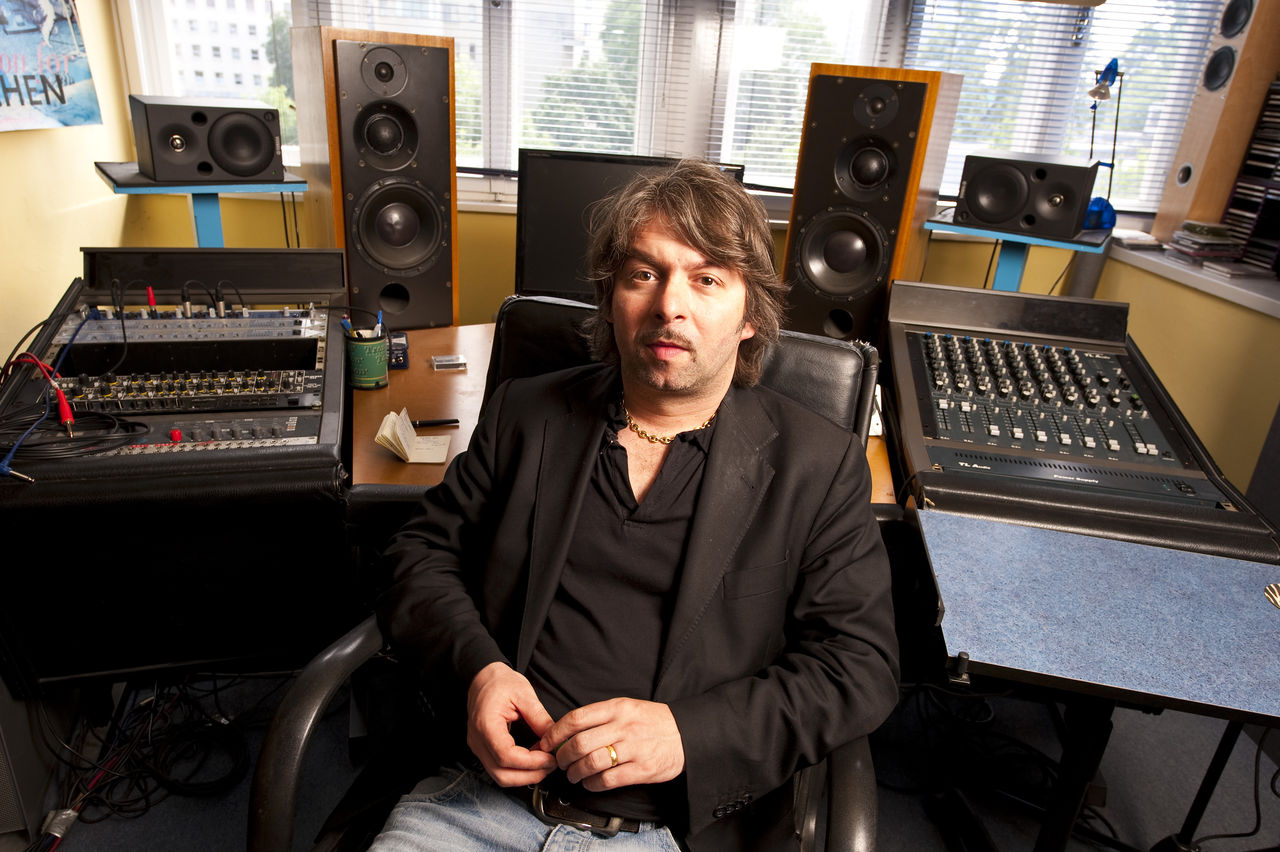 Popular at home and abroad, musician and singer Magnifico has become a widely-known Slovenian music export.
Speaking about the Balkans, Magnifico needs to be mentioned as well. The Slovenian musician has found a successful career in making film music in collaboration with the Serbian director and actor Dragan Bjelogrlić, which made him one of the most recognised Slovenian musicians in the Balkans and beyond.
What of that big hit acapella cover of Toto's "Africa", using only hands, feet and voice? The choir is called Perpetuum Jazzile; they are made in Slovenia as well. Another case of a Slovenian musician who made a step through the big doors is Vito Žuraj. Then there's the famous Elbphilharmonie, the impressive and revolutionary concert hall in Hamburg, which opened in 2017. Žuraj's piece was performed at the opening event. He was also there, conducting the famous Ensemble Modern playing his compositions.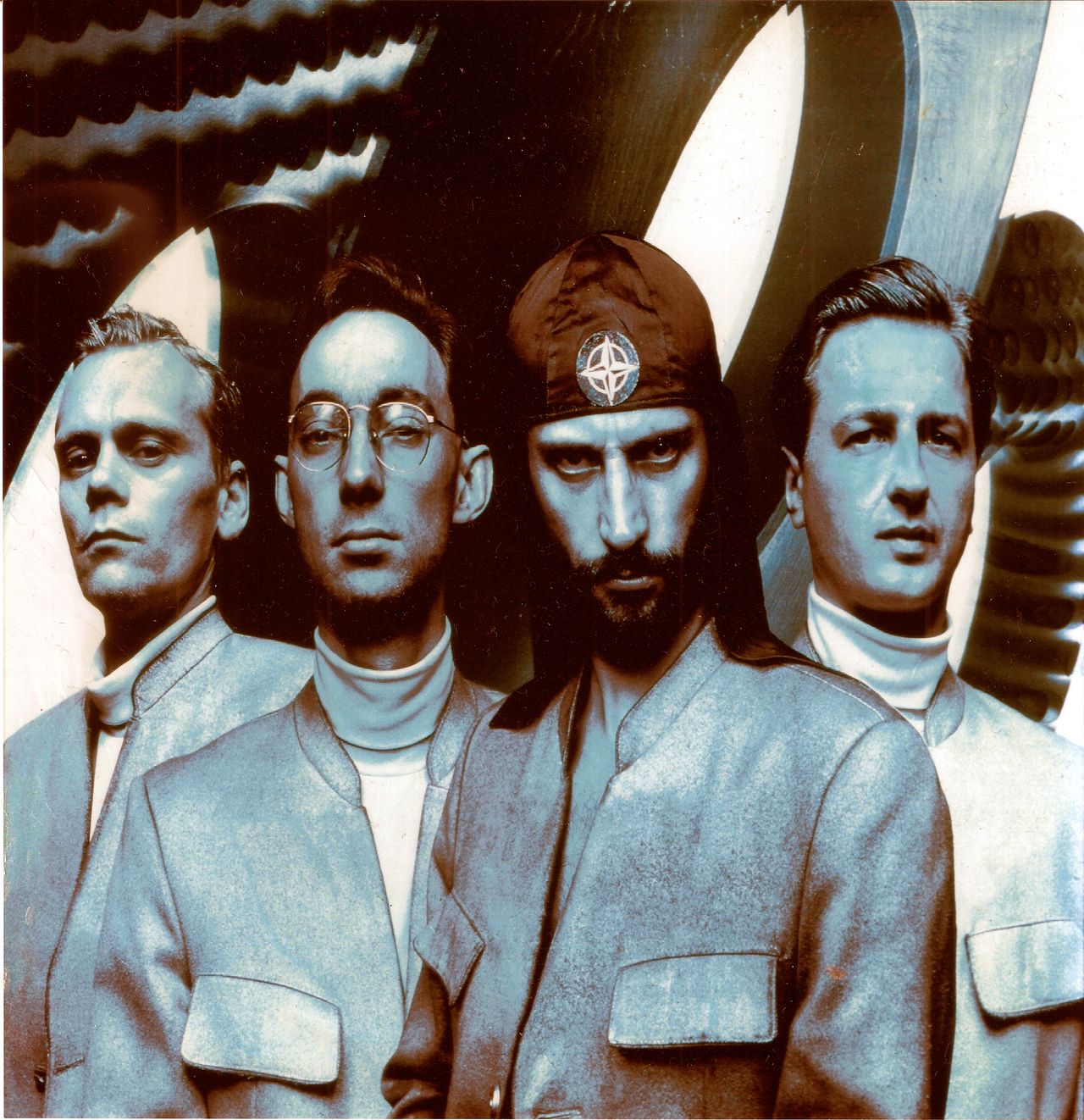 Archive image from Laibach Occupied Europe NATO Tour 1994–95.
Even the already mentioned Laibach is still around. If the Avseniks were The Beatles of their genre, Laibach could be The Rolling Stones of the Slovenian music scene. Laibach's long and internationally successful music career celebrated the 40th anniversary in 2020. Same as the Stones, Laibach is still not ready to grow up and get old. Also same as the Stones, Laibach is still riding on the wave of statement and image created and recognised a long time ago, but constantly refreshing it with the nuances of nowadays and serve it to the new generations of curious ears of music lovers.
Umek is another Slovenian artist who has made it big, with his fiefdom being electronic dance music. Because Umek also serves as a mentor and influencer of many domestic electronic music producers, the truth might be that electronic music is the strongest Slovenian export potential at the moment.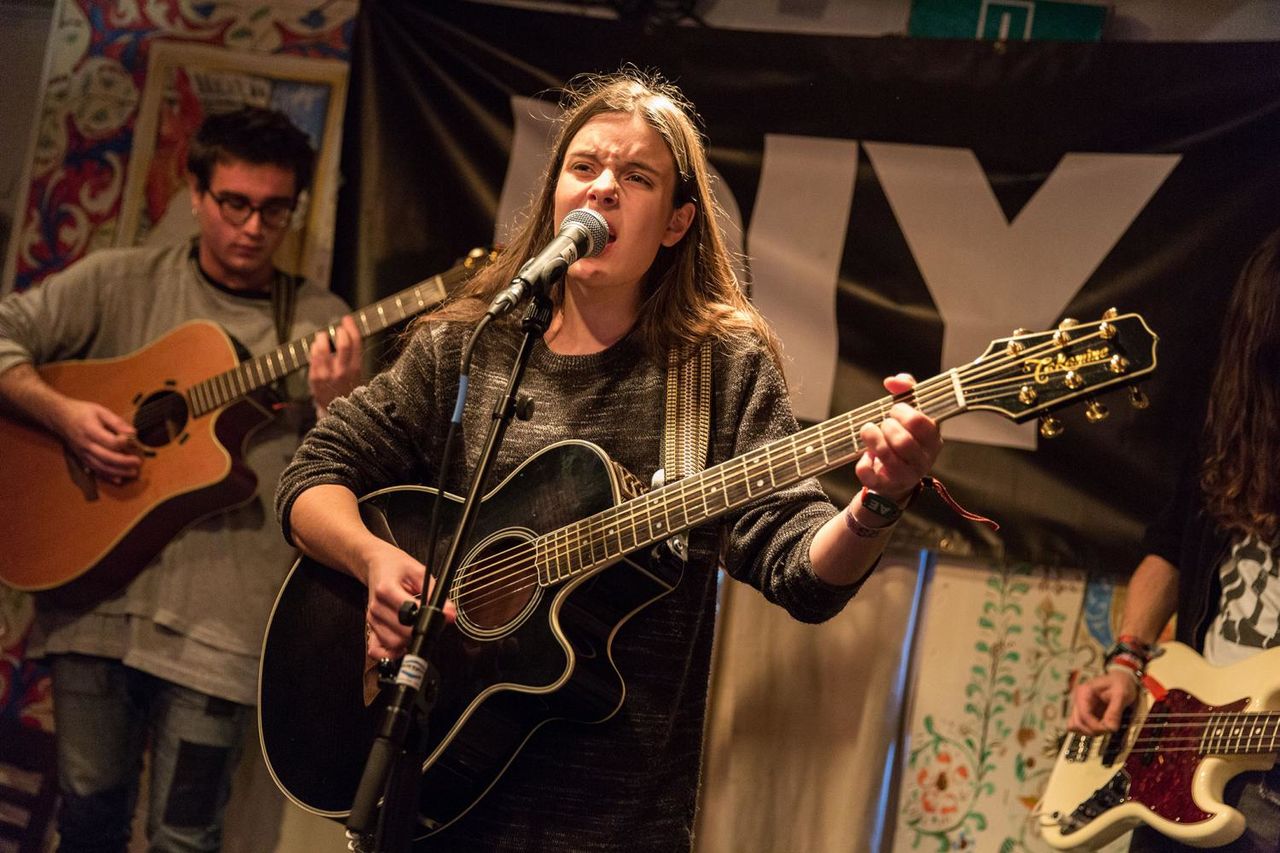 Koala Voice performing an acoustic set at the Eurosonic Noorderslag showcase in Groningen, 2016
Also, rock'n'roll is not dead yet. As the winners of the competition for high school bands Špil liga, produced by Kino Šiška and following showcasing at MENT Ljubljana and other INES showcases, the young indie-rock band Koala Voice has become the first test rabbit for a new export scheme. In less than three years, Koala Voice has transformed from a promising high school rock band to experienced music cats that have toured from Liverpool to Moscow.
At the moment, Širom is probably the hottest band from Slovenia. With its imaginary folk music, Širom is transforming Slovenian traditional music into another dimension, in which every sound seems to be very close and, at the same time, a hundred galaxies away.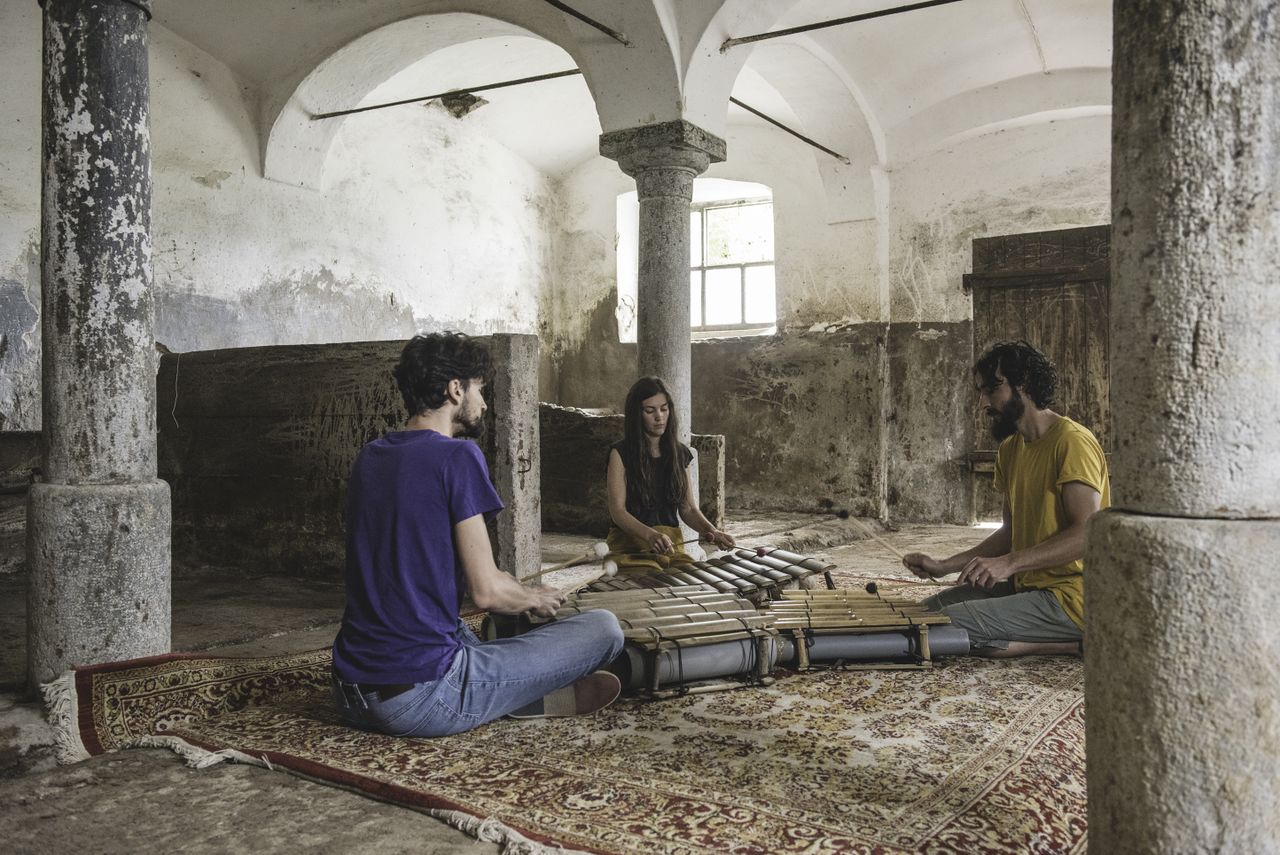 Širom with some of their signature DIY instruments, 2018
Of course, many more musicians should be mentioned as bright stars showing the potential success for Slovenian music in the international field. If you want to dig deeper, I invite you to use the Listen to Slovenia publication, a pocket music guide, released by SIGIC in 2020. For even more information, check the website Musicslovenia.si where you can find the databases about Slovenian musicians and Slovenian music infrastructure, follow Slovenian musicians on tours and listen to Slovenian music from Spotify's playlists [3].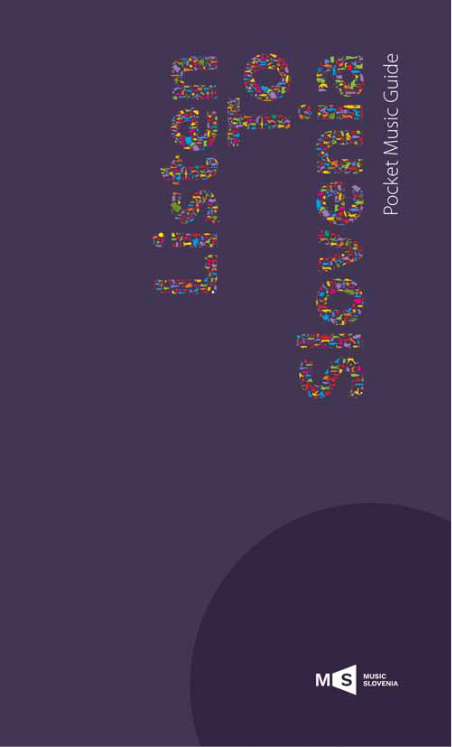 New times, new dreams
Is it time to put Slovenian music on the global music map like the legendary NYC record store Other Music was placed opposite the music mega-store Tower Records and wrote a great success story? The story of Other Music teaches us the power of community. The community of music enthusiasts who believe there's a universe of quality music from different musical genres and parts of the world that must be discovered and supported for further growth and development.


As a member of HEMI (Hub for the Exchange of Music Innovation) network – which connects 9 countries: Estonia, Poland, Czech Republic, Hungary, Slovenia, Serbia, Romania, North Macedonia and Greece – the Music Slovenia consortium will closely follow opportunities to sustainably collaborate with various foreign organisations interested in presenting Slovenian music abroad. And vice versa – to enable musicians from other countries to find better opportunities in presenting their music in our country.


Does it smell like the "good old days" returning to create a more balanced European music map including smaller and underdeveloped music markets? We believe so.


Author bio
Peter Baroš is secretary general of SIGIC, the Slovenian Music Information Centre. In 2019, SIGIC founded the brand Music Slovenia as a consortium of different internationally active Slovenian organisations. Baroš was a counsellor for music at the Ministry of Culture of the Republic of Slovenia (2010–2014) and president of IAMIC – International Association of Music Information Centre (2018–2019). He is a member of the board of HEMI – Hub for the Exchange of Music Innovation.
Notes and external links