Gallina Vocal Group
From Culture.si
Contact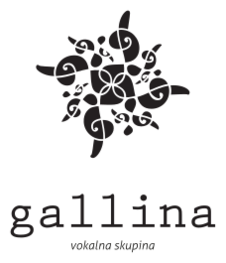 Vokalna skupina Gallina
Žabarjeva ulica 2, SI-1000 Ljubljana
Ana Erčulj, Artistic Director
Concerts and awards
As early as 2014, Gallina received a Gold Plaque and a Special Recognition Award (for best vocal group) at Naša pesem Choir Competition and two Second Prizes at the international choral competition Polifonico in Arezzo (IT). In the following year, the group performed at the festival in Piazzola sul Brenta (IT), the International Choir Festival in Koper-Capodistria and the Lent Festival in Maribor, as well as at the International Choir Festival in Kragujevac (RS) and at "Lipanjski zvuci" international choral competition in Croatia where it received the Grand Prix. In the year 2016, the group held a tour across Croatia and Bosnia and Herzegovina. In 2017, they performed at Pieter's Church in Utrecht and in Remonstrant Church in Waddinxveen, together with the Utrecht Vocal Ensemble. At the festival InCanto Mediterraneo in Milazzo, Sicily, they received the Golden Prize in the sacral music category.
Gallina has held a number of sacral concerts in the churches painted by Tone Kralj; a special series of concerts, Gallina deLux, was devoted to light and architecture, set in various atriums of historical buildings in Ljubljana.
Recordings
Gallina released their first recording, Kurje gospe (Hen Ladies) in 2014, while in 2016, the group released their second recording, Prikupnih pet (Charming Five) by Klopotec label. The repertoire from the latter was presented in the cycle of concerts entitled Zimzelena Gallina (Evergreen Gallina).
External links