Postojna Cave
From Culture.si
Contact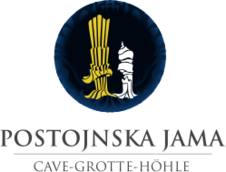 Postojnska jama
Jamska cesta 30, SI-6230 Postojna
Marjan Batagelj, Director
History
The cave was first described in the 17th century by Janez Vajkard Valvasor. Following the discovery of a new area of the cave in 1818 by local resident Luka Čeč it was opened to the public in 1819. A tourist railway was added in the 1870s and electric lighting in 1884. The tourist railway cars were initially pushed along by the guides themselves, but in the early years of the 20th century a gas locomotive was introduced. After 1945 this was replaced by an electric one.
During WWII the German Army used the cave to store fuel. In a diversion on 23 April 1944 the partisans managed to destroy the supplies and this date was chosen as a public holiday by the Municipality of Postojna.
Postojna Cave as a venue
The specific atmosphere and acoustics of the cave has attracted various artists to perform in its Grand Hall.
The Grand Hall can receive up to 10,000 visitors. Several concerts of various music genres have been organised there, performed by the SNG Opera and Ballet Ljubljana Opera Choir and RTV Slovenia Big Band).
In 2000 Matjaž Berger directed the theatre performance Sigmund Freud: Die Traumdeutung, produced by the Mladinsko Theatre. It featured an antological hot-air balloon flight by Avi Šorn within the cave.
The Postojna Blues Festival of present-day blues and associated music styles has presented concerts since 2004 in the Jamski dvorec mansion by the Postojna cave.
See also
External links
Gallery