Category:Web resources
From Culture.si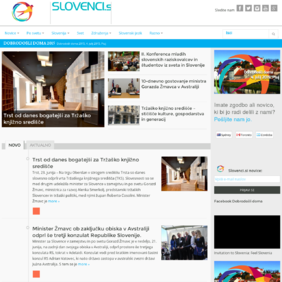 Slovenci.si (meaning "Slovenians.si") is a Web portal for Slovenians abroad, established by the Office for Slovenians Abroad in 2008 and serves as a connecting platform. It offers useful practical and legal information (for example, how to acquire citizenship, where to find Slovenian language lessons) in Slovenian and English and an online register of Slovene emigrant organisations all over the world (cultural, media, and other fields).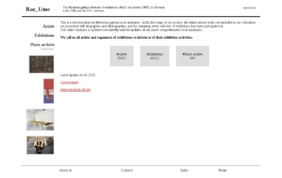 The Modern Art Archive, Museum of Modern Art department collects printed matter and press clippings related to exhibitions of Slovene artists (digitised with the special Razstava ("Exhibition") software programme). It has also built an archive and press clipping service of articles containing biographical and bibliographical and also other data on Slovene 20th- and 21st-century artists (digitised with the Umetnik ("Artist") computer programme).
A selection of the two databases is available online through the Raz_Ume Database. It currently contains over 13,500 artists, more than 8,300 exhibitions and 170 photographs. (Interestingly, Raz_Ume is a play on words using Raz from Razstava, "exhibition" and Ume from Umetnik, "artist" to create the Slovenian expression "He/She understands".)
Year of establishment
Latest Entries
Subcategories
This category has the following 15 subcategories, out of 15 total.
A

C

D

D cont.

F

G

L

M

N

T

V
Pages in category "Web resources"
The following 55 pages are in this category, out of 55 total.
A

B

C

D

E

E cont.

F

K

L

M

P

R

R cont.

S

V