Category:Web resources
From Culture.si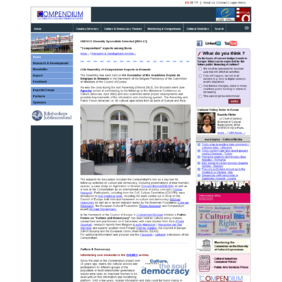 A joint venture between the Council of Europe and the ERICarts Institute, realised with a community of practising independent cultural policy researchers, NGOs, and national governments, the Compendium of Cultural Policies and Trends in Europe is an expanding European-wide information and monitoring system on cultural policy measures, instruments, debates, and cultural trends.
The International Federation of Arts Councils and Culture Agencies (IFACCA) has founded a new WorldCP platform, an international database of cultural policies, which is based on the Compendium model.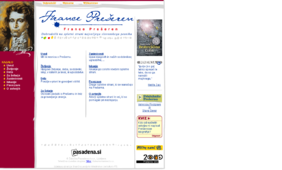 The Prešeren.net website introduces the life and work of Slovene poet France Prešeren (1800–1849). It describes the myths and truths about Prešeren, the context of the period, portraits of the man and quotations by his contemporaries. Prešeren's work is presented in written and spoken form (read by Simon Callow, Katrin Cartlidge, Vanessa Redgrave and Slovene actor Stane Sever). The website is also available in English and German.
Year of establishment
Latest Entries
Subcategories
This category has the following 15 subcategories, out of 15 total.
A

C

D

D cont.

F

G

L

M

N

T

V
Pages in category "Web resources"
The following 55 pages are in this category, out of 55 total.
A

B

C

D

E

E cont.

F

K

L

M

P

R

R cont.

S

V