Category:Web resources
From Culture.si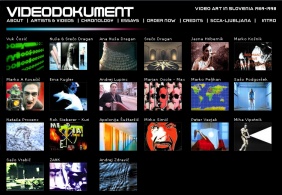 Videodokument is a documentation, archival and research project which offers a comprehensive overview of 30 years (1969–1998) of video art in Slovenia, developed within the scope of the SCCA-Ljubljana (former Soros Center for Contemporary Arts – Ljubljana Documentation Programme). It comprises the catalogue, essays, CD-ROM, website and videotheque, and emanates through the Videospotting survey or thematic programmes. The project ran from 1994 to 1999 and has been followed by DIVA Station, an online digital video archive.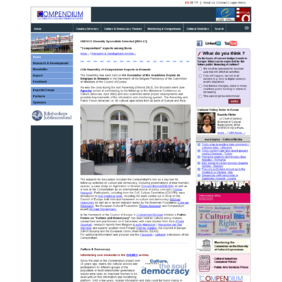 A joint venture between the Council of Europe and the ERICarts Institute, realised with a community of practising independent cultural policy researchers, NGOs, and national governments, the Compendium of Cultural Policies and Trends in Europe is an expanding European-wide information and monitoring system on cultural policy measures, instruments, debates, and cultural trends.
The International Federation of Arts Councils and Culture Agencies (IFACCA) has founded a new WorldCP platform, an international database of cultural policies, which is based on the Compendium model.
Year of establishment
Latest Entries
Subcategories
This category has the following 15 subcategories, out of 15 total.
A

C

D

D cont.

F

G

L

M

N

T

V
Pages in category "Web resources"
The following 64 pages are in this category, out of 64 total.
A

B

C

D

E

E cont.

F

K

L

M

N

O

P

R

S

S cont.

T

V