Category:Web resources
From Culture.si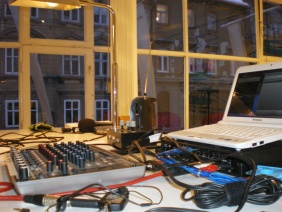 radioCona is a temporary radio project for contemporary arts established in 2008 by Cona Institute, an institute for contemporary arts processing. The radio has become an important agent in claiming public radio-frequency space for artistic and broader social contexts. It runs an occasional innovative programme of its own production and serves as a common platform for various contemporary visual or performing arts events in Ljubljana.
radioCona maintains an important online audio archive of new media art, experimental music and recorded events such as round tables and debates on the major issues concerning the free-lance and independent production in Slovenia (cultural policy, public space and copyright) as well as international symposia (Reflective Dramaturgy by Maska Institute in the frame of the 2010 Ukrep - Festival of Dance Perspectives, for example). The archive is freely accessible on the radioCona blog.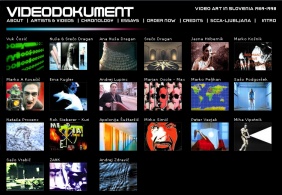 Videodokument is a documentation, archival and research project which offers a comprehensive overview of 30 years (1969–1998) of video art in Slovenia, developed within the scope of the SCCA-Ljubljana (former Soros Center for Contemporary Arts – Ljubljana Documentation Programme). It comprises the catalogue, essays, CD-ROM, website and videotheque, and emanates through the Videospotting survey or thematic programmes. The project ran from 1994 to 1999 and has been followed by DIVA Station, an online digital video archive.
Year of establishment
Latest Entries
Subcategories
This category has the following 15 subcategories, out of 15 total.
A

C

D

D cont.

F

G

L

M

N

T

V
Pages in category "Web resources"
The following 64 pages are in this category, out of 64 total.
A

B

C

D

E

E cont.

F

K

L

M

N

O

P

R

S

S cont.

T

V