Category:Web resources
From Culture.si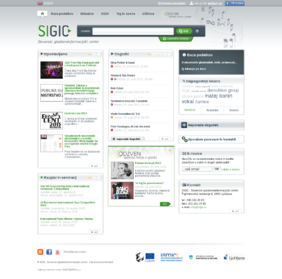 The SIGIC databases of the SIGIC, Slovene Music Information Centre have been online since 2005. In 2010 the website was upgraded, and since 2011 also features an online magazine Odzven.si. The website features news, a database of musicians and music groups of various musical genres, music institutions and musical works, useful addresses and links, calls, competitions and announcements, and a calendar of events.
The purpose of the information centre is to create a database of music of all genres, time periods, musicians, musical institutions and non-profit musical organisations, to promote Slovene music and musicians, to organise professional consultations, meetings and symposia and to engage in business cooperation with all creators of Slovene musical life.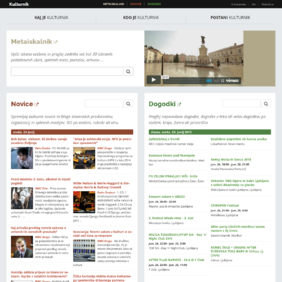 The website Kulturnik.si was launched in December 2013. Developed by the Ljudmila Art and Science Laboratory, the portal consists of a metasearch engine and features cultural news and events aggregated from various Slovene digital sources and collections related to arts and culture. Owned and supported by the Ministry of Culture, the project complements the eContents initiative (Digital Agenda for Europe) that supports interoperability and the re-use of public data in cultural sectors.
Year of establishment
Latest Entries
Subcategories
This category has the following 15 subcategories, out of 15 total.
A

C

D

D cont.

F

G

L

M

N

T

V
Pages in category "Web resources"
The following 52 pages are in this category, out of 52 total.
A

B

C

D

E

F

K

L

M

P

R

R cont.

S

V