Category:Web resources
From Culture.si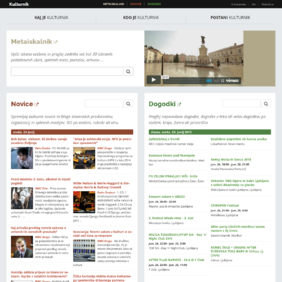 The website Kulturnik.si was launched in December 2013. Developed by the Ljudmila Art and Science Laboratory, the portal consists of a metasearch engine and features cultural news and events aggregated from various Slovene digital sources and collections related to arts and culture. Owned and supported by the Ministry of Culture, the project complements the eContents initiative (Digital Agenda for Europe) that supports interoperability and the re-use of public data in cultural sectors.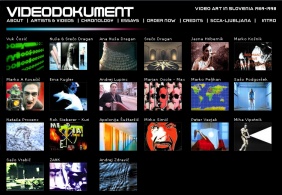 Videodokument is a documentation, archival and research project which offers a comprehensive overview of 30 years (1969–1998) of video art in Slovenia, developed within the scope of the SCCA-Ljubljana (former Soros Center for Contemporary Arts – Ljubljana Documentation Programme). It comprises the catalogue, essays, CD-ROM, website and videotheque, and emanates through the Videospotting survey or thematic programmes. The project ran from 1994 to 1999 and has been followed by DIVA Station, an online digital video archive.
Year of establishment
Latest Entries
Subcategories
This category has the following 15 subcategories, out of 15 total.
A

C

D

D cont.

F

G

L

M

N

T

V
Pages in category "Web resources"
The following 64 pages are in this category, out of 64 total.
A

B

C

D

E

E cont.

F

K

L

M

N

O

P

R

S

S cont.

T

V