FeKK Ljubljana Short Film Festival
From Culture.si
Contact info
Past Events
24 November to 26 November 2017


New Slovenian Cinema III programme, curated by

Nataša Kramberger

and featuring Liberation Day, a documentary film about Laibach's 2015 North Korea concerts, co-produced by Staragara, and short films selected by FeKK Ljubljana Short Film Festival, organised by Periskop and supported by the Embassy of the Republic of Slovenia Berlin, at

Sputnik Kino

in

Berlin

,

Germany


programme
The festival takes place at two main locations: the indoor hall of the Slovenian Cinematheque and its Summer Open-air Cinema at the Museum Quarter in the "new" part of the Metelkova mesto Autonomous Cultural Zone. After the main festival ends, some of its programme later travels through other venues around Slovenia.
International collaborations represent an important part of the festival, especially the collaboration with the K3 Festival from Austria. There, the three best Slovenian films are presented in a regional short film competition section.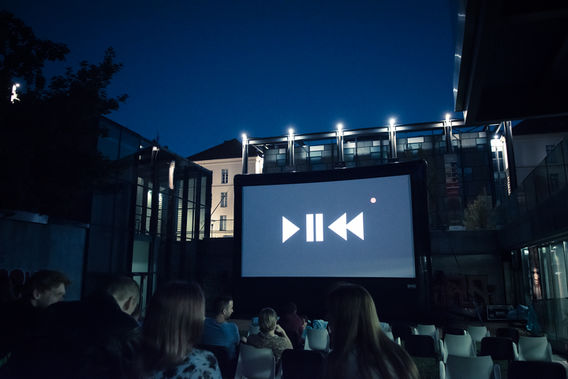 Background and the K3 Festival
The precursor of the FeKK festival is the K3 Ljubljana festival, a project initiated by the Villach-based K3 Festival, which connected three local competitions of short film – K3 Udine (Italy), K3 Klagenfurt (Austria) and K3 Ljubljana. Each of these choose the three best new short films from the respective country and sent them to Villach to compete in the regional competition programme called 3x3.
In 2012 and 2013, this was organised by the Kinodvor Cinema and the Slovenian Cinematheque. In 2014, the K3 project was taken over by the young crew of the Kraken Film Society, which was – at least formally – established for this purpose. Though still less ambitious in scope than FeKK, it was a step in the direction of a full fledged festival and already organised at the new open-air venue at Metelkova.
Programme
Young as it is, the festival is still developing and does not yet have any distinctive identity or curating practice. Yet, in this early stage the main programme consists of a section with new locally sourced short films, out of which three are sent to the K3 Festival and are also included in the second main part, the international competitive section. In 2015, this included only the ex-Yugoslav countries and the winning film was made by the Serbian director (and actor) Jelena Gavrilović.
Other programme segments at FeKK have consisted of a selection of movie trailers (selected in cooperation with the Belgrade-based MKC Kombinat), a retrospective of Slovenian short films organised in collaboration with the Slovenian Film Centre, a series of best short films that were included in recent editions of the Motovun Film Festival, and films produced under the wing of Luksuz Production. Also screened was a retrospective of young, promising authors and a children's programme co-produced with Animateka International Animated Film Festival.
There is also the regular additional film festival programme with discussions and round tables. One of them was on the issues of international co-productions and was done together with the team of Creative Europe Desk Slovenia.
See also
External links
Gallery