Film festivals
From Culture.si
---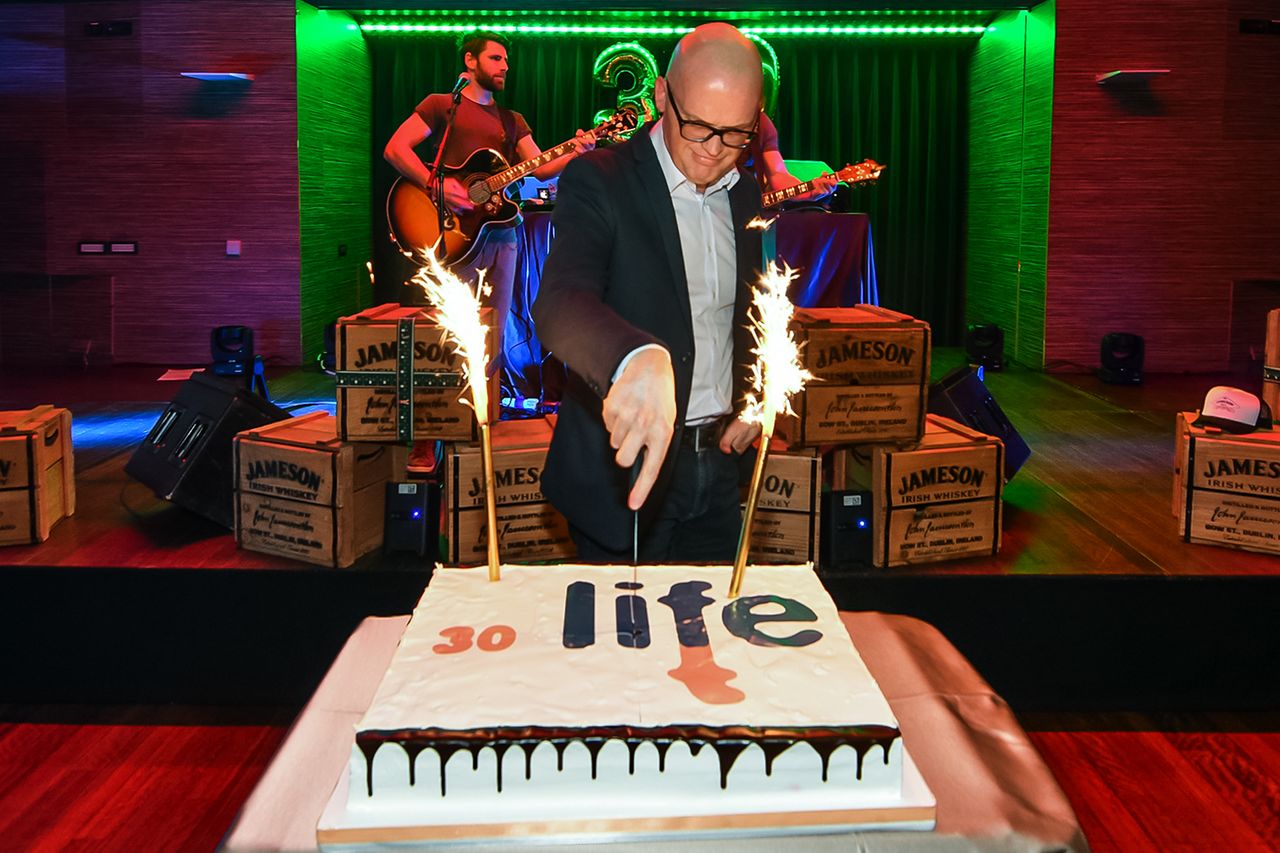 Simon Popek, a programme director of the Ljubljana International Film Festival (LIFFe), celebrating the the 30th edition of the festival. Cankarjev dom Club, 2019.


Whether your thing is documentary film, independent feature film, third-world cinematographies, horror and fantasy film or animation and stop-motion film, there's a film festival in Slovenia that caters to your taste.
Film festivals in Slovenia range from those dedicated to a particular genre, to those showcasing the latest new works on the silver screen in recent years (Ljubljana International Film Festival (LIFFe)), to topical festivals that highlight a particular problem, issue or community through the frame of the moving picture (Migrant Film Festival, Ljubljana Gay and Lesbian Film Festival). There are also several multidisciplinary festivals that include film as a substantial and regular part of their programme˙(City of Women International Festival of Contemporary Arts). Given that many of the festivals attract specific audiences of enthusiasts of a genre or activists around a cause, the festivals also represent important moments to meet other like-minded film makers and film professionals as well as audience members.



The Festival of Migrant Film banner, 2018 The Festival of Migrant Film has been organised in Ljubljana since 2010 by the Slovene Philanthropy Association in Ljubljana with screenings organised also in several other Slovenian cities.

Film festivals are also perhaps the most dispersed throughout Slovenia, with events taking place at the Slovene coast in Isola, Koper, and Portorož, in the Goriška Brda region, in the Gorenjska region in Bled and Bovec, in the eastern part of Slovenian in Ljutomer and Maribor, and of course in central Slovenia, in the country's capital of Ljubljana as well as in Domžale.
Apart from the Festival of Slovenian Film, all of the film festivals in Slovenia present an international spectrum of films. That's good news for film makers from outside of Slovenia, who can enter their films to nearly half of them, as they are either competition-style festivals or have at least a section in their programme in which they present a competition.
If you are a curator or distributor looking to present Slovene films abroad, besides an obligatory visit to the Festival of Slovenian Film at Slovenia's seaside resort of Portorož early autumn, contacting the Slovenian Film Centre is also a must.
Analysing the film festival activity in recent years shows us that film festivals in Slovenia cluster around 3 different times of year: early spring (February to March), early and late summer (May/June and August), and fall to early winter (October to December). Have a look at our infographics of all of the Slovene festivals taking place in Festivals in Slovenia, to gain better insight to when your favourite film festival might be taking place, based on it's schedule in previous years.
Subcategories
This category has only the following subcategory.
Articles in category "Film festivals"
The following 33 pages are in this category, out of 33 total.
Media in category "Film festivals"
The following 148 files are in this category, out of 148 total.