Mountain Film Festival
From Culture.si
Venues and producers
The festival is produced by Društvo za gorsko kulturo (Society for Mountain Culture) and co-produced by Cankarjev dom, where most of the festival's events occur. However, screenings tend to take place all over Slovenia, with some of the venues being the Franc Bernik Culture House, Domžale, the Nova Gorica Arts Centre, the Art kino Metropol Celje and the Slovenian Alpine Museum.
Since the beginning the festival has been led by its founder, the legendary mountaineer Silvo Karo. In 2010 the International Festival of Mountain Film became a member of the International Alliance for Mountain Film.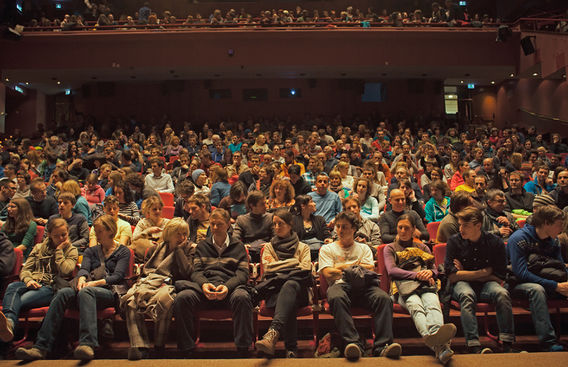 Sections and awards
The festival's film programme has 5 main categories: Mountaineering; Climbing; Mountains, sports and adventure; Mountain nature and culture; and (sometimes) Retrospective. In each of these categories (excluding retrospective) the best film is chosen and awarded by the international jury, which also awards the best short film prize.
There are also awards given by the Mountaineering Association of Slovenia and RTV Slovenia), as well as the "Viewer's Choice" award, selected by the audience. From 2007 until 2015, the Main Prize has been awarded to the following films: L'Abisso (Italy), Baffin, l'île aux enfants (France), Unknown Antarctica (Slovakia), Asgard Project (Great Britain), Voyage au bout de l'hiver (France), Art of Freedom (Poland), Mimalaya, le vilage suspendu (France), The Summit (Ireland), Jeff Lowe's Metanoia (USA).
See also
External links
Gallery