Mountain Film Festival
From Culture.si
Venues
The festival is produced by Društvo za gorsko kulturo (Society for Mountain Culture) and co-produced by Cankarjev dom, where most of the festival's events occur. However, screenings tend to take place all over Slovenia, with some of the venues being the Franc Bernik Culture House, Domžale, the Nova Gorica Arts Centre, the Art kino Metropol Celje and the Slovenian Alpine Museum.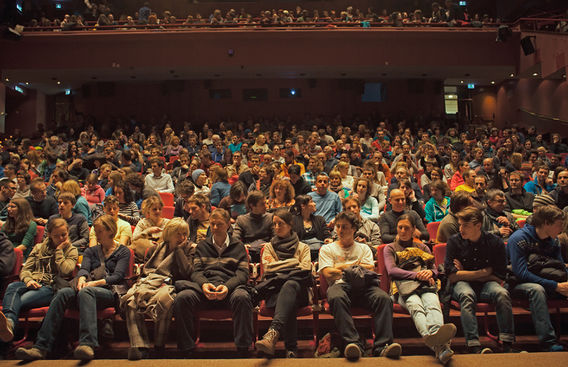 Sections and awards
The festival's film programme has 5 main categories: Mountaineering; Climbing; Mountains, sports and adventure; Mountain nature and culture; and (sometimes) Retrospective. In each of these categories (excluding retrospective) the best film is chosen and awarded by the international jury, which also awards the best short film prize. There are also awards given by the Mountaineering Association of Slovenia and RTV Slovenia), as well as the "Viewer's Choice" award, selected by the audience.
Accompanying Programme
The festival does not limit itself to films only, but also hosts lectures (featuring prominent guests from the international climbing community like Dean Potter, Adam Ondra, Lynn Hill, Chris Bonington, Kurt Diemberger and many others), exhibitions, round tables, book presentations and a children's programme. As such it is striving to enrich the way mountaineering culture is perceived and represented.
See also
External links
Gallery