Smithery and Firefighting Museum
From Culture.si
Smithery and ethnological collections
On display are the forge and casting collection, which comprises a historical review of forging and various forge and casting products and tools including a forge hammer driven by water, a windlass and a hoisting crane.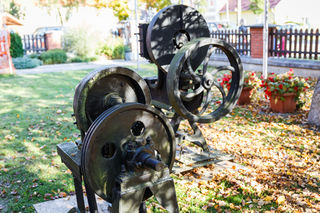 The ethnological collection comprises various traditional domestic and farming tools and a restored rural mill, while the cultural-historical collection illustrates the development of education in Muta and the history of the local brass band, as well as preserving various other archival and photographic materials.
Firefighting collection
The firefighting collection displays various types of firefighting vehicles and equipment (fire engines, fire pumps, flags and standards, uniforms, helmets, firefighting protective equipment, tools, medals etc) along with archival materials of the PGD (Prostovoljno gasilsko društvo) voluntary fire brigade from the Drava valley.
See also
External links
Gallery