Regional museums
From Culture.si
The public service of the regional museums in Slovenia covers larger territories and supplements the work of the municipal as well as national public heritage institutions. Apart from the broader scope of their collections (art history, archeology, ethnography, crafts, technical heritage etc.) these museums also perform an important role in the research, preservation and management of movable cultural heritage in the particular regions.
NOT ROBOT, WRITING DONE, INFOBOX DONE, TOPROOFREAD, NIFERTIK, NOVERIFY, NODEPO, Articles maintained by Admin, NO PHOTO, Article, NO LOGO, HAS MAP, Public entities, Museums, Regional museums, Roman archaeological findings, Venues, Municipal cultural institutions, Asia, Asian collections, Ethnographic museums and collections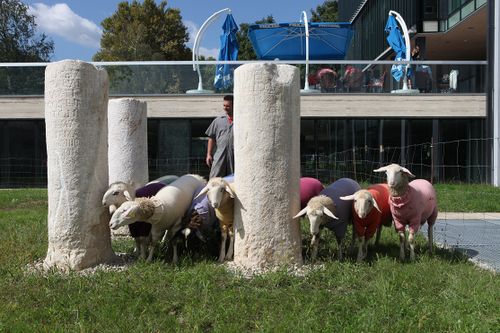 Matthew 12.12 by artist Gregor Kregar, in the exhibition Sculpture Today curated by Tomaž Brejc, Alenka Domjan, Jiri Kočica, Polona Tratnik - in the lapidary of the Celje Regional Museum, 2003–2010
Articles in category "Regional museums"
The following 18 pages are in this category, out of 18 total.