Planica Museum
From Culture.si
The exhibition was collected and set up by Iztok Durjava from the Slovene Sports Museum which is also managed by the Institute of Sports of the Republic of Slovenia Planica.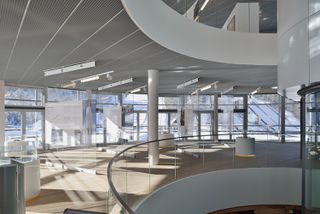 Background
The history of ski jumping in the Planica Valley starts in the late 1920s, when first considerations to develop the valley into an international sports tourism centre surfaced. Next followed the construction of the first ski jumping hill in 1930. A much bigger one, called the Bloudek Giant (Bloudkova velikanka), was finished in 1934, when it also claimed its first world record. Soon after, the first ever jump over 100 metres took place there, and along with it also a new discipline called ski flying. Until 1950, all but one ski flying world record had been achieved in Planica.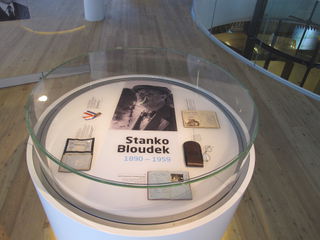 In 1969, another and even more ambitious flying hill was erected. This one followed suit as the prime site for most record lengths until 2005. Together with some exceptional sportsmen, all of this played a significant part in Planica becoming something of a cultural phenomenon in Slovenia.
Permanent collection exhibition
The museum is divided into two parts, each on its own floor. An additional ground floor, freely open for everyone, comprises a few interactive video displays that present and illustrate both the local as well as global histories of ski jumping and cross-country skiing.
The upper two floors deal with the development of ski jumping in Planica and its prime protagonists, the sportsmen as well as the craftsmen. Of the latter, the most important figures are Stanko Bloudek, Ivan Rožman, and the brothers Vlado and Janez Gorišek. The first two are responsible for the Bloudek Giant, and the first floor covers the era of this ski jumping hill (1934–1969). The second floor features the construction of the Gorišek Brothers Hill, which marks the second era.
The museum collection displays various pieces of ski jumping equipment, different cups and medals, accessories of the aforementioned engineers, some museum specimens of the technology used by Radio-Television Slovenia to transmit the jumps, sport suits worn by Slovenian jumpers, and so on. There is naturally also a series of explanatory texts, pictures, holograms, and videos, many of them gathered in a small reading room.
Of a more interactive nature are simulators of actual ski jumps and, if slightly less physical, of the judging of a ski jumping event. Though not directly a part of the museum, there is also a wind tube that simulates floating.
See also
External link
Gallery