Švicarija Art Centre
From Culture.si
Contact
Ustvarjalni center Švicarija
Pod turnom 4, SI-1000 Ljubljana
Nevenka Šivavec, Director
History
Švicarija's history goes all the way back to 1835. A wooden inn was then built on the order of the Czech field marshal Josef Radetzky, the master of the nearby Tivoli Mansion. Meant to be his summer house, it was done in the so called "Swiss" style and was dubbed as the Laibach Schweizerhaus. The inn soon became a popular place for cultural events and socialising.
The current building, designed as a hotel by the architect Ciril Metod Koch, was erected nearby in 1910, with the original inn then demolished. However, the name Švicarija got transferred to the newly constructed hotel. It's Secession-tinged look is reminiscent of typical Slovene houses in the Alpine region and this so called "folk style" is due to Ljubljana mayor Ivan Hribar, who wanted the building to reflect the aspirations for Slovene independence.
In 2013, Švicarija was proclaimed to be a cultural monument of local significance. The subsequent renovation, led by Arrea Architecture (in collaboration with Studio AKKA), more or less retained the original look, though a white facade replaced the yellow one, which was done in the 1940s.
For its first two decades, the structure operated as a hotel (quite a many well-known artists lived in it, among them, the writer Ivan Cankar) with a restaurant, popular dance hall and concert venues. There were literary, theatre and other cultural events, including painting exhibitions. After 1930, it ceased to be a hotel and its uses ranged from hosting Russian emigrants to serving as social housing. After WWII (and up until 2008), many of its occupants were artists who also had their studios there (such as the sculptors Karel Putrih, Zdenko Kalin, Stojan Batič, Alojzij Kogovšek, Drago Tršar, Lujo Vodopivec and Jakov Brdar, all of them authors of prominent public sculptures in Ljubljana).
Programme
The mansion's official opening coincided with the start of the Biennial of Graphic Arts in 2017. Soon after, artists began to get their residency spaces (some offered short term and others for longer periods) and a programme of contemporary arts exhibitions was set in motion.
There are 2230 square metres of space and 17 working units. The ground floor is intended for workshops, educational programmes, exhibitions and other events. A small restaurant is located in the central area. Art and sculpture studios (about a dozen of them) are located in the basement and the first floor, next to the residential studios. Two of them are intended exclusively for young artists.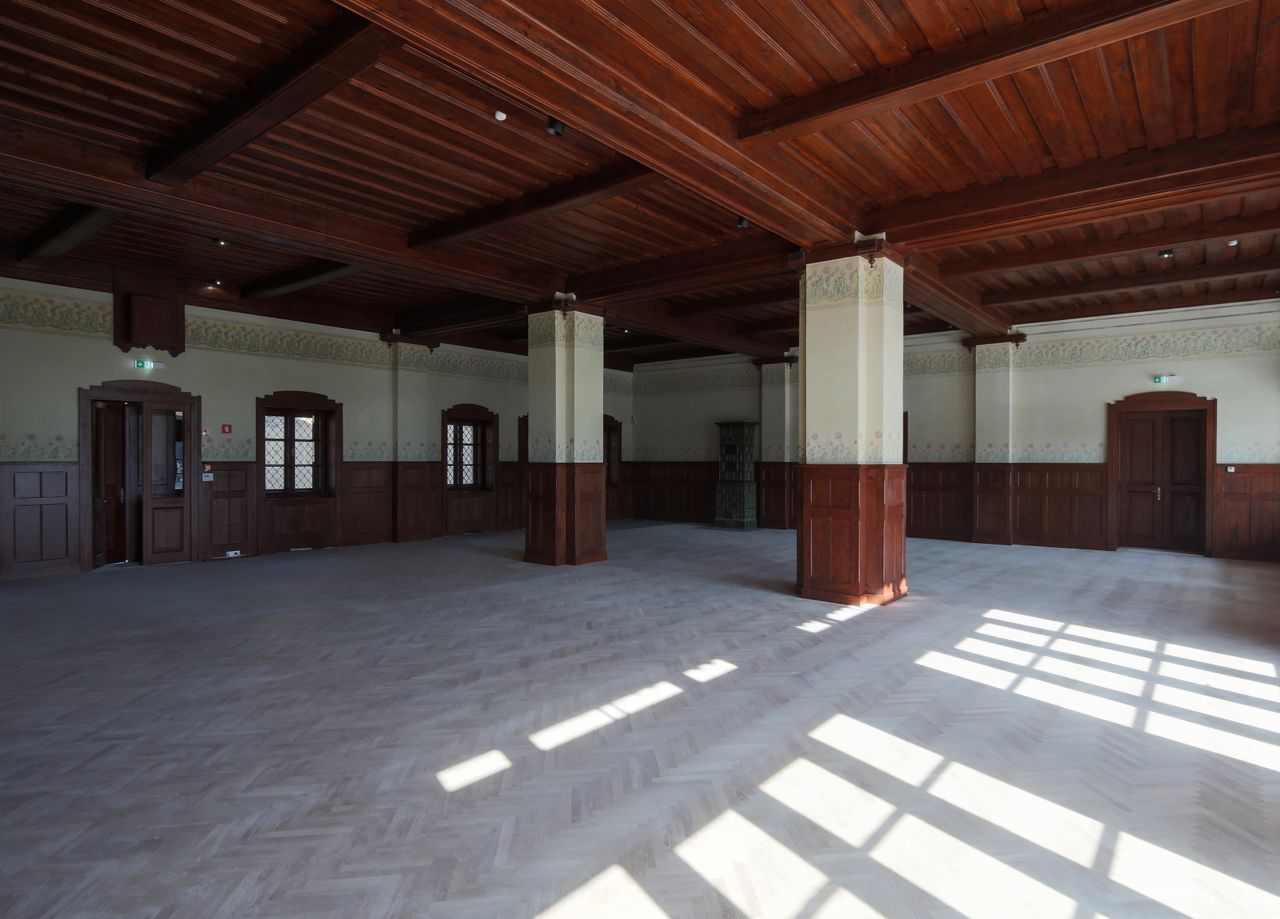 The renovated interior of the Švicarija Art Centre, a former hotel from the early 20th century, renovation led by Arrea Architecture, 2017.
Open calls for residencies
See also
External links
Gallery